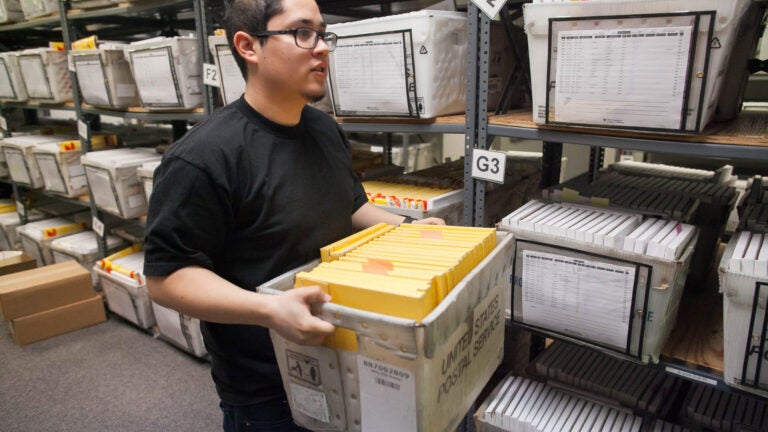 The letters are out: USC invites 8,920 diverse newcomers to the Trojan Family
The 2016 freshman class was selected from a high-achieving applicant pool of 54,100 students, from all 50 states and 75 countries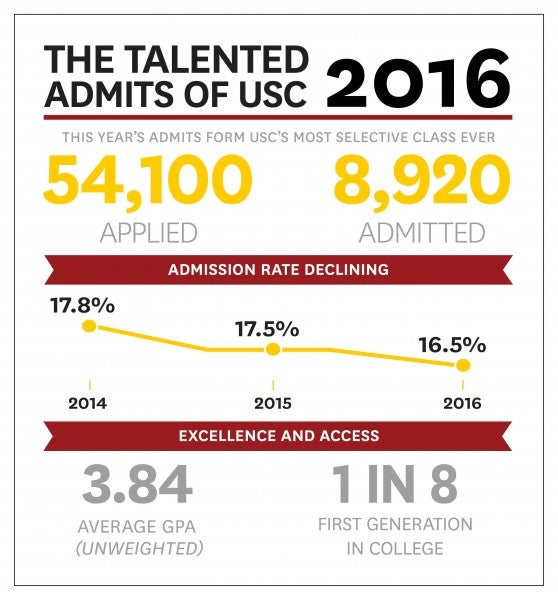 The envelopes are out, and for many anxious high school seniors, the wait is nearly over. USC sent acceptance letters this week to 8,920 high school students, welcoming them to the Trojan Family.
The 2016 freshman class was selected from a diverse and high-achieving applicant pool of 54,100 students. One in eight (13 percent) represent the first generation in their families to attend college. Students in this incoming class — 23 percent — are of diverse ethnic and racial backgrounds. The students hail from all 50 states and 75 countries — including Canada, China, India, Singapore and South Korea.
These students are accustomed to hitting the books: Thirty-one percent have a 4.0 GPA, and more than 41 percent scored in the 99th percentile on standardized tests.
'They have what it takes'
"The students invited to join our Trojan Family have outstanding records of academic success, leadership, creativity and grit," said Timothy Brunold, USC's dean of admission. "With their ambition, curiosity and diverse viewpoints, they have what it takes to tackle the world's wicked, intractable problems and become tomorrow's innovators and visionaries."
USC admissions officials are seeing an increase in applicants: 54,100 this year, up 4.5 percent from last year's pool of 51,800 applicants. This year's admission rate — 16.5 percent — is the lowest in USC's history.
Abundant aid
Most students who enroll at USC will become beneficiaries of the university's strong commitment to financial aid. Two-thirds of USC's undergraduates qualify for aid, and USC admits students without regard for their ability to pay. The university provides more than $300 million in financial aid to undergraduate students.
Students whose households earn $50,000 or less per year are eligible for federal Pell grants.
With its intensified commitment to support students in need and increase diversity university-wide, USC is a leader among private American universities in total Pell Grant recipients.
Information on USC admissions is online at: https://www.usc.edu/admission