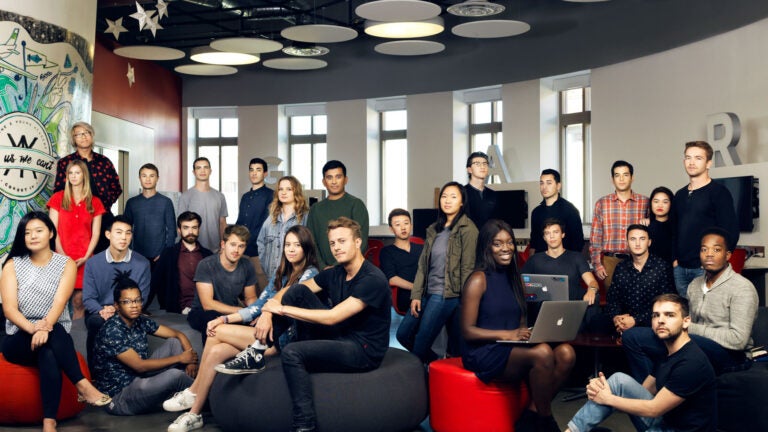 USC Iovine and Young Academy 2018 class: Problem-solvers who break the traditional mold
They're the first students to graduate from the academy, whose unique perspective on innovation comes from the minds of its founders, producer Jimmy Iovine and musician Andre "Dr. Dre" Young
Caitlin Tran had a difficult choice to make — Silicon Valley or the Hill.
The 21-year-old wasn't even a college graduate and she was about to turn down a job offer from Facebook's VR company Oculus to work in politics, interning for the nonprofit the United State of Women in Washington, D.C.
But that's the type of problem graduates of the USC Jimmy Iovine and Andre Young Academy have. The academy's first cohort will graduate next month.
During its four years at USC, the cohort's 30 students launched companies, interned at tech companies and served as guinea pigs for the first program of its kind.
Wanted: three-dimensional workers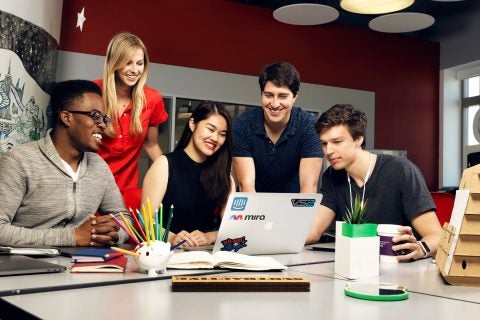 The brainchild of record producer Jimmy Iovine and musician Andre "Dr. Dre" Young, the academy's bachelor's degree program in Arts, Technology and the Business of Innovation aimed to create the three-dimensional workers that the duo wanted for their headphone company Beats.
"We like to think of the program as not interdisciplinary or cross-disciplinary but anti-disciplinary," said Associate Professor Douglas Thomas, who helped create the academy's curriculum. "If it's an engineering problem, you want an engineer. But what our students can do is look at an engineering problem and realize it's actually a business problem. Or look at a business problem and see it's actually a sociology problem."
The program is a startup itself and functions like one.
The program's hub is dubbed "The Garage," an ode to where many startups have hatched. Nestled on the top floor of Steven and Kathryn Sample Hall in the middle of the University Park Campus, it has whiteboards on rollers, tables and chairs for team collaboration and auditorium-style seating — you know, in case Iovine or Snapchat's Evan Spiegel stop by for a chat. A workshop in back allows for building with whatever students want, whether it's with a 3-D printer or a saw.
Faculty front-load the academy's curriculum, with the most important coursework being completed during students' early years. That way, faculty can support students who want to spend a year at Apple or focus on their own company, like academy startup Mira, a augmented-reality headset company backed by well-known venture capitalists and musician will.i. am and has its headquarters in Downtown L.A.'s theater district.
"Our viewpoint is we bring them here precisely to do this," said academy Dean Erica Muhl. "Why wouldn't we do anything to help them achieve their dreams – at any time, not just after they graduated?"
USC Iovine and Young Academy 2018 class members agree: It's the answer they were seeking
Many students in this first cohort say that the academy was the answer they were seeking: If it weren't for the ad they saw in the newspaper or the email forwarded from a friend, they likely would have dropped out of college after a year or skipped it all together.
"The life of my college counselor was very difficult," said Lucas McGartland, 21. McGartland, who went to a small, monk-run boys school outside St. Louis, was a maker. He started building Apple apps at age 12, designed the school's newspaper and was on a robotics team that once built a Segway from scratch.
He wanted to move to Silicon Valley and work at a startup — to "Zuckerberg it" — but his parents encouraged him to think about college.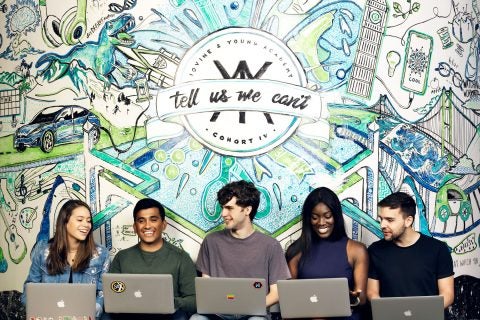 "There was a quote on the [academy] website that caught my attention. It was the Alan Kay quote, 'The best way to predict the future is to invent it,'" said McGartland, who has since co-founded the startup Bee, a marketing platform that connects brands to its fans with contests and product launches. "That mindset — that you can't wait, you have to go out and do it."
It hooked him. And Thomas said applicants like McGartland are the norm.
"They all have this eclectic mix of skill sets that don't fit anywhere," Thomas said. "What's interesting about that is that you can say the same thing about the faculty. None of us fit perfectly in the school we're from."
The USC Iovine and Young Academy 2018 class set a high bar. This year's applicant pool was the academy's most competitive yet, with an 8 percent acceptance rate, largely due to a 50 percent uptick in applications.
"It certainly helped being part of USC," Muhl said of the academy. "I'm not sure we could have launched this anywhere else with this kind of success."
When they walk out the academy's doors, academy grads won't get culture shock. While at the academy, they've pitched folks from Toms Shoes and ViaSat, took trips to high-tech headquarters of companies like GoogleX and Dropbox, and worked collaboratively on teams.
"As an HR professional, you want that," said Tami Rosen, a former human resources executive at Apple, who remarked on the uniqueness of the academy's format. "No one works solo in companies. You want people who really collaborate or debate colleagues in a respectful way."
Teamwork in the program's DNA
Working on teams was "baked into the DNA" of the program, Thomas said.
"You're starting off with the premise that I'm not doing this alone. I'm not enough," he said. "It's a constant check on that source of ego. You are your best when you're helping other people."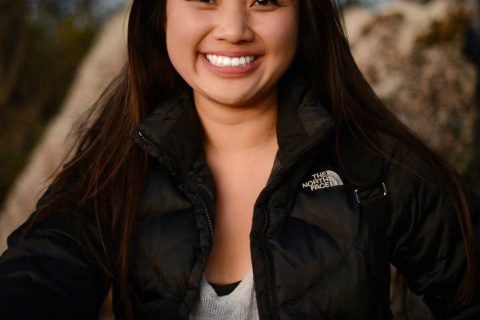 That gave the students the confidence and courage to pursue their ideas but the perspective to know what they don't know, Thomas said.
For Tran, her experience gave her the courage to take a risk: to choose meaning.
"You don't necessarily need venture capital money to innovate or create change in the world," she said.
Her decision exemplifies an unexpected trend in her cohort, Thomas said.
"We thought we'd be placing them in the usual places — Google, Facebook, Apple," Thomas said. "We've found a number of them are actually turning those positions down. … They're ready to go out in the world and really make a difference."
Tran is helping plan the United State of Women summit — where former First Lady Michelle Obama is the keynote speaker — and managing its app, which will be a way to stay engaged and informed on women's issues and legislation.
When the internship wraps in May, she'll be back on the job market.
"I have a feeling someday we'll all be working for Caitlin Tran," Thomas said. "Either that, or she'll be president."