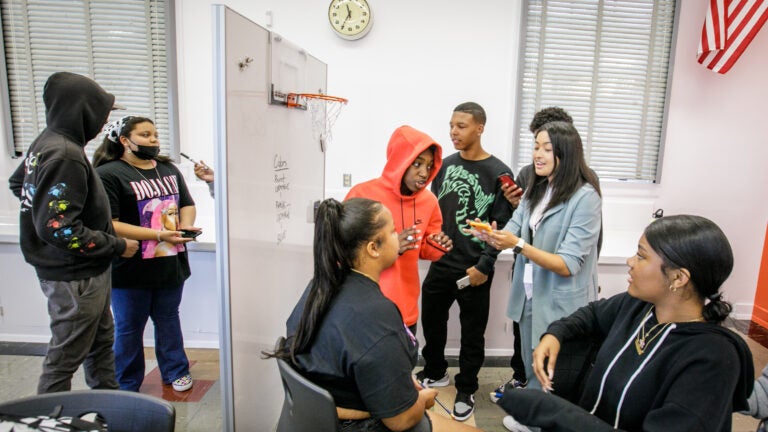 USC Iovine and Young Academy's unique learning framework inspires a new kind of high school
USC has historically taken chances on innovative approaches to learning.
When USC Jimmy Iovine and Andre Young Academy alum Trent Jones was in high school, he didn't see any examples of how his creative side could work in unison with his love of engineering.
Only when he learned about "this interesting and strange school" at USC could he see how his interests in creating and engineering could harmonize with seemingly disparate fields such as design, technology and business. Offering undergraduate concentrations in extended reality, product innovation, design strategy and physical computing, among others, the academy enables students to uniquely tailor their educational experience to their personal and career interests.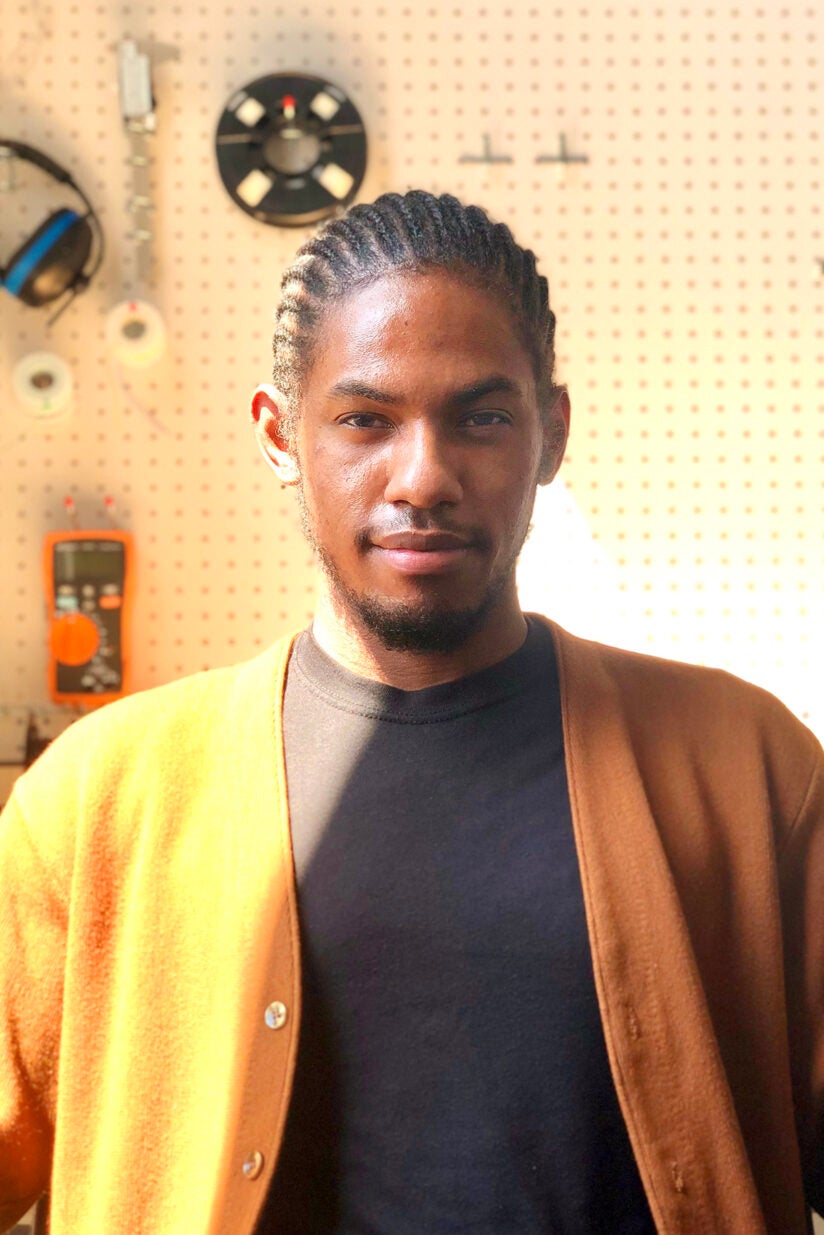 Jones joined the academy's second cohort of students in 2015, attracted by the prospect of working with small peer groups to collaborate on creative and cross-disciplinary projects.
Since graduating in 2019, Jones has served as a lecturer for the academy's classes on skill building and as "maker-in-residence," helping students collaborate and experiment to conceptualize and prototype their ideas. He's also part of a small team tasked with helping the Los Angeles Unified School District (LAUSD) translate the academy's approach to education into a new magnet high school in Los Angeles.
Inspiring critical thinking
The academy's founders — entrepreneur and music executive Jimmy Iovine and musician and music executive Andre "Dr. Dre" Young — had students like Jones in mind when they established the school at USC in 2013. The goal was to nurture critical thinking at the intersection of arts and design, business and entrepreneurship, engineering and computer science, and communication.
This shared interest in disrupting traditional approaches to education is also what inspired the entrepreneurs to collaborate with the academy and LAUSD to open the Iovine and Young Center (IYC) in August.
The new high school — located on the campus of Audubon Middle School in the Leimert Park neighborhood of Los Angeles — follows the groundbreaking learning framework of the academy, in addition to sharing its founders.
The high school's full name — the Iovine and Young Center Integrated Design, Technology, and Entrepreneurship Magnet — highlights the school curriculum's interdisciplinary approach, modeling the academy and USC's status as world leaders in training young people with to combine abilities across disciplines.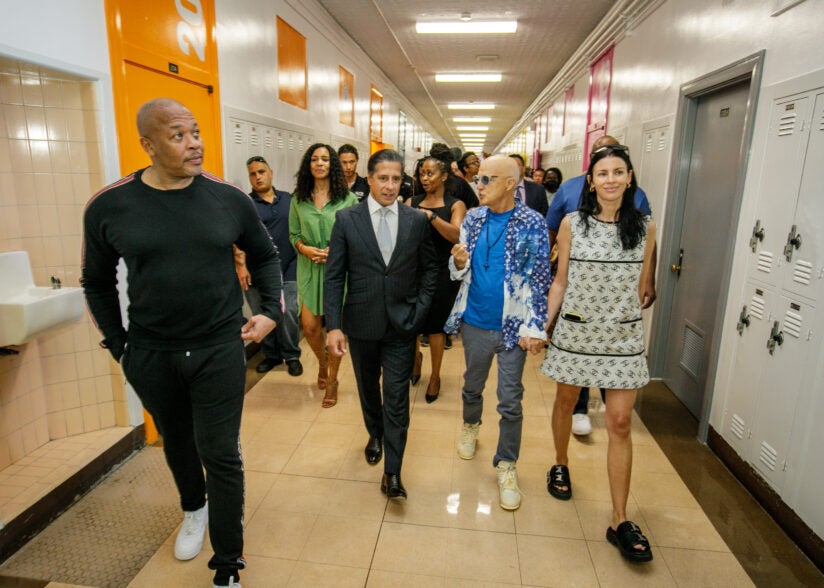 "We are committed to helping students hone those skills," Principal Akilah Calhoun said at the high school's ribbon-cutting event in August. "This curriculum will provide new career paths and opportunities as well as increased access to top college programs, a cutting-edge college prep curriculum and enhanced learning programs focused on critical thinking and analysis."
The collaboration between the academy and the high school makes perfect sense to Dean Thanassis Rikakis of the Iovine and Young Academy. "The motivation of the academy overall was to make a statement that learning for the 21st century needs to expand," Rikakis said. He explained that when it comes to diverse areas of expertise, grade school and higher education are designed to teach only a small subset of what people need to know to better society while leaving many areas untouched.
"The fact that learning is much broader than traditional learning structures is at the core of why everybody — including faculty, staff and students — has joined the academy," he said.
Matthew Manos, assistant professor and director of Challenge-Based Learning at the academy, is also excited that the academy's innovative framework will reach younger minds at a critical time in creative development.
"As we're moving from kindergarten through high school, creativity slowly releases itself from us," Manos said. "As a result, when we enter college, we're — by design — ready for that traditional siloed experience that is, frankly, out of date."
Manos leads the academy's approach to Challenge-Based Learning, in which USC students collaborate to solve problems that have tangible stakes for partner organizations and communities. That includes a series of partnerships with the American Heart Association (AHA), where students worked together to understand why certain disparities exist in different communities. Students traveled to Dallas, Boston, Puerto Rico and other areas to interview residents before making recommendations for how the AHA could have the most significant impact in those communities.
Collaborating across disciplines
The high school's inaugural class of students will engage a similar human-centered design to work collaboratively and solve real-world problems. They'll pitch ideas to community leaders and partners through their high school curriculum and be connected to professional opportunities in creative industries and nonprofits.
That potential for real-world experience intrigues high school freshman Kylie Bailey, who dreams of a career in interior design. "We're not just sitting in class taking notes then heading home to do homework," Bailey said during IYC's kickoff event. "We're starting to think of real-life situations and how we can apply what we've learned in these situations."
The academy's approach and the desire to scale that framework to a high school curriculum grew from Iovine and Young's experiences at Interscope, founding Beats by Dre and selling the company to Apple. The pair — whom LAUSD Superintendent Alberto M. Carvalho referred to as "visionary leaders" at the ribbon-cutting event — noticed that employees often came from seemingly unrelated fields such as engineering, design or business and struggled to collaborate and communicate across disciplines.
"The people didn't know how to blend those disciplines and work together in collaborative innovation," Iovine said during the high school's inaugural event. "That's what we hope to bring to the high school level, and in the future, even to elementary schools."
Iovine and Young approached then-LAUSD Superintendent Austin Beutner with the idea in May 2021.
Jared DuPree, senior director for the Office of the Superintendent at LAUSD, was part of that conversation.
"One of our mantras this year is 'ready for the world.' Students who come through this high school truly will be, because they will understand that the world is dependent upon people working together, collaborating, thinking critically and challenging the status quo," DuPree said.
Since those early discussions, academy faculty and staff have worked with the high school's faculty to design the computer labs and creative spaces on the newly renovated campus. They've also adapted the academy's learning framework to a high school education that will prepare the center's diverse student talent for creative industries while honoring California educational standards.
Taking chances to innovate
The academy also hosted its first-ever pair of summer innovation camps this year — one open to all LAUSD juniors and seniors and another for incoming IYC students — as a primer for the school year. Academy mentors and current students introduced participants to the different skills taught within the program, including product design, coding, multimedia pitching and storytelling.
Jones helped lead those summer camps. "This effort is focused on the ability to spread the academy's approach to teaching and learning across disciplines and take what we've learned over the years and put that into a framework for high school students," Jones said.
"Another part involves questioning academia in a constructive way, questioning how we can embrace new technologies and new modes of teaching and learning that could improve the way we come up with ideas or develop ideas," Jones added.
Rikakis believes USC is the perfect university to lead the charge for this kind of questioning because of its track record for taking a chance on innovative opportunities to rethink how learning takes place. Rikakis pointed out how, nearly 100 years ago, USC was the first school in the country to welcome professional training in the cinematic arts that would lead to the first bachelor of arts degree in film. Likewise, nearly 10 years ago, the university took a chance on the Iovine and Young Academy, welcoming an unorthodox approach to learning.
"We take these chances where we can really get ahead of what the world needs," Rikakis said. "We're going to look back in 20 or 30 years and see the way we're teaching intersectional expertise standardized in high schools and universities."