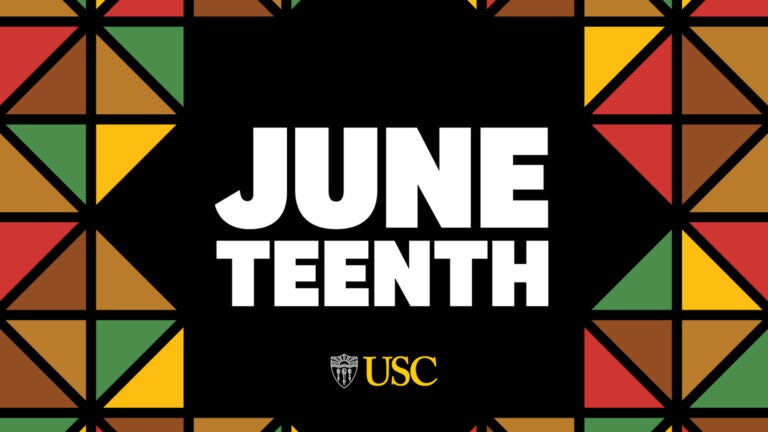 USC to commemorate Juneteenth with virtual event open to all
"It's a time to be celebrating and for folks to learn allyship," says Damarea Parker, one of the program's organizers.
The triumphs of Black Americans and the continuing fight for racial equality will be the focus when the Trojan community gathers virtually on Monday to commemorate Juneteenth, a 157-year tradition of celebrating the emancipation of enslaved Americans.
"It's an opportunity for folks to do some self-reflection and to think about the impact Black people have had on our country," said Damarea Parker, one of the event's organizers and supervisor of USC's Center for Black Cultural and Student Affairs. "It's a time to be celebrating and for folks to learn allyship and to really be supportive."
The celebration gets its name from combining the words "June" and "nineteenth." It was on that day in 1865 that Union forces finally reached Texas to announce and enforce the end of slavery there — more than two months after the end of the Civil War. President Abraham Lincoln's Emancipation Proclamation to end slavery in Confederate-controlled states had come 2½ years earlier.
Despite its long history, Juneteenth only gained major mainstream attention and became a federal holiday following the nationwide protests that erupted in 2020 after the killings of George Floyd, Breonna Taylor and other Black Americans by police.
President Joe Biden signed the Juneteenth National Independence Day Act in 2021, which made Juneteenth the first new federal holiday since the addition of Martin Luther King Jr. Day in 1983.
More than a Texas tradition
Francille Rusan Wilson, an associate professor of American studies and ethnicity, history, and gender and sexuality studies at the USC Dornsife College of Letters, Arts and Sciences, pointed out that the first Juneteenth celebration took place in Galveston, Texas, in 1866. The popularity of the celebrations has ebbed and flowed throughout the decades, but the observances have had a consistent presence in Texas from the beginning.
Wilson described the holiday as an opportunity for honest dialogue.
"Black Americans have had continuous desire to commemorate important events in their history," Wilson said. "I think it's a good thing to think about emancipation, about the world enslaved people were in and were making for themselves — the struggles that they had."
But the current rise in celebrations comes at a time when a growing number of conservative-led states and school districts in the United States have introduced measures or passed laws to limit how race and discrimination can be discussed in public schools.
"For every reverent celebration, I am reminded that there are growing campaigns against even teaching about slavery and its brutal systems in schools across the country," said Associate Professor Allissa V. Richardson of the USC Annenberg School for Communication and Journalism. "What we lose when we deny this history is incalculable. If we are serious about the work of racial equality in America, then we must continue to study slavery's legacy in every discipline, in every grade level and in every state in the U.S."
Pushing back through celebration
Richardson, founding director of the USC Annenberg Charlotta Bass Journalism and Justice Lab, finds the uptick in Juneteenth observances to be an "inspiring pushback" against the recent efforts to curtail public discussions of slavery and its lasting effects on American society.
"As a Black woman, it has been especially joyful to see other Black people gathering to express joy communally, instead of grief," she said.
The USC Juneteenth online event will feature welcome remarks from USC President Carol L. Folt and a roster of speakers that includes Christopher Manning, USC chief inclusion and diversity officer; Cynthia Brass, Black Staff and Faculty Caucus president; Tonisha Jester, senior associate director of the Office of Diversity, Equity & Inclusion at the USC Marshall School of Business; and Shannon Bradley, Keck Medicine of USC chief diversity and inclusion officer, among others. There will also be a performance of "Lift Every Voice and Sing" (often referred to as the Black national anthem).
The virtual event begins at noon and can be accessed through a Zoom link on the university calendar.