USC Kaufman adds six new dance faculty members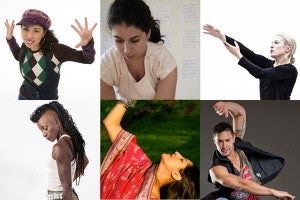 Contact: Justina Gaddy (213) 821-6176 jgaddy@usc.edu or Allison Engel (213) 740-1927 allison.engel@usc.edu
The USC Glorya Kaufman School of Dance will begin its second academic year by nearly doubling the school's faculty, adding six new faculty members this fall. They are: Tiffany Bong, a world champion hip-hop dancer; Alison D'Amato, a choreographer and dance researcher; Jennifer McQuiston Lott, a ballet and contemporary dance artist whose works have premiered worldwide; Anindo Marshall, an acclaimed percussionist and African dance teacher; Achinta McDaniel, choreographer and artistic director of the top Bollywood dance company in Los Angeles; and Christian Vincent, a commercial dancer and choreographer whose work has been featured in numerous television shows, movies, concerts and commercials.
Together, the new instructors will expand on the school's wide-ranging dance expertise by introducing new dance classes in Bollywood, hip-hop, Afro-Cuban, ballet, contemporary, jazz and dance studies. Beyond providing expanded curricular offerings for USC Kaufman's bachelor of fine arts students, the additional courses will create new opportunities for non-dance majors at USC to take dance classes.
"The new faculty members will not only grow the school's curriculum, but also help grow the school's footprint on campus by inviting a greater number of students to experience dance," said Robert Cutietta, dean of USC Kaufman.
The new dance faculty will begin teaching courses in the fall, and will be among the first to do so in the newly-built, more than 54,000-square-foot Glorya Kaufman International Dance Center.
The instructors come from professional backgrounds as varied as the courses they will teach within school's hybrid dance curriculum.
FROM AFRO-CUBAN TO BOLLYWOOD DANCE
USC Kaufman grows its course offerings this fall to include dance forms from across the globe.
Anindo Marshall, a percussionist and African dance teacher, will teach Afro-Cuban dance classes. Marshall is a certified Dunham Technique instructor and a member of the Katherine Dunham Certification Board. An accomplished musician, Marshall teaches percussion from Africa and Latin America, and has studied with some of the world's finest percussionists. The Kenyan-born instructor will bring her expertise in the dances and music of the African diaspora to her classes for non-dance majors this fall. Marshall holds a BA from the University of Nairobi, Kenya.
Achinta McDaniel, the pioneering founder and artistic director of Blue 13 Dance Company, a Los Angeles-based contemporary Indian dance theater, will teach Bollywood dance. A prolific choreographer, performer and instructor, McDaniel's style draws from diverse techniques, including ballet, jazz, tap, modern, hip-hop, bhangra, kathak and Bollywood, to create spectacular theatrical dances. Her choreography for film and television has appeared on New Girl, The Amazing Race, and programs on MTV, PBS, NBC and WE TV. She has also choreographed commercials for several national advertisers. McDaniel holds a BA from New York University.
FROM DANCE THEORY TO PRACTICE
New faculty members will teach courses that focus on the theoretical and professional aspects of dance.
Alison D'Amato, a Los Angeles-based dance researcher, choreographer and performer, will teach a classroom-based dance studies course. D'Amato holds a PhD from UCLA's Department of World Arts and Cultures/Dance, an MA in European dance theater practice from Trinity Laban Conservatory (UK), and a BA in philosophy from Haverford College. Since 2006, her scholarly and choreographic work has focused on choreographic scoring. D'Amato's dances and scores have been presented in Los Angeles (Anatomy Riot, Pieter PASD, The Hammer Museum, HomeLA), New York (Movement Research, the Tank, AUNTS, Waxworks, Dixon Place and BAX/Brooklyn Arts Exchange), Philadelphia, the UK and Poland. Her writing on performance can be found in Choreographic Practices, itch and Native Strategies.
Jennifer McQuiston Lott, a dancer, choreographer and cofounder of Traverse City Dance Company, will teach ballet and contemporary release technique to BFA students. Lott, a former member of the New York contemporary ballet company Armitage GONE!, is also an active choreographer whose works and short dance films have premiered at Baryshnikov Arts Center, National Sawdust, Celebrate Brooklyn!, Festival Miden, The Dead/Live Festival, The Cleveland Public Theatre, Chen Dance Center's Newsteps and the Thang Dao Dance Festival, among others. She also has collaborated on music videos and performances with musical artists including Son Lux, DM Stith, The Accidentals and Jonny Rodgers. Lott holds an MFA in dance from the University of California, Irvine.
BRIDGING THE GAP FROM CONCERT TO COMMERCIAL DANCE
New faculty members specialize in bringing social dance forms to wider audiences.
Tiffany "Jimini" Bong is an award-winning international hip-hop dance artist, educator, community leader and entrepreneur with a background in original hip-hop/street and social dance forms. Bong will lead hip-hop classes for non-dance majors. She is the founder and executive director of UniverSOUL Hip Hop, a community-based, cultural education company that brings hip-hop residencies and performances to K-12 schools throughout the Greater Los Angeles area. Bong has also taught at The Music Center, Cornell University, Loyola Marymount University and the University of California, Los Angeles. Bong is a founding member of the dance crew The Syrenz, which has performed with artists such as Justin Bieber, Usher and Rihanna.
Christian Vincent, a prolific dancer and choreographer whose work has appeared in numerous feature films, television shows and concerts, will teach jazz dance and tap for non-dance majors. Vincent has performed with musical artists including Shakira, Ricky Martin, Mandy Moore, Macy Gray, Ashanti, Prince, Gloria Estefan, Britney Spears, Stevie Wonder and Madonna. He has also danced in feature films and television shows, including She's All That, Starsky and Hutch, Rent, The Wedding Planner, Buffy, Annie, Arrested Development, Baywatch, Mad TV, The George Lopez Show, Cold Case and Dancing with The Stars. As a choreographer, dance coach and artistic director, Vincent has worked with directors David Fincher and Marc Webb, and has coached actors Joseph Gordon-Levitt and Sally Hawkins for film roles. Vincent holds an MFA in dance from the University of California, Irvine.
More information about new faculty members at USC Kaufman can be found at https://kaufman.usc.edu/faculty.
[Images, top row left to right: Tiffany Bong by Chris Emerick, Alison D'Amato by Amanda Espy, Jennifer McQuiston Lott by HÃ¥kan Jelk. Bottom row left to right: Anindo Marshall by Isabel Avila, Achinta McDaniel by Earl S. McDaniel III, Christian Vincent by Michael Higgins.]
————-
ABOUT THE USC GLORYA KAUFMAN SCHOOL OF DANCE
Founded in 2012 by a transformational gift by Glorya Kaufman, the USC Glorya Kaufman School of Dance combines artistic preeminence with industry access at one of the nation's leading private universities. Since welcoming its inaugural class in fall 2015, USC Kaufman has hosted some of the leading artistic voices in dance. From world-renown faculty members to exclusive partnerships with cutting-edge dance companies, the USC Kaufman School of Dance is quickly becoming the premier hub for dance in Southern California. In fall 2016, the school's vision will be realized in brick and mortar with the opening of the more than 54,000-square-foot Glorya Kaufman International Dance Center.
Learn more at kaufman.usc.edu.
# # #