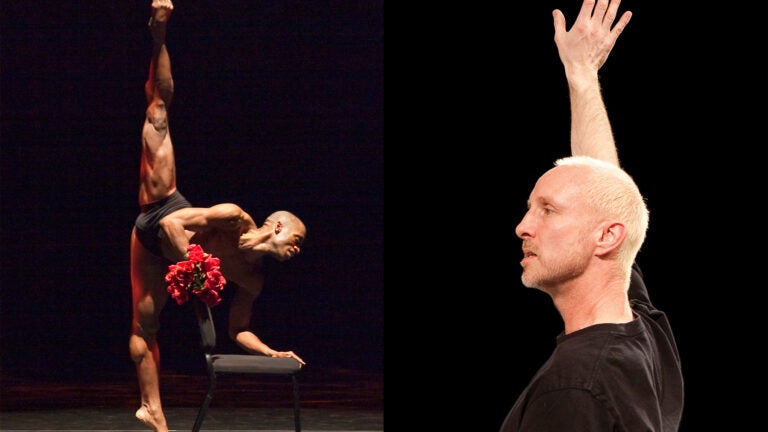 USC Kaufman assembles a stellar faculty
School of Dance brings on new faculty members and artists in residence
The USC Kaufman School of Dance welcomes six renowned choreographers and performers as faculty members and artists in residence to its already illustrious and diverse faculty who will help lead the new school in developing the next generation of dance artists:
Desmond Richardson, a legendary dancer and celebrated performer whose work spans stage and screen
??Patrick Corbin, a choreographer and award-winning dancer formerly with the Paul Taylor Dance Company
Moncell Durden, a hip-hop scholar and dancer with the Rennie Harris Puremovement company
??Zippora Karz, a former New York City Ballet soloist
Fiona Lummis, a contemporary ballet dancer who performed with the Netherlands Dance Theatre
??Victor Quijada, a dancer, choreographer and director of Montreal's RUBBERBANDance Group.
Corbin and Durden join the faculty as assistant professors while Richardson, Karz, Lummis and Quijada will serve as artists in residence. They join current leading faculty members Jodie Gates, William Forsythe and Margo Apostolos.
USC Kaufman will enroll its first cohort of Bachelor of Fine Arts dance majors in fall 2015. The school currently offers a comprehensive curriculum for USC students with non-major courses and two minors in dance.
These new faculty have an interest in new media, choreography, music and dance culture — a common thread for all of us teaching at USC Kaufman.

Jodie Gates
"These new faculty members bring a diverse and rich legacy to the USC Kaufman program," said Gates, vice dean and director of the USC Kaufman. "Our vision is to create a new movement model for dance education and a collaborative environment with the finest artists and scholars in the field. These new faculty have an interest in new media, choreography, music and dance culture — a common thread for all of us teaching at USC Kaufman."
Founded in 2012 with a transformational gift by arts patron Glorya Kaufman, USC Kaufman combines a conservatory environment with the academic rigor of a major private research institution.
"It was always my dream that when the school opens its doors, it would feature a faculty of unparalleled ballet, hip-hop and contemporary dancers, as well as first-class choreographers," said Robert A. Cutietta, dean of USC Kaufman. "In keeping with the hiring of Bill Forsythe, these six new faculty members are an internationally celebrated group of artists and educators."
??New faculty
Patrick Corbin is an internationally renowned dance artist whose career bridges the worlds of classical ballet, modern and contemporary dance. He studied ballet at the Washington School of Ballet and School of American Ballet, and currently is finishing an MFA in dance performance and choreography at the NYU Tisch School of the Arts. He danced professionally for the Joffrey Ballet, Washington Ballet, Kansas City Ballet and ABT II. In 1989, Corbin joined the Paul Taylor Dance Company, where he remained until 2005 and became one of the company's most celebrated artists. In 2001, he was the recipient of the New York Performance Award (Bessie) for Sustained Achievement with the company. He has been featured frequently on the PBS series Great Performances and was featured in the documentary Dancemaker. In 2003, he founded his own company, CorbinDances, to create and stage his own work. Corbin is also responsible for staging the works of Paul Taylor across the U.S. and internationally.
Moncell Durden is a dance educator, ethnographer and historian who specializes in American Afro-Caribbean social dance formations. Before joining USC Kaufman, Durden taught for seven years at Drexel University. He currently holds appointments at the Yale University School of Drama, Wesleyan University and Bennington College. Durden began his professional career as an opening act for musicians in his hometown of Harrisburg, Pennsylvania, before befriending professional dancer and choreographer Emilio Austin, who played a key role in Durden's understanding of New York City street dance culture. Durden later joined the celebrated Rennie Harris Puremovement company, which provided an exposure to theater life. He currently is writing an article for the Oxford Handbook of Hip-Hop Dance and developing a documentary on the genealogy of hip-hop dance.
Artists in residence
Zippora Karz is a former soloist with the New York City Ballet, where she performed for 16 years on stage and in televised performances. She was featured in a variety of roles choreographed by George Balanchine and Jerome Robbins, as well as works choreographed for her by Peter Martins, Lynne Taylor Corbett and others. Karz danced with the New York City Ballet from 1983 through 1999. She now serves as a teacher and repetiteur for the George Balanchine Trust, rehearsing and staging Balanchine's choreography for a host of national and international dance companies. As a person living with Type 1 diabetes, Zippora faced many challenges pursuing a vigorously physical career. Today, she is a diabetes spokesperson and educator who regularly addresses major diabetes conferences and organizations worldwide, sharing the lessons she has learned about living a full, passionate and healthy life. Her memoir, The Sugarless Plum, as well as her children's book, Ballerina Dreams, teaches children and adults with and without diabetes that they should not give up on their dreams no matter what challenges they face.
Fiona Lummis performed with the Netherlands Dance Theater from 1981 until 2001. A graduate of the Elmhurst School of Dance and The Rambert School, Lummis danced featured roles in contemporary ballets by choreographers Forsythe, Jiri Kylian, fJerome Robbins, Hans Van Manen, Lar Lubovitch and Glen Tetley, among others. She received the Gouden Theaterdans Prijs for her performances in Forsythe's Steptext and was honored with the Oeuvreprijs award in recognition of her career in The Netherlands. She works closely with the Kylian Foundation and the Van Manen Foundation, teaching repertoire in colleges, schools and companies in the United States and Europe.
Victor Quijada possesses a rare perspective on a large spectrum of dance, with knowledge and experience that spans from the street corner to the concert hall. As a dancer, he has performed with a variety of acclaimed postmodern and ballet companies, including THARP!, Ballet Tech and Les Grands Ballets Canadiens de Montréal. As a choreographer, his work reimagines, deconstructs and applies choreographic principles to hip-hop ideology. Quijada founded the RUBBERBANDance Group in 2002 and is regularly commissioned to create new works for companies, including Hubbard Street Dance Chicago, Pacific Northwest Ballet and Scottish Dance Theatre.
Desmond Richardson has been hailed by The New York Times as among the great dancers of his time. He has been a principal dancer with The Alvin Ailey American Dance Theater, American Ballet Theater and Ballet Frankfurt under the direction of Forsythe. Richardson has danced on the most important stages around the world. He has appeared on Broadway as an original cast member in Fosse, as Tony in Twyla Tharp's Movin' Out and in the Burt Bacharach/Hal David production, The Look of Love, and was recently seen as a featured performer in After Midnight. He has worked as a guest performer and choreographer in film and television, appearing in the Oscar-winning Chicago, Across the Universe and on the American and international editions of So You Think You Can Dance. He has been a featured dancer for Michael Jackson, Prince, Madonna and Aretha Franklin. With choreographer Dwight Rhoden, he founded the acclaimed dance company, Complexions Contemporary Ballet. Richardson has received a Tony Award nomination and the Dance Magazine Award, the Capezio Award, the LA Ovation Award, a New York Performance Award and the Young Arts Alumni Award. He is a Presidential Scholar of the Arts.