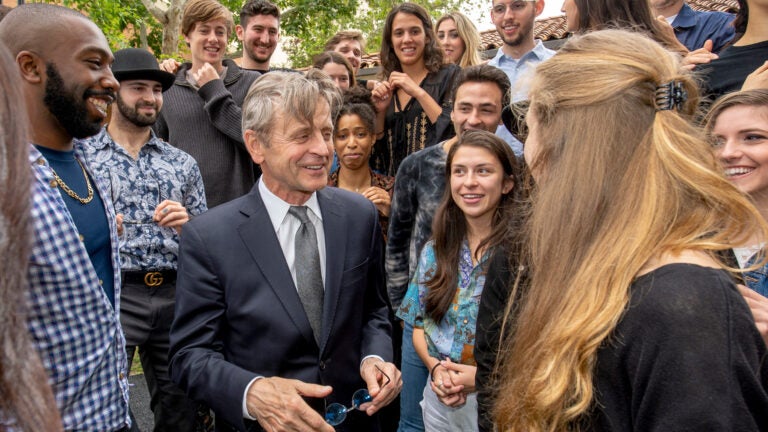 University awards its first degree in dance to 33 graduates of USC Kaufman
The first group of students to attend the USC Kaufman School of Dance was taking a risk. Friday, that risk was rewarded, as friends, family, faculty and Mikhail Baryshnikov sent them off into the world with degrees.
USC has awarded degrees in history, music, biology and computer science, to name a few. But until Friday, it had never awarded a degree in dance.
The USC Kaufman School of Dance graduated its first cohort of 33 students at USC's 136th commencement.
"What strikes me is how similar in size the Kaufman school is today is to what USC was in 1880. It's almost the identical size," Dean Rob Cutietta said. "It boggles the mind to think what the Kaufman school will look like 139 years in the future."
As a small group, they've become a family over the years. For that reason, the mood was convivial yet bittersweet. Cutietta made jokes, urging students to take pictures and ditch formality.
"All of you are graduating — at least as far as you know," he said with a laugh.
'You've courageously defined a new breed of dance artists'
Vice Dean Jodie Gates remembers when got the first round of applications in late 2014.
"I clearly remember your admission videos," Gates said. "Now four years later … you've courageously defined a new breed of dance artists."
Hundreds applied and 39 were offered spots — 33 accepted, much more than the 20 or so staff and faculty were anticipating. When this cohort started in the fall of 2015, they were taking a risk.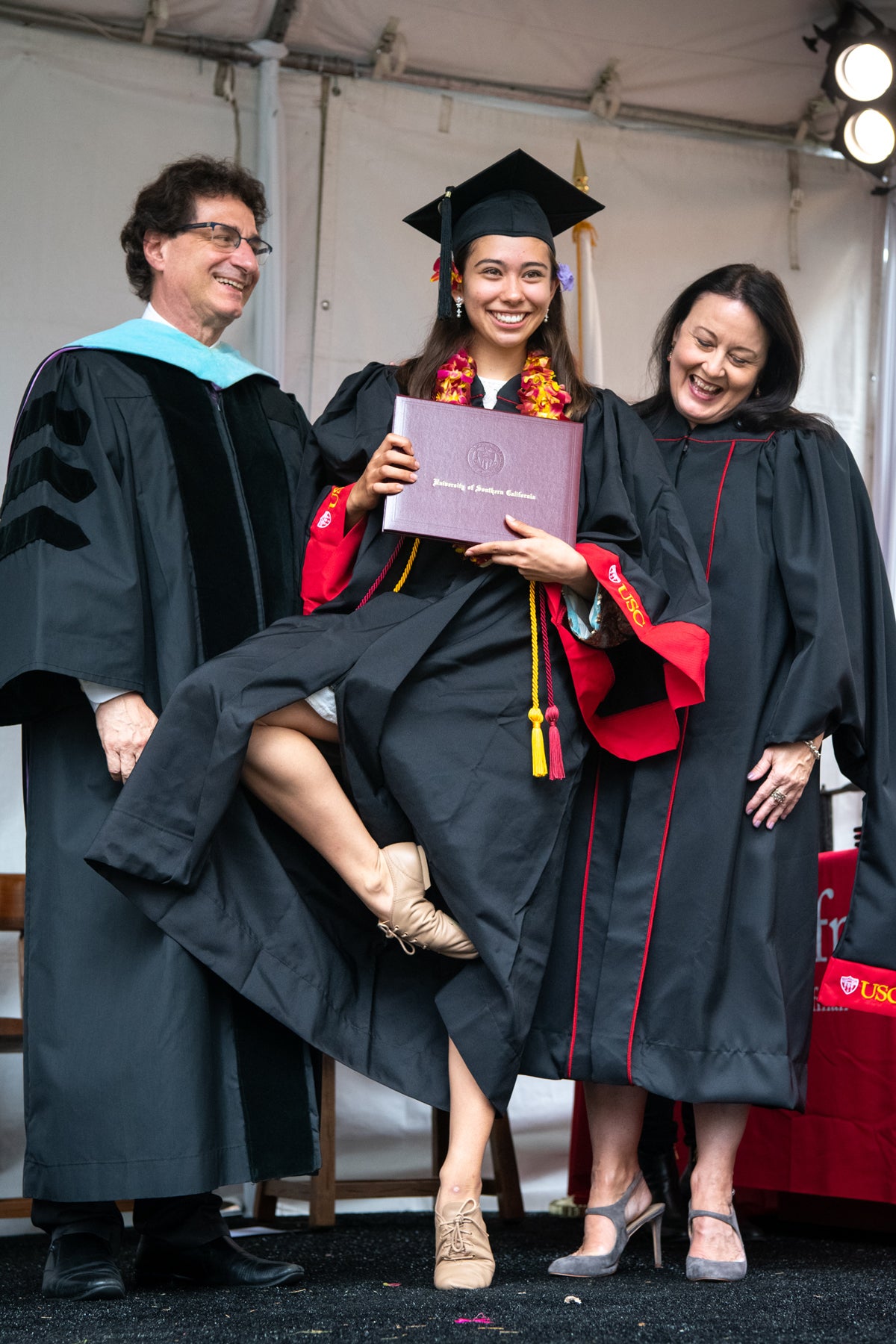 "You believed in a vision. A newly created curriculum with courses yet to be taught, a building that was yet to be built, a faculty and staff we were still hiring," she said. "You are living history."
Senior Ardyn Flynt touched on it in verse.
"In order for me to articulate why we chose to matriculate when no one could quite anticipate the extent to which we'd scintillate — let me leave you with the word 'risk,' " she said. "Walking today are 33 risk-takers … rule-breakers. Thirty-three people who took a leap of faith."
The school wouldn't be here if it weren't for the generous donation from philanthropist Glorya Kaufman. When Cutietta was approached to create the school, he knew it would need talented faculty to help it stand out — nabbing well-known names in the dance industry, such as William Forsythe, Gates and d. Sabela grimes. The curriculum, led by Gates, is dubbed "The New Movement." Hybridity is core to it — building 21st-century artists who are malleable and work across styles. Housed within a research university, having interests outside the studio was integral. Among this cohort are app developers, aspiring attorneys, social media strategists and activists. The school isn't for the dancer whose only interest is ballet, Gates said.
Baryshnikov welcomes the first USC graduates with a degree in dance
If anyone knows hybridity, it's Mikhail Baryshnikov. The ballet dancer grew up in Latvia, first dancing in Leningrad before coming to the U.S. in the 1970s — where he's channeled his talent for performing to film, TV and theater. He's been nominated for both a Tony and an Academy Award, the latter for the 1977 film The Turning Point. In 2005, he opened the Baryshnikov Arts Center in New York City, which serves more than 700 artists and has more than 22,000 patrons.
As USC Kaufman's first keynote speaker, he encouraged students to continue taking chances — like they did when they applied.
You have to allow yourself to take a risk and fail. Failure is learning.

Mikhail Baryshnikov
"You have to allow yourself to take a risk and fail. Failure is learning," he said. "Projects collapse, knees blow out, money dries up. But you, as artists and as young people discovering what you care about, you must be generous with that spark inside yourself that made you love dance in the first place."
Remember, he said, "It isn't the fame or money or glamour. Of course, those things are nice. Dance is an honest attempt to communicate with movement."
In an industry that can breed perfectionism, he cautioned students against self-criticism. It's not about nailing a turn or jumping higher, he said.
"Being imperfect, most of the time, this is much more interesting," he said.
Before they went off into the world — whether it's to join a company in New York City or tape a TV commercial or earn their JD — Gates asked them to remember their first 8 a.m. ballet class in 2015.
"Remember the thrill and the unknown," she said. "Bottle up that secret sauce you've learned here and share it with others."