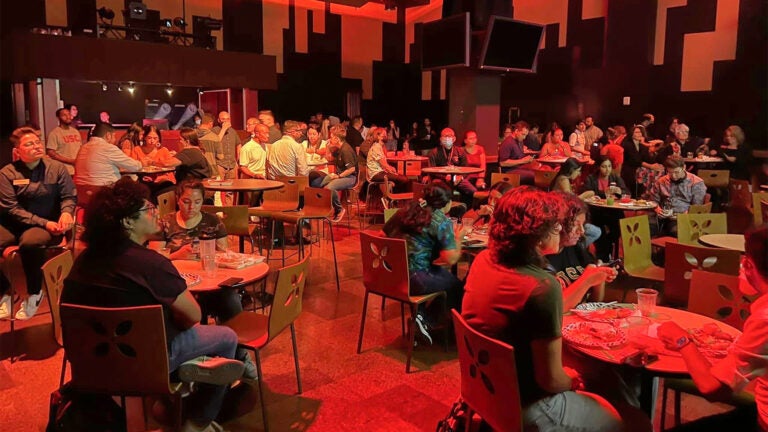 USC kicks off Latinx Heritage Month: 'As individuals we are strong, but as a community, we are powerful'
Unity is celebrated during a virtual kickoff event and live viewing party. Latinx Heritage Month runs from Sept. 15 through Oct. 15.
With the theme of Unidos — Inclusivity for a Stronger Community setting the tone, Trojans shared their personal stories and thoughts during a virtual event streamed online, which also included a festive viewing party at Tommy's Place on the University Park Campus hosted by Latinx Chicanx Center for Advocacy and Student Affairs (La CASA).
"Unity takes work because it's more than the identity that will bring us together," USC Rossier School of Education Dean Pedro Noguera said during the program. "We have common needs, common challenges that we face — especially in this country at this time. My hope is that Latinx Heritage Month will serve as a time for conversations and dialogue about those issues."
Noguera added that unity is something that cannot be imposed — it requires consistent effort.
"It's so important that here at USC we have a strong Latinx presence," he said.
This year's celebration comes as 18% of all incoming undergraduates at USC, including transfer students, and 14% of incoming graduate students identify as Latinx (including those whose preferred terms include Latino/a, Chicano/a/x and Hispanic).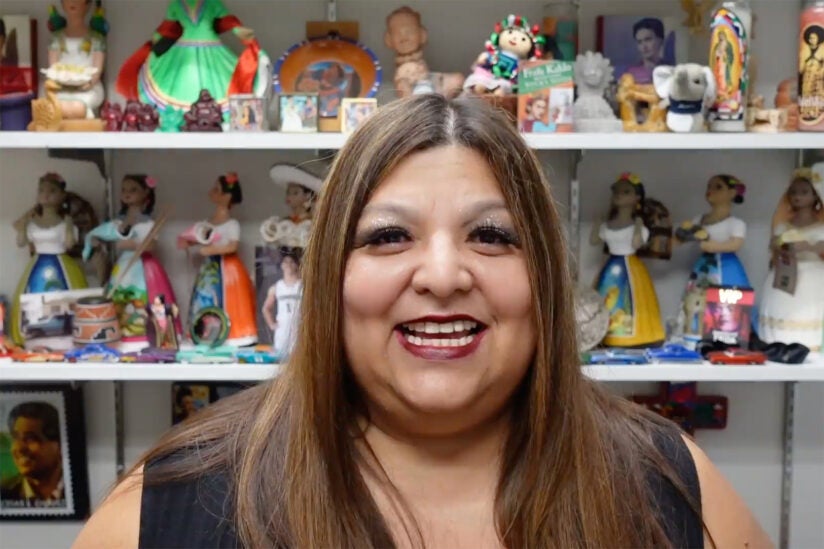 During the program Janette Hyder, a USC Rossier doctoral candidate who said the thought of attending USC had seemed "unattainable" growing up, talked about how proud she is of being the first person in her family to attend college.
"As a third-generation Chicana, I am proud of being Mexican, of sharing my culture with others, and representing my community in higher education," Hyder said. "It has kept me grounded, self-aware and motivated to continue to be a change agent."
Hyder said she loves being part of a community that is "filled with powerful stories, rituals, food, music, dances, spirituality and traditions."
"Embracing our culture regardless of our differences only makes our community more resilient," she said. "As individuals we are strong, but as a community, we are powerful."
Maria Belen Polanco, a first-generation college student whose family came to the United States from El Salvador when she was 3 years old, shared how she has overcome "unique challenges" connected to how she initially felt about being a Latina student at USC.
"Many of us come to USC with little resources of our own … and sometimes we even convince ourselves that we don't belong here," she said. "That couldn't have been further from the truth because the real richness comes from within."
The USC Marshall School of Business student credits her mother with teaching her resilience and inspiring her to have dreams.
"I was raised by a single mother who just doesn't quit and got my brother and I through everything poverty threw at us — including homelessness," Polanco said. "Many people think being a Trojan just means attendance at a very prestigious school. But they don't realize the work, the grit and the resilience it takes."
Alberto Ortega, a USC Marshall MBA candidate who is taking a pause from his studies at the Keck School of Medicine of USC, has already earned two undergraduate degrees from USC. He initially planned to be a Spanish teacher but shifted to health care because of his "lived experience." He now plans on being a physician.
"There is no doubt that being a part of the Trojan Family changed my life," Ortega said. He credited his success to all the role models and mentors who opened doors for him and helped him to believe in himself.
Remembering a legendary mentor during Latinx Heritage Month kickoff
USC President Carol L. Folt recognized one of USC's most legendary Latino mentors, the late Edward Zapanta, in her remarks at the event.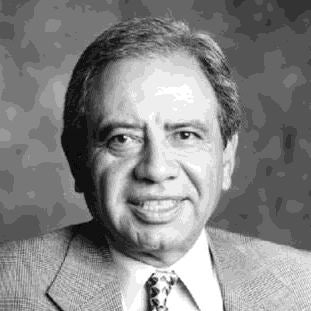 Zapanta was the first Latino member of USC's Board of Trustees and was the only Latino in his class when he entered what is now the Keck School of Medicine. When Zapanta struggled to pay his medical school bills, a local Latino doctor gave him a scholarship and encouraged him to pay it forward.
He did that and more. Zapanta and his brother Richard, who graduated from the Keck School in 1968, became co-founders of what is now known as the USC Latino Alumni Association. Since its founding in 1973, the association has awarded more than 94,000 scholarships totaling $22.5 million across the university.
"Learning from the generations before us, the ones that are beside us, and those following us is what helps us all build a better future for everyone," Folt said. "Diversity makes our USC community so much stronger."
Latinx Heritage Month is a time to celebrate the histories, cultures and contributions of American citizens whose ancestors came from Spain, Mexico, the Caribbean and Central and South America.
It began as Hispanic Heritage Week in 1968 with a proclamation signed by President Lyndon B. Johnson; in 1988, President Ronald Reagan expanded the celebration to a month, through Oct. 15.
USC celebrations had been limited to being virtual the past two years due to the COVID-19 pandemic. This year's viewing party provided a long-awaited opportunity for some in-person fellowship and food from different Latin American countries.
"It feels good being around a lot of other Latinos, meeting new people," USC Marshall freshman Ivan Gallegos said at the party. "I like how the speakers talked about inclusivity and trying to feel like a part of USC. I think a lot of people can relate to that – especially me."
Itzel Villanueva, a junior studying computer science and business administration at USC Viterbi School of Engineering, was also glad to be able to gather with her fellow Latino students.
"We don't really see multiple opportunities here at a PWI [predominantly white institution]," Villanueva said. "Having this event is really special. It's about being proud of who I am and embracing it."
Latinx Heritage Month: In-person viewing party has been a long time coming
USC Annenberg School for Communication and Journalism master's student Valeria Ortiz was executive director of the Latinx Student Assembly during the pandemic and said an in-person event such as the viewing party had been a long time coming.
"It feels amazing to see everybody come out and it's obviously clear that we needed this as a community," Ortiz said as she finished her lunch. "Something as simple as having food and talking to one another is really unifying in a very special way."
After the virtual program ended, USC Rossier Associate Dean for Diversity and Community Engagement Darline Robles made remarks to the crowd that resonated with many of the students.
"You being here today is a testament to you being proud, caring, loving and supportive of your culture," she said. "That doesn't happen often, particularly if you're in a primarily white institution, right?"
Robles encouraged any Latino students in attendance to continue to get rid of any feelings of "imposter syndrome."
"You deserve to be here, and you deserve to go as far as you want in this world," she said. "Don't ever forget that.'