USC law professor launches nation's first project on child witness testimony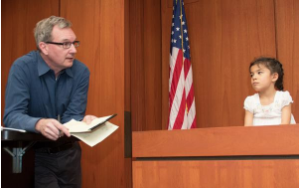 Thomas Lyon awarded $2.9 million grant to build on program supporting children in abuse cases
Contact: Gilien Silsby at (213) 740-9690 or (213) 500-867 or
Image: Prof. Thomas Lyon questions a 4-year-old child who volunteered in a mock interview training session with USC Gould students
USC Gould School of Law professor Thomas Lyon is launching the first project in the nation that will systematically test child interviewing techniques in dependency courts and in the field. Specifically, Lyon will examine whether open-ended, nonjudgmental questions prompt more detailed narratives from children — as they have proven in a lab setting.
Lyon was awarded a $2.9 million grant from the Eunice Kennedy Shriver National Institute of Child Health and Development (NICHD) to build on his highly successful program focusing on maltreated children disclosures. He has spent the past two decades developing and refining child witness interviewing methods.
As part of the new project, abused children ranging from 4 to 12 years old will be interviewed using Lyon's groundbreaking strategies. The goal is to encourage children to reveal truthful information without increasing the risks of suggestibility or influence. Accurate and detailed testimony from children will enable the courts to better decide cases so that abused children will be protected and the rights of defendants preserved.
"In sexual and physical abuse cases, an essential piece of evidence is the child's report," said Lyon, one of the world's leading experts on child witness strategies. "But many children either fail to disclose abuse or provide unconvincing testimony." Despite evidence pointing to physical or sexual abuse, 40 percent of children fail to disclose abuse when questioned by authorities.
Lyon's methods include interview instructions, such as a promise to tell the truth, improved rapport building, and questions about important but often overlooked aspects of children's experiences, such as their conversations with suspects and adults who might influence their reports. These approaches elicit disclosures and provide insight into the mechanisms underlying children's willingness and capacity to disclose.
"In our lab work, we've interviewed more than 3,100 children, and we've incorporated our findings into our training," Lyon said. "Now, for the first time, we will systematically test our interviewing techniques in the field."
Lyon and his team, which includes USC law students, post-doctoral researchers, and undergraduate students, expect to interview hundreds of children who have alleged sexual and physical abuse. Lyon has partnered with agencies that supervise children in the Los Angeles County Dependency Court.
Lyon believes the interviewing methods can be used on virtually every platform that involves children disclosing information. "Our hope is that anytime anyone questions a child, our techniques will be used — from police and social workers to educators and pediatricians," Lyon said.
The new grant builds upon $3.7 million in previous NIH grants Lyon has received in the past decade, as well as additional funding from the National Science Foundation. He is the only professor of law in the United States to conduct both experimental and field research with child witnesses.