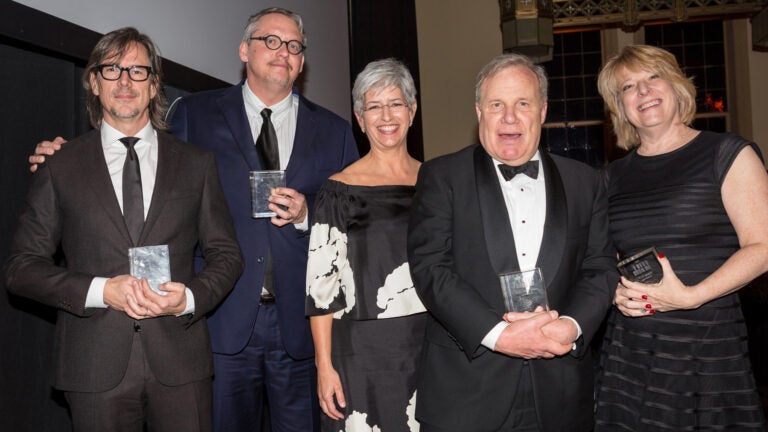 USC Libraries Scripter Award goes to The Big Short, Show Me a Hero
For the first time, the annual award honoring the written word is given to a movie and television show
The authors and screenwriters behind the film The Big Short and the television miniseries Show Me a Hero received the 28th annual USC Libraries Scripter Award in a ceremony at Doheny Memorial Library.
The Scripter Award recognizes the year's best cinematic adaptation of the written word. For the first time, this year's award also honors the best television adaptation.
In her Feb. 20 remarks, USC Libraries Dean Catherine Quinlan credited the addition to the growing recognition of excellence in adaptation for television.
"Among the incredibly well-written programs on the air, on cable and streaming today are many, many adaptations of the written word," she said. "So, including television for Scripter consideration seemed a fitting and natural extension of the idea Marjorie and Glenn had 29 years ago."
Hero worship
In the television category, the award went to journalist Lisa Belkin, author of the nonfiction book Show Me a Hero: A Tale of Murder, Suicide, Race, and Redemption, and screenwriters William Zorzi and David Simon, who penned the teleplays for the six-part HBO miniseries Show Me a Hero.
Belkin said in accepting the award, "John le Carré supposedly said that watching your book become film is like watching your oxen be turned into beef jerky. But it was not like that at all. And it was because Bill [Zorzi] and David [Simon] saw it as their mission to stick to history, to bring to life people who actually lived."
The other finalists were the writers behind episodes of Game of Thrones (distributed by HBO), The Leftovers (HBO), The Man in the High Castle (Amazon) and Masters of Sex (Showtime).
In the film category, the winners were journalist Michael Lewis, author of The Big Short: Inside the Doomsday Machine, and screenwriters Adam McKay and Charles Randolph, who adapted Lewis' book into the screenplay for Paramount Pictures' The Big Short.
McKay and Randolph both spoke of the contemplative spaces that libraries provide.
"Coming to the library today was comforting," said McKay, who also directed the film, "where the job of this place is to think and to slow things down." Randolph then noted that, as a USC student, he wrote his first script in Doheny Library's Los Angeles Times Reference Room.
The other finalist films were Brooklyn (distributed by Fox Searchlight), The End of the Tour (A24), The Martian (20th Century Fox) and Room (A24).
Scripter began in 1988, co-founded by USC Libraries supporters Glenn Sonnenberg and Marjorie Lord. Sonnenberg presented an honorary Scripter to Lord's daughter Anne Archer, in honor of her family's support of Scripter and the USC Libraries.
Accepting the award, Archer said that her mother "knew that supporting the USC Library through this unique event would be a reminder to the next generation that great writing elevates a culture."