USC, Los Angeles Times launch daily election poll
Trump in virtual tie with Clinton
The new "Daybreak Poll" will provide a best estimate of how Americans will probably vote in the 2016 presidential election, USC researchers say.
Contact: Emily Gersema at (213) 361-6730 or gersema@usc.edu; Jill Darling at (213) 821-8901 or jilldarl@usc.edu; or Dan Schnur at schnur@usc.edu or Erika Maldonado at (213) 740-8964 or erikamal@usc.edu
July 15, 2016 — Two USC centers and The Los Angeles Times are launching a daily nationwide poll whose updates over time will reveal shifts in Americans' opinions on the presidential candidates.
The new USC Dornsife/LA Times Presidential Election "Daybreak" Poll is a probability poll that will provide a best estimate of how America plans to vote in the November election. Results are based on repeated participation by a large panel of Americans representing a random sample of diverse households nationwide.
Only a few such daily probability polls exist in the country. The Daybreak Poll is part of the ongoing Understanding America Study at the USC Dornsife's Center for Economic and Social Research. It is conducted in partnership with the Jesse M. Unruh Institute of Politics (also at USC Dornsife College of Letters, Arts and Sciences) and with The Los Angeles Times.
"Because it's a daily poll, it will pick up almost instantaneously the effects of any event relating to the race — whether it's a candidate's announcement of a new running mate, a controversial incident or a policy proposal," said Arie Kapteyn, director of the USC Dornsife Center for Economic and Social Research which oversees the Understanding America Study whose panelists participate in the Daybreak Poll.
"And since the same people respond to the poll again and again, we know that the shifts we see in the data are the result of them changing their opinions," Kapteyn said.
More than 3,200 participants in the Understanding America Study are on the election panel. Of those, 450 are invited daily to participate in the Daybreak Poll to ensure a balanced sample. Each day at midnight, researchers update the results, which are based on a week's worth of responses.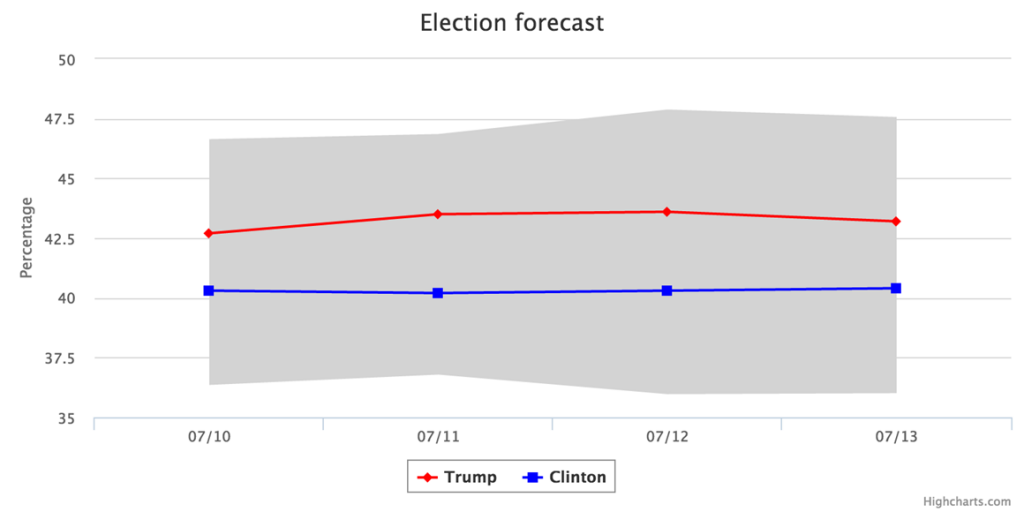 Poll results
For the first week of the poll, Republican candidate Donald Trump and Democratic candidate Hillary Clinton are in a statistical tie. Trump has 43 percent and Clinton 40 percent — falling within the poll's confidence interval of plus or minus 3 percentage points.
The poll affirms that the campaign is broadly divided by race, gender, age and education. Among men, Trump leads Clinton 47 percent to 36 percent. Among women, Clinton leads Trump 41 percent to 34 percent, a result just inside the poll's margin of error.
Eligible voters who have not graduated from college tend to support Trump: 53 percent versus 24 percent for Clinton. However, Clinton draws 77 percent support from African Americans, versus Trump's 3 percent. She also drawn 51 percent from Latinos, versus 30 percent for Trump.
Among white college graduates, Clinton is at a slight advantage: 42 percent to Trump's 40 percent.
Poll respondents lean in Trump's favor but think he's unlikely to win. Fifty-three percent believe Clinton will prevail, compared with 41 percent for Trump.
"It looks as though the news surrounding Hillary Clinton's email controversy has had a pronounced impact on her level of support," said Dan Schnur, director of USC's Jesse M. Unruh Institute of Politics. "Donald Trump's poll numbers have been largely unchanged over the last several weeks, but our poll shows that Clinton's have taken a noticeable hit."
How the poll works
About 450 eligible voters in the Understanding America Study election panel are invited every day to answer three questions online: What is the percent chance that: (1) you will vote in the presidential election? (2) you will vote for Clinton, Trump, or someone else? and (3) Clinton, Trump or someone else will win? In addition, to learn more about what lies behind their likely vote, respondents each week are asked one or two extra questions about their preferences and values.
As the responses come in, CESR updates the charts nightly with an average of the prior week's responses.
"We're very excited to have this national nightly 'Daybreak' tracking poll to complement our ongoing USC Dornsife/LA Times California poll," said Schnur whose institute oversees the largest statewide poll of California voters. "The two will combine to give us tremendous insight into the thinking of voters here and across the country."
To identify who is likely to vote, the Daybreak Poll uses a 1-100 scale and asks respondents to report their likelihood of voting and which candidate they prefer. Kapteyn said that in theory, the use of longitudinal data should lead to more reliable results.
The team responsible for the USC Dornsife/LA Times Presidential Election "Daybreak" Poll had, four years ago, developed the RAND Continuous Presidential Election Poll based on the same methodology. The margin of error is plus or minus 3 percentage points but may vary for subgroups.
The Daybreak Poll results are publicly available on three sites: elections.usc.edu, at the Unruh Institute site and the LA Times politics page.
___

About USC Dornsife's CESR: The Center for Economic and Social Research is dedicated to discovering how people around the globe live, think, interact, age, invest, and make important, life-changing decisions. CESR's in-depth research and analysis deepen the understanding of human behavior in a wide range of economic and social contexts. CESR's ultimate goal: to improve social welfare by informing and influencing decision-making in the public and private sectors. Along the way, CESR is leading a creative revolution in how scientists conduct social science and economic research through the use of innovative technology.
The Understanding America Study at CESR is a panel of more than 3,200 randomly-selected respondents around the country who answer researchers' queries approximately twice a month through an online survey. The panelists are all adults, 18 and older. (Additional details are here.)
Surveys conducted for the study are commissioned by USC clients, international universities and government researchers who are studying issues such as consumer behavior, social and economic policy and health. Researchers worldwide create the surveys. CESR's team designs and tests them, and then it sends them to panelists to respond.


About the Jesse M. Unruh Institute of Politics: The Jesse M. Unruh Institute of Politics is dedicated to bridging the academic study of politics with practical experience in the field. The Unruh Institute channels its efforts by offering courses in applied politics, a variety of speaker series, and an extensive political internship program. Its goals are to engage public officials with the USC community and to facilitate discussion of relevant issues across campus.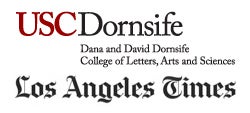 About USC Dornsife College of Letters, Arts and Sciences: USC Dornsife is the heart of the university. The largest, oldest and most diverse of USC's 19 schools, it is composed of more than 30 academic departments and dozens of research centers and institutes. USC Dornsife is home to approximately 10,000 undergraduate and graduate students and more than 750 faculty members with expertise across the humanities, social sciences and sciences.
The USC Dornsife/Los Angeles Times Poll is a series of statewide public opinion polls in California, designed to survey voter attitudes on a wide range of political, policy, social and cultural issues.
Conducted at regular intervals throughout the year, the USC Dornsife/Los Angeles Times Poll is the largest statewide poll of registered voters and has been widely cited, helping to inform the public and to encourage discourse on key political and policy issues.
About the Los Angeles Times: The LA Times is the largest metropolitan daily newspaper in the country, with a daily readership of 2 million and 3 million on Sunday, and a combined print and interactive local weekly audience of 4.5 million. The fast-growing latimes.com draws over 10 million unique visitors monthly.
# # #