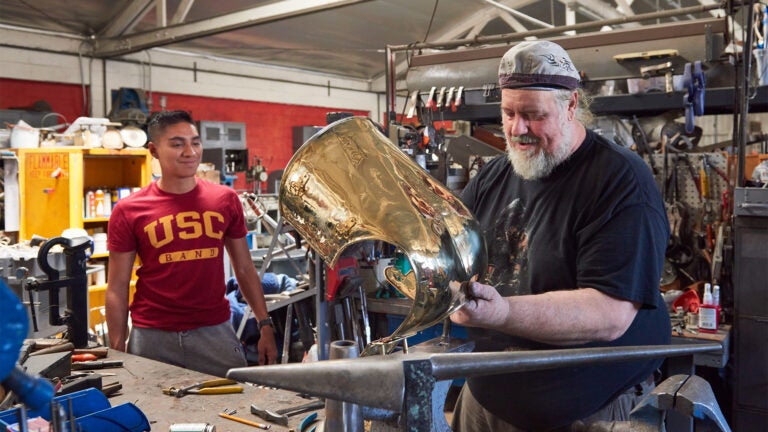 From the forge to the field: The story (and the person) behind the Trojan sword and armor
The pieces are as iconic as Traveler, the Trojan Marching Band and the football program itself. But where the armament is crafted couldn't be any farther from the bright lights and boisterous crowd of the Coliseum.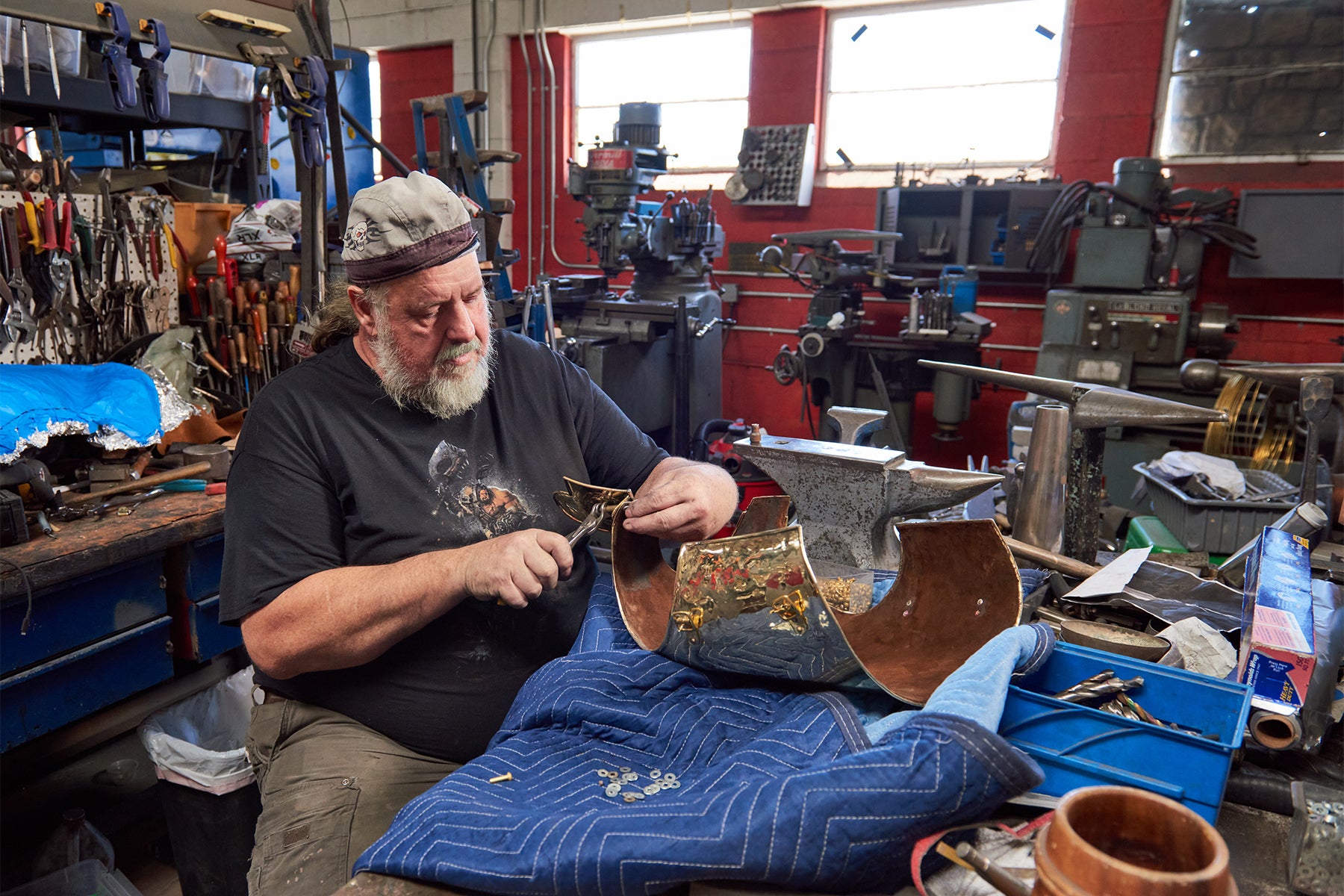 As deafening as a packed Los Angeles Memorial Coliseum can be, there is one moment that can make even the most ardent USC fan go silent: The armor-clad drum major, the game day leader of the Trojan Marching Band, plunging his sword into the midfield logo.
What follows is an eruption of 78,000-plus cheers as the band begins to play "Tribute to Troy." At a school with no shortage of iconic imagery, the sword stabbing into the turf reigns supreme because it can only mean one thing: The Trojans are about to take the field.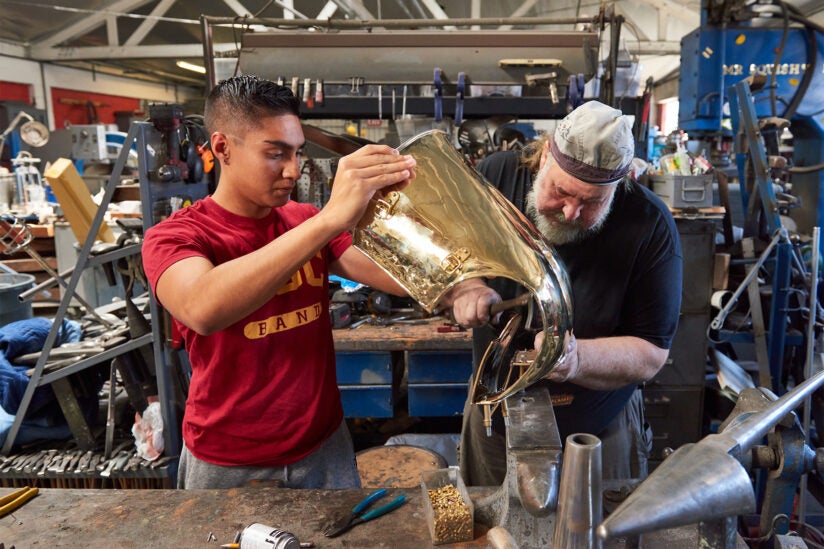 The Trojan armor and sword are as iconic as the band, Traveler the horse, and the football program itself. But where the armament is crafted couldn't be any farther from the bright lights and boisterous crowd of the Coliseum.
Tucked in a side street off Victory Boulevard in Burbank sits Sword and the Stone, a small shop in a mundane building lost in a row of warehouses and lots. But don't judge this shop by its modest outward appearance. Sword and the Stone has crafted some of the most iconic weapons in movie history — everything from Captain Hook's namesake prosthetic to Jack Sparrow's sword, and more recently Thanos' Infinity Gauntlet.
But for the past 30 years, owner Tony Swatton has branched outside of the entertainment industry for one university. For USC's marching band, alumni association and even athletics programs, Swatton is USC's go-to armorer.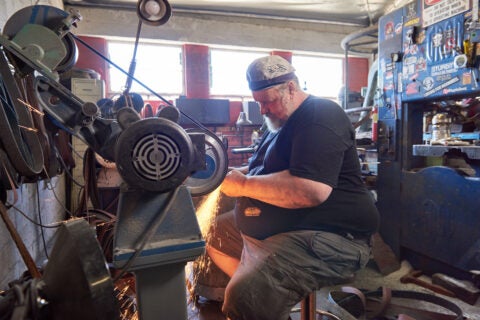 "I honestly didn't expect it to be for more than one season," Swatton said. "When I initially made the sword, I spent a lot of time making it, and never thought I'd be making hundreds of them over the next 30 years."
1991: USC marching band needs some armor
Swatton crafted his first blade for USC ahead of the 1991 season. The self-taught blacksmith and gem cutter was coming off his first major film project with 1991's Hook when he was approached by then-Trojan Marching Band drum major Bijon Watson. Left over from decades-old productions at that time, the drum major armor was beginning to deteriorate, and Watson approached the band director about updating the outfit.
"It was a pretty funky little piece of armor," Watson said with a laugh. "From my understanding that generation of drum major uniform was from, like, Ben Hur or something around that time."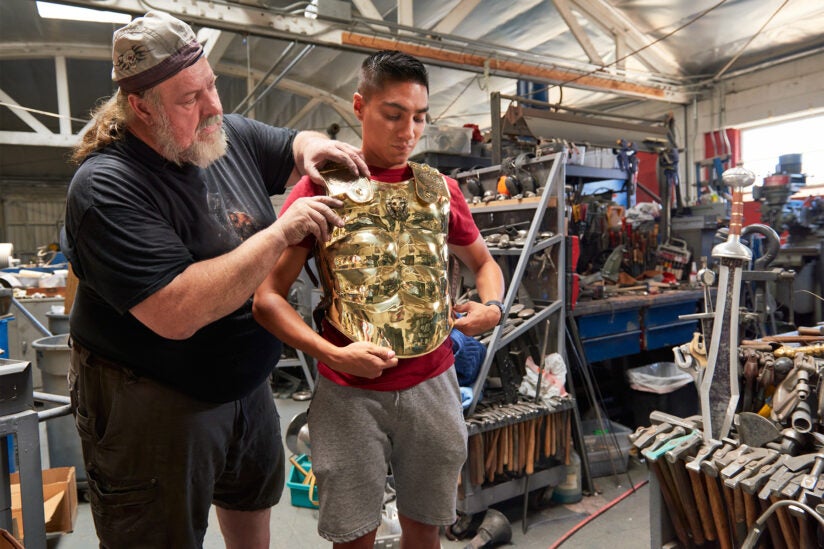 The band turned to Swatton, who came up with several concepts for the helmet, armor and sword based on his own research and historical records of Trojan armor. Unlike ancient weaponry, Swatton crafted the sword out of aircraft aluminum, which Watson vividly remembers seeing in action 30 years ago.
"I remember Tony saying, 'Hey, watch this,' and banging the sword against a metal trash can, cutting into it, and that sword didn't even have a scratch on it," said Watson, a professional musician and educator who has performed around the world since his time at USC.
"It was pretty awesome to see."
From film to TV to the USC marching band
That youthful enthusiasm for the craft has kept Swatton in the game for this long. He started gem cutting around 7 years old, but it was a trip to a Renaissance fair at age 17 that led him to blacksmithing. By 26, he had his own shop in North Hollywood, and in 1991 he relocated to his current location in Burbank. Now, at almost 60 years old, he has roughly 150 total film and television credits to his name — and more uncredited — and has crafted items for collectors all over the world.
"I don't really have a monopoly on weapons and armor, but I'm able to produce stuff fast," Swatton said. "That makes my shop a little unique."
But as fun as it is for Swatton to craft the swords and armor and showcase the final products, the process is equally as exciting for the drum majors who don the Trojan gear for every football game.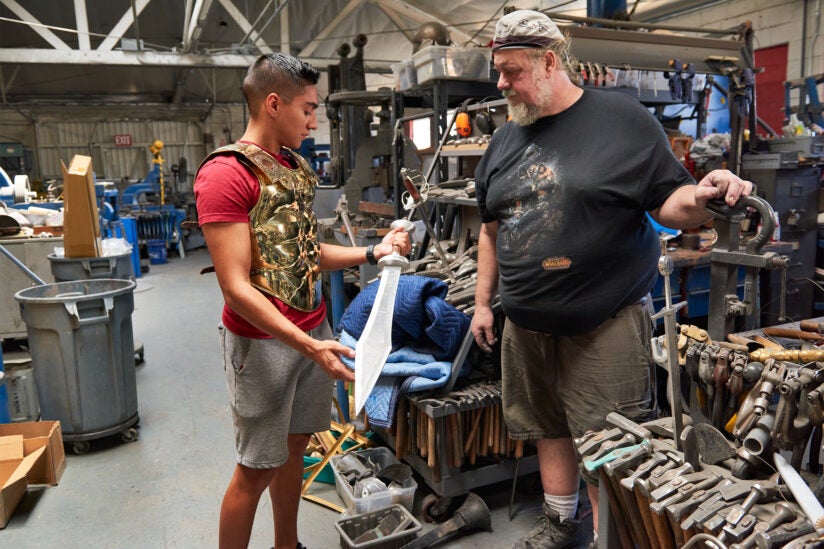 Earlier this summer, on a hot (and even hotter in the shop) June day, the current Trojan Marching Band drum major, Jacobo Herrera, had the chance to try on his chest plate ahead of the fall 2022 season. As Swatton clamped the chest and back plates together before handing him a prototype of this year's sword, the junior — who is studying music industry at the USC Thornton School of Music — was all smiles.
"There's nothing in this world that can describe what it is like to don the armor and sword," Herrera said. "I can just feel that 'spirit of Troy.'"
Herrera can stop and appreciate what is happening because he knows how rare of an opportunity it is. Where else can he be a part of Hollywood's band and wear armor made by one of Hollywood's top blacksmiths? It's a perk that Watson also understood three decades ago.
"It's all part of being in Hollywood, right?" Watson said. "Part of the USC experience is having access to these people that are involved in such iconic films and productions. There's no place else on Earth where this could happen."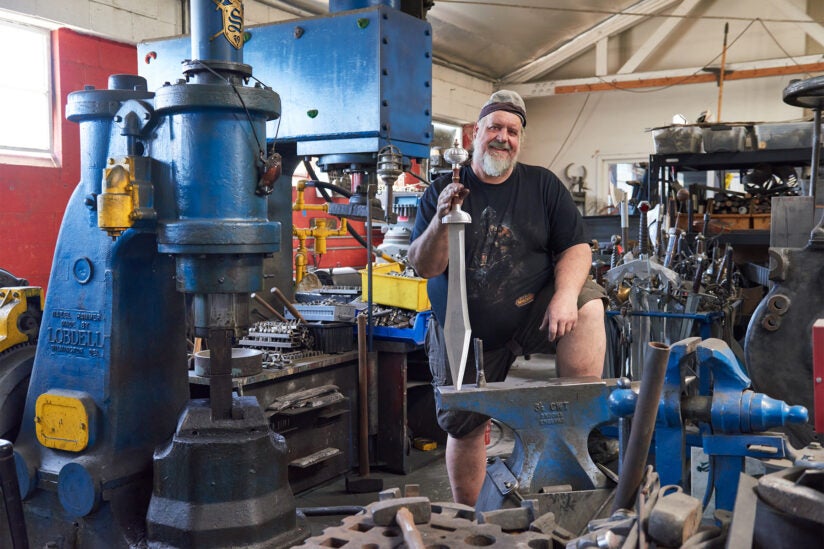 During Watson's tenure as drum major from 1990 through the 1992 season, USC football had a combined record of 17-17-2, which included two bowl losses.
"The early '90s were rough, man," Watson said with a laugh. "People were coming to see the band because that was what got them through it."
Herrera's first season happens to coincide with the beginning of the Lincoln Riley era, which has the Trojans as one of the most talked-about teams in the country. Though Herrera said that just being drum major is an honor, there is also something special about leading the Trojan Marching Band this season.
USC marching band drum major: 'Ready to stab the field'
"I've never felt more ready to stab the field and welcome a new era of USC being on top once again," Herrera said.
Swatton is admittedly not a huge sports fan, but as a master of his craft, he loves seeing his work in action and how it can extend beyond just a prop into an icon of film, television or college football.
"Some of the stuff I make, I expect a following because it's something that is instantly recognizable, like the hook I did for Spielberg's Hook," Swatton said. "The Trojan sword is like that, but it's also something I threw together 30 years ago to replace something that was beat up, and now it's crazy to see how iconic it's become."
The Trojans kick off the 2022 season this Saturday at 3 p.m. against the Rice University Owls.