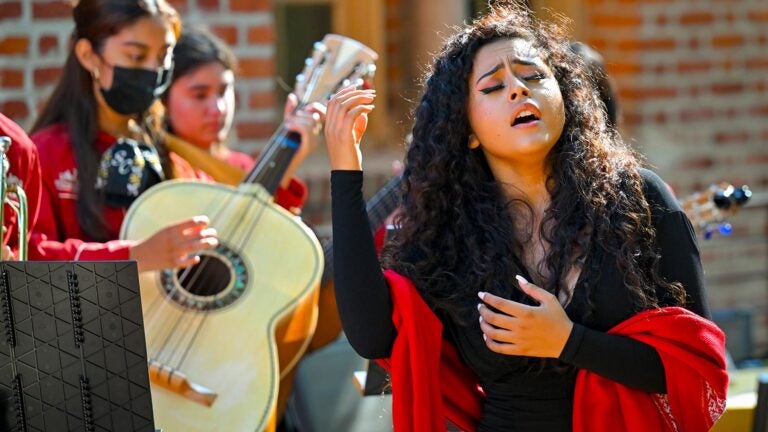 USC's new, student-led mariachi band brings back a Trojan tradition
Mariachi Los Troyanos de USC is heavily booked, with gigs on campus, at major city events and on television.
Rehearsal spaces near the USC Thornton School of Music are full on weeknights. Walk by and you'll hear an oddly pleasing dissonance. Classical music and jazz compete with a sax player riffing on the intro to "Careless Whisper."
On a recent evening, blasts of vihuela, guitarrón, violins and trumpets soared into that mix. The traditional mariachi melodies stopped and started, getting tighter with each run-through of tunes that swing from celebratory to melancholy.
"El Rey," "Si Nos Dejan," "Acá Entre Nos" and "Hermoso Cariño" are some of the many standards in the repertoire of the three-dozen-plus USC students who make up Mariachi Los Troyanos de USC.
"Mariachi is the most beautiful music in the world, and being in the heart of Los Angeles — such a diverse space, Latino-centered — it's important to find a way for students to express themselves culturally and creatively," said Eduardo Cardenas, the group's president. "We bring a lot of fun, a sense of inclusiveness, and we're all professionals, so we bring great music."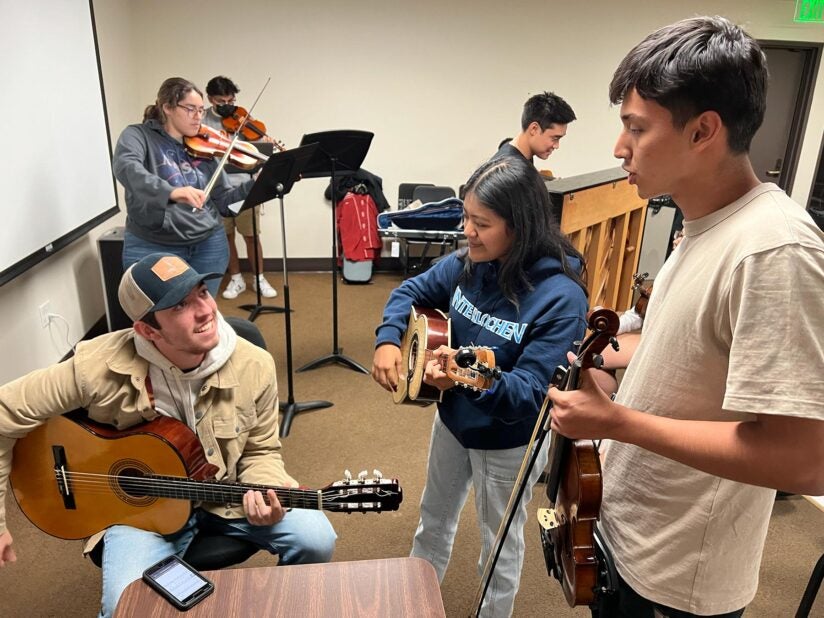 Cardenas is a mechanical engineering student at the USC Viterbi School of Engineering from Bell, who graduated from East College Prep Charter High School in Lincoln Heights. He's a fourth-generation mariachi, and his extended family includes dozens of professional musicians. Cardenas gigs with his father and uncle on weekends, something he never envisioned as a young boy.
"I always wanted to step away from that," Cardenas said. "School was always my calling, and after a while my parents stopped trying to force me to learn mariachi. I went through a rock phase in middle school. When I got into high school, I started to realize how beautiful mariachi actually is. I was lucky enough to have a teacher right at home. My dad gave me the discipline to be the best, and the best decision I've ever made was picking up the violin."
USC mariachi group: building a band
When she accepted admittance as a classical guitar major at the USC Thornton School of Music in the fall of last year, Daniela Santiago took up residence at El Sol y La Luna, USC's residential college Latinx special interest floor. It was the best place for Santiago and co-founder José "Pepe" Romo to form a mariachi ensemble.
We connected and said, 'We're gonna make this happen. We're going to start rehearsing.'

Daniela Santiago, group founder
"As I introduced myself, I recruited people," Santiago said. "I spread the word through the girls' floor, then I moved down to the guys' floor. We connected and said, 'We're gonna make this happen. We're going to start rehearsing.'"
The band practiced in the Cardinal Gardens parking lot and later at the Latinx Chicanx Center for Advocacy and Student Affairs (La CASA) before moving into a rehearsal space at USC Thornton. Momentum picked up last spring when Mariachi Los Troyanos de USC took top honors at USC Songfest. Multiple shows of all sizes followed, from the big El Grito Mexican Independence event at the East Los Angeles Civic Center to the Lululemon store at USC Village.
Appearances on television came next. Mariachi Los Troyanos de USC was the featured act on NBC's regional show California Live during Hispanic Heritage Month. Days later, the band's story was told on NBC News Los Angeles affiliate KNBC-TV.
Watch Mariachi Los Troyanos de USC visit NBC's California Live (story continues below video):
Performing rubato: USC mariachi group
The ensemble flexes like an accordion depending on the venue, event, budget of the host and availability of musicians. A group of five — with a guitar, a viola, two trumpets and a violin — is a common setup, but the number of musicians can easily expand to double digits.
Mariachi Los Troyanos de USC has a roster of about 40 players. Band members have turned out in big numbers for campus events, such as the closing ceremony of Latinx Heritage Month.
Cardenas, Santiago and Romo recruit, lead rehearsals, arrange transportation to concerts and manage the band — all while holding down full course loads.
"We just want to share mariachi with everyone," Santiago said.
A founder's determination to scale up
A native of Austin, Texas, and the daughter of immigrants from Mexico, Santiago grew up loving music of all kinds. Her ears were often tuned to radio.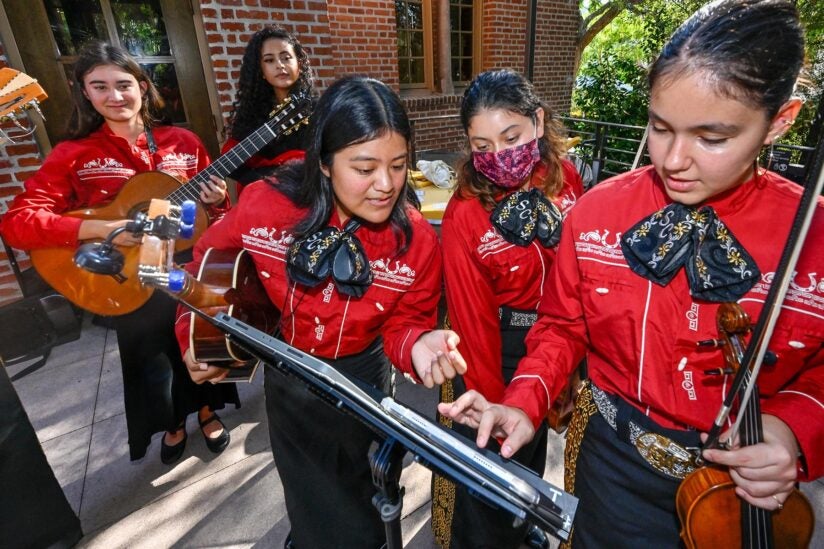 "I always wanted to learn how to play an instrument, but I just didn't have access to it growing up until seventh grade," Santiago said. "I enrolled in a music program, started as a violist, and I've been playing mariachi ever since eighth grade."
Santiago went on to study classical guitar but stuck close to mariachi, taking part in a music camp at the University of Texas at Austin, as well as regional competitions.
"I was able to get into all of the colleges and conservatories I applied to, USC being one of them," Santiago said. "UT Austin has one of the best collegiate mariachis. They're very competitive, they're at an elite level. I got a free ride there and I knew the faculty, but USC just felt right."
But one thing was missing from USC as far as Santiago was concerned: There was no mariachi band.
"I was shocked to find out USC didn't have a mariachi," Santiago said. "UCLA has one; UC Berkeley has one; USC has to have one."
USC mariachi group: the best anywhere
Santiago, who describes USC Thornton's guitar faculty as the best anywhere, turned to guitar professor William Kanengiser, who serves as faculty adviser.
"I told Bill, 'I've grown up listening to it, played in competition and big events, I love sharing the music with everyone," Santiago said. "There are going to be many people who have the same interest as me.' Bill was even more excited than I was."
Kanengiser led a USC Thornton effort to outfit the band with instruments. The school's classical guitar department dipped into a fund established by author Jonathan Kellerman and bought a guitarrón and a vihuela.
"The moment you meet Dani, you're struck by her drive, passion and love of music," Kanengiser said in an interview with USC Annenberg Media. "Although she's a small person, she can fill up a room with her smile and energy. Her dream is to create a group at USC that will represent the Hispanic culture of USC students, not only when she's studying here, but continuing for generations."
Santiago, who shares credit with her fellow mariachis, sees major gigs ahead.
"The Hollywood Bowl, performing with the marching band, football games," she said. "We're thinking big."
The band that skipped a beat
Mariachi Los Troyanos de USC is not the first Trojan mariachi ensemble. The university's last mariachi band formed in 1996. It was called Mariachi Sur de California but was often referred to simply as the USC Mariachi. Esau Perez played guitarrón in the student-run organization.
"We weren't necessarily accepted by the general population at USC," Perez said. "We didn't have a whole lot of resources. But I'm so proud of my heritage, proud to have graduated from USC. For me to be able to share my heritage at a campus I grew up loving, that was a big deal."
The group Perez was part of continued in various incarnations for about a decade, but it struggled with longevity.
"As soon as the leaders would graduate, it was almost like the group had to start all over," Perez said. "Mariachi has never been a course offered at the university. That was something we were hopeful could be done given the popularity of the music and USC's location. It's such a hotbed for that type of music."
Thanks to a personal connection with one of the members of Mariachi Los Troyanos de USC, Perez got involved with the new band last year and attended its performances more than 20 years after he graduated.
To see mariachi return, it's kind of emotional.

Esau Perez, member
of USC's previous mariachi band
"To see mariachi return, it's kind of emotional," Perez said. "Seeing how bright these kids are, I was incredibly impressed by the quality of young people that I saw. I got to speak to and got to know them personally. As an alum, I was immensely proud because of the music and because of what they're creating, but even more so the quality of students that USC is recruiting."
Prelude, allegro, coda
Cardenas and Santiago smile softly as they play, while cantante Alberto Gonzalez musters the operatic energy mariachi demands for its songs of love, loss or devotion.
The musicians seem to be more attuned to each other with each rehearsal. Like all things linked to the college experience, though, the ensemble in its current form is ephemeral.
"A lot of my Latinx friends go into STEM," Santiago said. "A lot of them leave music behind eventually. Not me."
Cardenas, who will graduate with his engineering degree in two and a half years, reflects on his family's mariachi heritage as he ponders his future.
"My dad said, 'Once you graduate, you never have to pick up the violin again, but if you ever want to come back you're always welcome,'" Cardenas said. "Every time I play, it's a timeless memory."