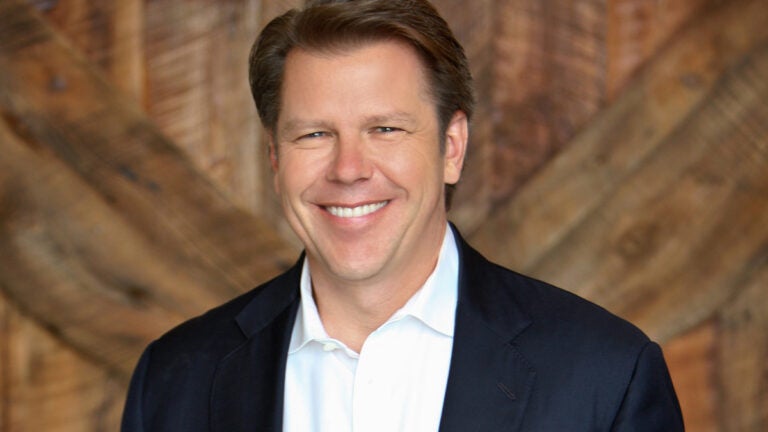 USC Marshall School of Business receives $20 million gift for a new Global Supply Chain Institute
Alumnus Randall R. Kendrick's donation will fund scholarships, endow new faculty positions and establish the new institute.
Randall R. Kendrick, the founder, president and CEO of industrial real estate firm Xebec, has made a $20 million gift to support the USC Marshall School of Business' global supply chain management program. In recognition, the program will be renamed the Randall R. Kendrick Global Supply Chain Institute.
Kendrick's commitment is the third-largest gift in USC Marshall's 100-year history.
A first-generation college graduate who earned his degree from USC Marshall in 1986, Kendrick credits his college education for his professional success.
"I can truly say that my USC education was the foundation that prepared me to build Xebec to where it is today: one of the country's largest real estate asset managers focused on the industrial/logistics sector," Kendrick said. "I am immensely grateful for my Marshall experience, as it helped me develop critical analytical thinking and gave me a strong foundation in real estate, finance and strategic decision-making."
Apart from establishing the Randall R. Kendrick Global Supply Chain Institute, the funds will also support scholarships, endowed faculty and other resources.
Through the gift, Kendrick aims to give current and future students the same opportunities he had.
"I benefited from the generosity of other Trojans who preceded me at USC and served as mentors throughout my personal and professional life. Now I am honored to be able to do the same," Kendrick said. "I hope my commitment will inspire others to join me in giving to show their belief in the excellence of our alma mater."
"Randy's story shows the transformative power of education," said President Carol L. Folt. "He arrived at USC as a first-gen college student, and he went on to create one of our nation's top businesses. His generous gift will expand Marshall's existing academic programs and help future generations of USC students follow their own paths to professional fulfillment."
USC Marshall Dean Geoffrey Garrett praised Kendrick's generosity and desire to support business programs that will make a difference internationally.
"Randy's gift is a tremendous vote of confidence in the quality of Marshall's global supply chain management program and will turbocharge its future," Garrett said. "As the COVID-19 pandemic has underscored, supply chains are at the very core of the contemporary global economy. With Randy's visionary support, our goal at Marshall is to be the world leader in this crucial sector."
Kendrick gift will help grow existing global supply chain programs at USC Marshall
The gift will expand existing academic programs that propel talented students into careers in supply chain management, including a progressive degree program in which USC Marshall and USC Viterbi School of Engineering undergraduates can take a fifth year to earn a master's degree in global supply chain management. Every graduate of the program has landed a job after graduation, underscoring why U.S. News & World Report ranked the master's degree as its No. 1 online business program for the past two years.
"We already take between 10 to 12 progressive degree undergraduates every year," said Nick Vyas, executive director of the Kendrick Institute. "This will help us double that number and build a bigger pipeline of human capital into what has become the biggest and most exciting growth area in business."
He noted that Kendrick's gift will support growth on every front.
"The gift will enable and expand our thought leadership, education and applied research," said Vyas, an associate clinical professor of data sciences and operations at USC Marshall and the academic director for the Master of Science in Global Supply Chain Management program. "We'll have the opportunity to provide broader and more in-depth outreach efforts, which will, in turn, connect the lessons we learn from our collaborations with industry to what we teach in the classroom."
Among the initiatives supported:
Endowing the institute's director.
Creating a new faculty chair and faculty fellows in supply chain management.
Providing scholarships for students in the Global Supply Chain Management program's Master of Science program.
Supporting research assistantships on faculty supply chain projects.
Establishing a USC Marshall-branded supply chain case collection.
Founding a new consortium on blockchain in the supply chain.
Key to USC Marshall's emphasis on lifelong learning opportunities, the Kendrick gift will also help establish new certifications for professionals who want to upskill or reskill, in conjunction with USC Marshall Executive Education.
The Kendrick Institute will also continue to host the annual Global Supply Chain Excellence Summit, which has grown into the largest supply chain industry-meets-academia conference in North America. It drew more than 2,300 virtual attendees in 2020.