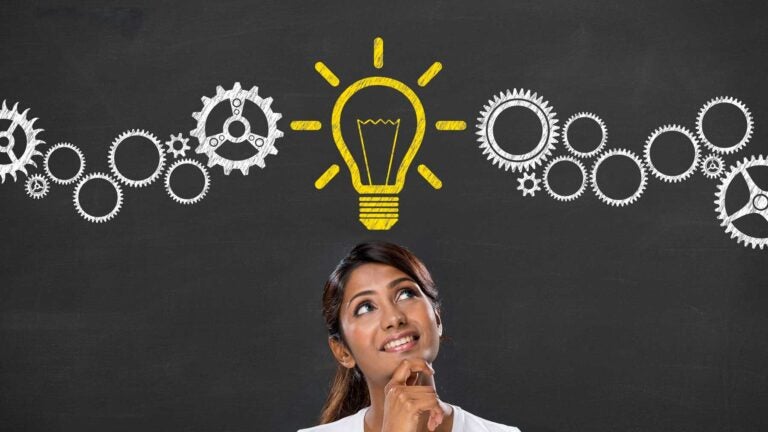 Trade secrets need love, too: USC Marshall offers entrepreneur's guide to intellectual property
A groundbreaking fall course introduces important but often overlooked fundamentals of patents, copyrights, trademarks and more
Intellectual property-protected innovation is a key driver of corporate value and national economic growth, yet today's college students may not have knowledge of the increasingly important discipline of I.P.
In a recent opinion piece published in The Hill, USC President C. L. Max Nikias and medical innovator and philanthropist Gary K. Michelson examine the issue and propose solutions.
The USC Marshall School of Business is playing a key role in addressing the I.P. education gap by offering "The Entrepreneur's Guide to Intellectual Property," a new undergraduate course through its Lloyd Greif Center for Entrepreneurial Studies.
The class — led by Luke Dauchot, a partner at the international law firm of Kirkland & Ellis — introduces the fundamentals of patent, copyright, trademark and trade secret property; demonstrates how intellectual property is put to work; and prepares students for the social and economic implications associated with I.P. at work. It is open to all USC undergraduates.
"This innovative course provides important foundational elements in the entrepreneurial journey, and we are proud to make this available to students across the university," said USC Marshall Dean James G. Ellis.
I.P. is too important and prevalent a staple in today's global economy not to address it at an undergraduate level.

Luke Dauchot
"I.P. is too important and prevalent a staple in today's global economy not to address it at an undergraduate level," Dauchot said. "We equip students with a basic understanding of the I.P. value proposition that gives them a competitive advantage after they graduate. That edge is particularly compelling in the entrepreneurial context, where, more so than ever, the difference between success and failure turns on I.P."
That entrepreneurial edge fits squarely within the mission of the Lloyd Greif Center and USC Marshall to instill students with the skill set — and the mindset — to launch, join and grow dynamic ventures, many of which are driven by intellectual property. The Lloyd Greif Center is among the oldest and highest-ranked university entrepreneur programs in the country, with alumni founding such notable companies as Salesforce.com, Kinko's, Box, Tinder and MySpace.
The case for IP education
In 2014, Michelson and his wife, Alya Michelson, donated $50 million to fund the USC Michelson Center for Convergent Bioscience, which will draw faculty and students from across disciplines to fast track the detection and cure of diseases. The center's new building — the largest on USC's University Park's Campus — is scheduled to open in November.
Michelson was pivotal in the Greif Center's creation of "The Entrepreneur's Guide to Intellectual Property." He and his wife founded the Michelson 20MM Foundation to support and invest in initiatives that transform learning and improve access to educational opportunities that lead to meaningful careers. A key focus of the foundation is educating young people on the value and uses of intellectual property in driving innovation and commerce.
When Phil Kim, co-founder and president of the Michelson 20MM Foundation, visited the USC innovation meeting convened by USC Vice President of Research Randolph Hall, he presented the extensive online resources the foundation has created and shared Michelson's vision of creating college courses to teach IP. David Belasco, executive director of the Greif Center, stepped up right away. "We will create the first course at Marshall," he said.
With support from USC Provost Michael Quick, Dean Ellis and Greif Center academic director Helena Yli-Renko, the task of creating an IP course began. The course was collaboratively designed by Dauchot, the Michelson team and associate professors Pai-Ling Yin and Elissa Grossman. In only months, it was ready for introduction in the fall semester.
With I.P. professionals from high-profile companies speaking to the class weekly, the course is proving to be popular.
"Given the convention of leaving I.P. to postgraduate studies, the enthusiastic response to our class exceeded my expectations," Dauchot said. "But I shouldn't have been surprised — innovation defines this school and its students."