USC medical students hit the kitchen to learn nutrition firsthand
Keck School of Medicine of USC partners with L.A. nonprofit to help future doctors get their patients to eat right.
Ruben Guzman, a second-year medical student, had an unusual assignment Monday afternoon: Make a raw corn salad.
The Keck School of Medicine of USC student ditched scrubs for a hairnet and apron, slicing corn off the cob in a kitchen in Lincoln Heights.
He'd later mix it with tomatoes, red onions, cilantro and carrots, topping it with a dressing made from apple cider vinegar.
"For me, corn has always been a staple. My grandpa makes corn in Mexico. He's a corn farmer," said Guzman, 25. "I used to plant corn and pick corn with him when I went over the summer."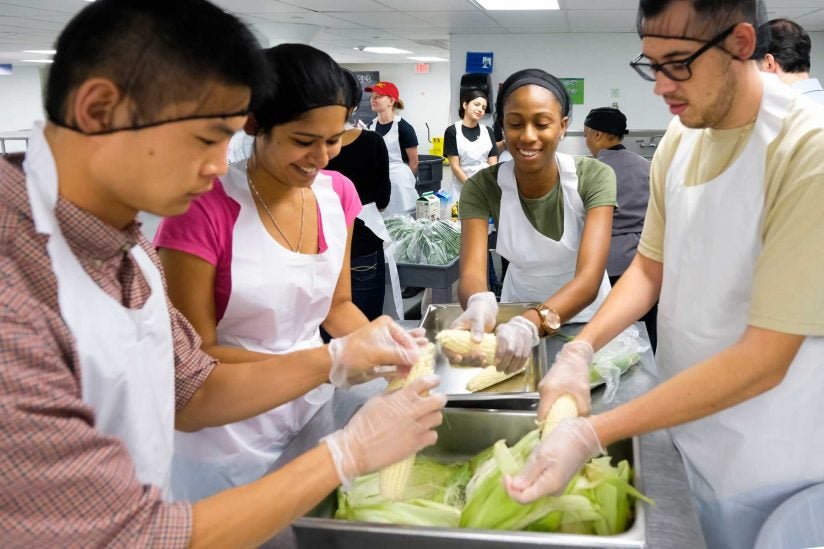 Guzman is one of 16 students in a new hands-on culinary medicine course at the Keck School of Medicine. Open to second-year medical students, it's the only Keck School elective that requires an application. Greg Harlan, the school's medical education director who co-teaches the class, said roughly 30 students applied.
There are six sessions. Each class starts with a 30-minute lecture and then students head to the kitchen for the remaining two hours.
Piloted last year, the program is the brainchild of Brandon Pang, a fourth-year medical student and avid cook who was struck by the lack of nutrition education in medical school, even though diet and exercise recommendations are a big part of preventive medicine. Most nutrition education is informal with some widespread classroom-based lectures — about five hours during a student's first two years in medical school, Harlan said.
Pang searched online and found L.A. Kitchen, a food-focused nonprofit, just five minutes from the USC Health Sciences Campus in Boyle Heights. He also found an enthusiastic partner in Sherene Chou '08, the kitchen's nutrition director. The two came up with the idea to bridge culinary nutrition and medicine. Harlan jumped on board and helped make the course part of the Keck School curriculum.
Preparing physicians
Even though a primary doctor is often a first stop when it comes to making lifestyle changes, medical schools aren't necessarily preparing physicians to give advice — at least beyond what they might remember from a textbook, Harlan said.
"It's great to tell people, 'Oh, you should eat more fruits and vegetables,' but that's very broad," Harlan said. "How can you present something more relevant to that person?"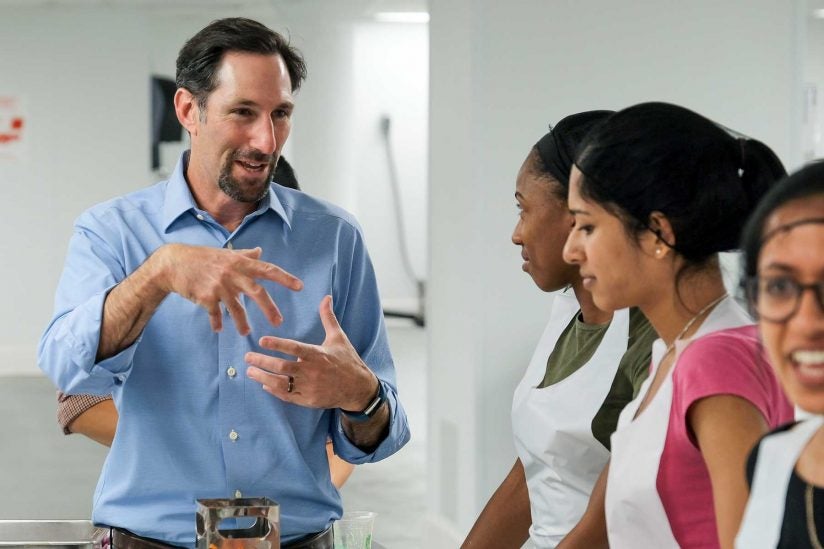 It's a problem nationally, with nutrition education trending downward. From 2008 to 2009, the University of North Carolina at Chapel Hill contacted medical schools around the country to gather data on nutrition education. Of 105 schools that responded, 25 percent required a dedicated nutrition course compared to 30 percent in a 2004 survey; 27 percent met the minimum of 25 recommended hours set forth by the National Academy of Sciences.
And while physicians might not feel equipped to spout nutrition information, it's becoming increasingly relevant, Pang said. The majority of adults in the U.S. — 70 percent — are overweight or obese, according to the Centers for Disease Control and Prevention. This means physicians are thinking about how patients can ward off diabetes, heart disease or hypertension, he said.
"Every single one of these requires specific modifications to the diet so the disease doesn't get worse," said Pang, 25.
The class intends to make the students more comfortable giving nutrition advice to patients — and maybe even a recipe for a kale salad.
"I think that will make a huge difference," said Kacie Amacher, 25, as she massaged some kale. "Your patients can see you as someone who is living that lifestyle as well. Walking the walk and talking the talk."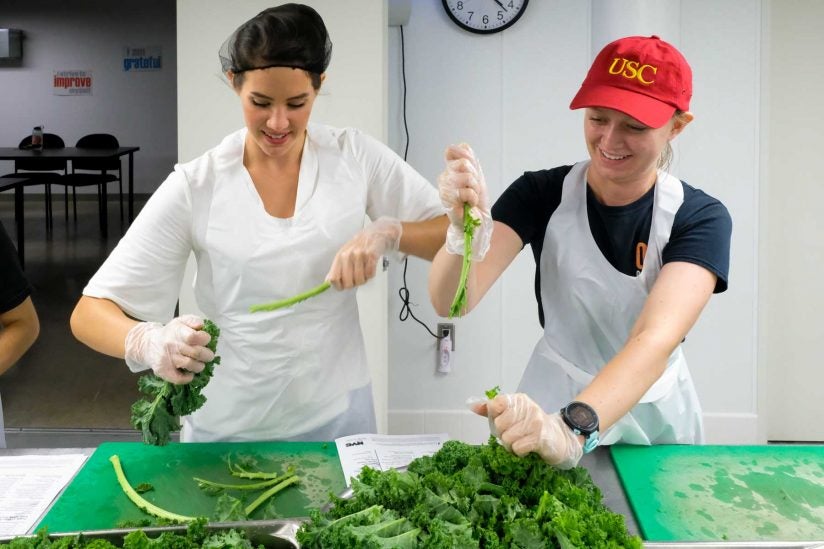 Gaining confidence
In the pilot program, students were surveyed about their confidence in giving nutrition advice at the start and end of the program. Confidence grew from 57 percent at the start to 86 percent walking out the door, Chou said.
The recipes are simple — usually with only a few ingredients — and aim to be accessible to people of all socioeconomic backgrounds. On this particular day, Chou picked up the groceries for the group at Superior Grocers and paid $66 for food that fed roughly 20 people. That's just over $3 a person.
All recipes in the class are available online, in English and Spanish, in case students want to forward them to patients. Many of the students work at community clinics.
"Our whole thing is food is preventative medicine," said L.A. Kitchen President and Founder Robert Egger. "Our hope is that these students will start a revolution with medical students around the country."
The class is also a way to improve physician wellness, Harlan said — walking the walk, if you will. "Physician burnout" is a common phrase, referring to the emotional and physical demands of the job. Medical schools, including the Keck School, are pushing students to pay more attention to their own health, which in turn benefits their patients.
Guzman can speak to this himself. About a week ago, he put himself on a vegan diet.
For lunch today, I had a quinoa, eggplant, tomato stir fry and it was pretty good.

Ruben Guzman
"My blood pressure was really high and I was like, it shouldn't be this high. I'm only 25," he said. "Before I would just do whatever is nearby — McDonald's or a taco stand. For lunch today, I had a quinoa, eggplant, tomato stir fry and it was pretty good."
During Monday's class, there were a few recipes going — a kale and apple salad, a cinnamon sweet potato apple dessert, green smoothies and fruit-infused water.
"You see how much fun they're having," said Harlan, who hopes to expand the program beyond second-year students. "It's a different way of engaging with each other. It makes it very real."
Out of the classroom
Nutrition education is typically based in the classroom but in this course, less than a third of it is at a desk. The rest is in the kitchen, making food and perhaps the best part — trying it.
As the group of students gathered around — snacking on the fruit of their labor — they shared with Harlan different ways to reach patients with nutrition advice.
Guzman had an idea for recipe cards in waiting rooms and Amacher suggested cooking demonstrations and educational programming on waiting room TVs, like the documentary Fork Over Knives.
Before heading out, Harlan asked: "Any last questions or comments?"
"Is there more food?" a student shouted out from the back.