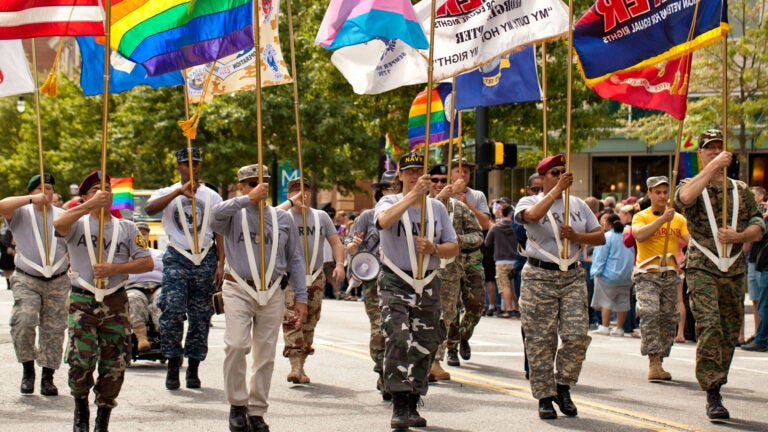 USC military center to begin Bay Area veterans study
The study will poll 1,000 veterans on transition challenges, employment, finances, housing, health and access to services
The Center for Innovation and Research on Veterans & Military Families has received funding to launch an in-depth study assessing the needs of veterans in the Bay Area, particularly the military-to-civilian transition issues facing LGBT veterans.
Thanks to support from the Wells Fargo Foundation and Deloitte LLP, the San Francisco Veterans Study will poll 1,000 veterans on such topics as transition challenges, employment, finances, housing, health and access to services.
The San Francisco study is the fourth study CIR has conducted of a large urban military population, and the third in California.
Sara Kintzle, a research assistant professor overseeing the study, said CIR takes the opportunity to delve deeper into specific populations and subject matter in each of its studies.
The most recent Chicagoland Veterans Study focused on female veterans and how military identity and perception may impact transition. The San Francisco study will add a focus on lesbian, gay, bisexual and transgender veterans, along with the experiences of those who commute into the city for services.
"Every city has something unique to offer us to learn," Kintzle said. "It's hard for people to ignore community data when we show them exactly what's happening in their own backyard."
A three-pronged effort
For Wells Fargo, the $100,000 gift toward the implementation of the survey and report fits within its three-pronged strategic effort of helping veterans through housing, career transition and financial education, said Jerry Quinn, Military & Veteran Program manager. And the resulting data could help inform a national conversation.
"We felt that LGBT veterans may have unique needs," Quinn said. "The study is going to help us discover things that otherwise we wouldn't be able to find out."
Quinn, who was in Los Angeles in 2014 when the first comprehensive study was released, said the initial report was intriguing for its ability to connect policymakers with data-informed decisions. He also appreciated the public-private support behind the study, especially how the Los Angeles Veterans Collaborative network of stakeholders used the data to identify gaps in services and innovative solutions.
"The impact these studies can have in the communities is tremendous. That's the kind of outcome we want for San Francisco," Quinn said.
We're relying on the expertise that USC brings to make this a valuable, actionable report.

Jerry Quinn
"We don't want a study that just sits on a shelf. We're relying on the expertise that USC brings to make this a valuable, actionable report not only for the local community, but toward a nationwide assessment."
Pro bono support
Deloitte, which has supported CIR's veteran studies for three years, donated $50,000, along with pro bono support for the San Francisco study to gain a better view of California's veterans.
"This is a chance to contribute additional data to the state of the American veteran in California and provide more of the statewide picture," said Philip Brozenick, principal at Deloitte, referencing previous studies in Los Angeles and Orange counties. "What will the data look like once we tie that together and get a real sharp view of the state?"
Brozenick, who is based in San Francisco, said veterans there are under-observed and underserved.
"To be a veteran in San Francisco doesn't have the same ring in the public eye. We have a different type of veteran. The political climate is different, and that can make them a little shyer," he said.
Like Quinn at Wells Fargo, Brozenick is hoping the study results will not only shine a light on San Francisco's veterans' needs, but will also drive the development of a collaborative — or similar effort — that will bring key stakeholders together to act upon the data.
"For us, it's the societal impact that matters," he said. "We're all about being a leader in this space and fostering an inclusive environment where all veterans have the ability to thrive."