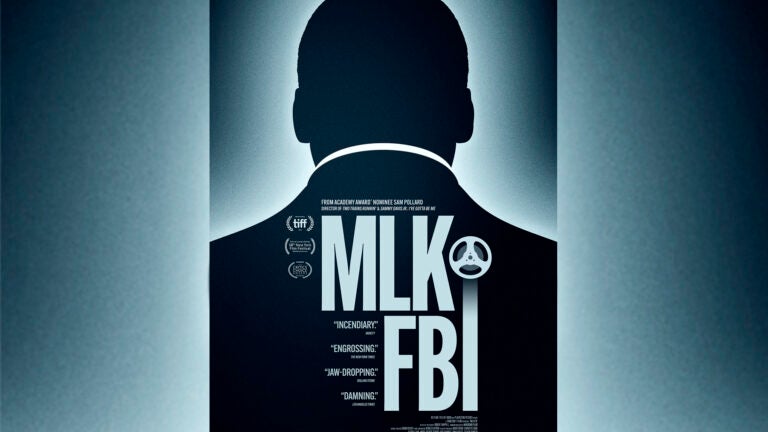 'MLK/FBI' screening is centerpiece of USC's Martin Luther King Jr. celebrations
Other highlights include the Trojan Marching Band and Cardinal Divas participating in the Kingdom Day Parade and an exhibit at the USC Fisher Museum of Art.
Filmmaker Sam Pollard, who has dedicated his career to chronicling the Black experience in America, will have his documentary MLK/FBI at the center of the 42nd annual USC Celebration of Dr. Martin Luther King Jr. on Jan. 17.
The film, released to general audiences in 2021, uses recently declassified files, documents obtained through the Freedom of Information Act, archival footage and new interviews to show the extent of the FBI's surveillance and harassment of the civil rights icon. King was the chief spokesperson for nonviolent activism in the civil rights movement in the 1950s and '60s, which protested racial discrimination in federal and state law.
"America in the 1960s was a very complicated place racially, socially and economically," Pollard said. "Here we are in 2023, and America is still a very complicated place. History is not always the past — it reverberates with the present."
Presented by USC Visions and Voices, the USC School of Cinematic Arts, the USC Black Staff and Faculty Caucus and the Center for Black Cultural and Student Affairs, this year's MLK event explores the theme of "Lest We Forget … We Are Standing on the Shoulders of Giants."
The Black Staff and Faculty Caucus has been organizing a King-related event on its own for more than four decades but decided the time was right to join with other campus entities this year to present a single large-scale event, according to caucus President Cynthia Brass.
We have always tried to shine a light on Dr. King's vision, what he was focusing on back then and how it applies to what is happening right now.

Cynthia Brass, USC Black Staff and Faculty Caucus president
"We have always tried to shine a light on Dr. King's vision, what he was focusing on back then and how it applies to what is happening right now," Brass said. "We have to keep pushing and fighting against racism because if you pull the skin back off of every last one of us, we are all the same."
Greedley Harris, director of strategic partnerships for USC Student Equity and Inclusion Programs, hopes that many of the 300 available seats inside Norris Cinema Theatre for the MLK/FBI screening will be filled with students who might not know very much about the civil rights movement that King led until he was assassinated in Memphis on April 4, 1968. (The event is fully booked, but there is an online waitlist.)
"We want to honor Dr. King and all those that he worked with," Harris said. "We want our students to see the depth and the strength and the resilience that some of our leaders have — and they have too. They can make a connection in the work they are doing now and be empowered and strengthened."
Harris said this year's theme underscores the responsibility of making sure students know what people had to go up against for them to have the opportunities they have now.
"We don't want our students to forget. We don't want to forget," he said. "Because when you forget, history can repeat itself."
Discussing King's legacy
USC President Carol L. Folt will introduce the screening of MLK/FBI after a pre-event reception in the USC Queens Courtyard. Pollard will later join USC Annenberg School for Communication and Journalism Associate Professor Miki Turner for a post-screening conversation about the film and the legacy of King.
"Hold on to your seats," said Pollard, an Emmy-winning and Oscar-nominated director and editor. "This is an opportunity to see how the FBI, under the leadership of [former Director] J. Edgar Hoover, tried to destroy one of the seminal figures not only in American history, but in world history.
"When someone like Dr. King came along in the 1950s, he was looked at as a dangerous radical who was upsetting the American apple cart," Pollard said. "Hoover saw it happening, and his mission was to destroy King's reputation by any means possible."
When someone like Dr. King came along in the 1950s, he was looked at as a dangerous radical who was upsetting the American apple cart.

Sam Pollard, filmmaker
Pollard has directed or co-directed many documentaries, including Lowndes County and the Road to Black Power, Citizen Ashe, Sammy Davis Jr.: I've Gotta Be Me and Black Art: In the Absence of Light. He shared an Oscar nomination with Spike Lee for Best Documentary Feature for 4 Little Girls and won an Emmy for editing By the People: The Election of Barack Obama.
"None of these documentaries I've made are things that should be made and screened and put away for 15 years," he said. "They are living organisms with vitality and relevance long after they are made."
USC MLK celebration: Marching in Kingdom Day Parade
About 100 members of the USC Trojan Marching Band will be participating in the 38th annual Kingdom Day Parade on Monday. The parade along Martin Luther King Jr. and Crenshaw boulevards begins at 11 a.m. and has the theme of "Making America the Last Best Hope of the World." KABC-TV (Channel 7) will broadcast and livestream the event.
This is the first time the USC band is taking part in the parade, according to Stephen Wesson, USC managing director of community partnerships, who led the effort to make it happen. The parade took a two-year hiatus because of the COVID-19 pandemic.
"I lived on the parade route for many years, and my daughters and I went every year," Wesson said. "To now be involved at USC and participate in this way is full circle. It's very important for me to see the university embrace this significant parade, which highlights the life and contributions of Dr. King."
Also marching along the 2.5-mile parade route will be the all-Black majorette team Cardinal Divas of SC, a new student club that became an internet sensation last fall with their appearances at USC football games.
Before the parade, Folt will join Los Angeles Mayor Karen Bass and Kingdom Day Parade Grand Marshal George Fatheree III at a special breakfast where the USC president will be among the speakers. Fatheree made headlines after working to secure the recent return of Bruce's Beach to the descendants of Willa and Charles Bruce. The property had been seized from Black landowners by the city of Manhattan Beach in 1924.
Fisher Museum exhibit part of USC MLK celebration
The legacy of King is also being celebrated with an exhibit that opens this week at USC Fisher Museum of Art.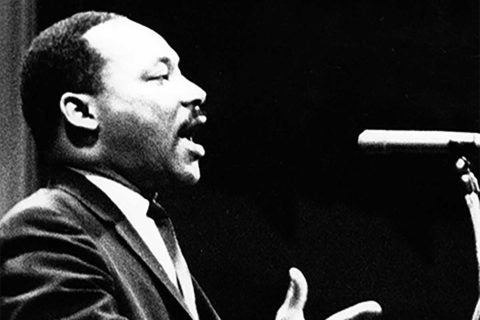 The MLK in Los Angeles exhibit will run from Jan. 13 to March 5. The exhibit focuses on King's visits to Los Angeles and to USC and features several never-before-seen historic images, audio and video recordings.
King's visits to USC, the Los Angeles Memorial Coliseum and other South L.A. landmarks in the 1950s and '60s included a 1967 speech at Bovard Auditorium that was interrupted by a bomb threat. A standing-room-only crowd of more than 1,800 was evacuated from the building 30 minutes into the event, though King returned shortly after to resume his speech. He would be murdered less than six months later.
The campaign for a federal holiday celebrating King began soon after his assassination in 1968. In 1983, President Ronald Reagan signed the holiday into law. It is observed on the third Monday of January each year.