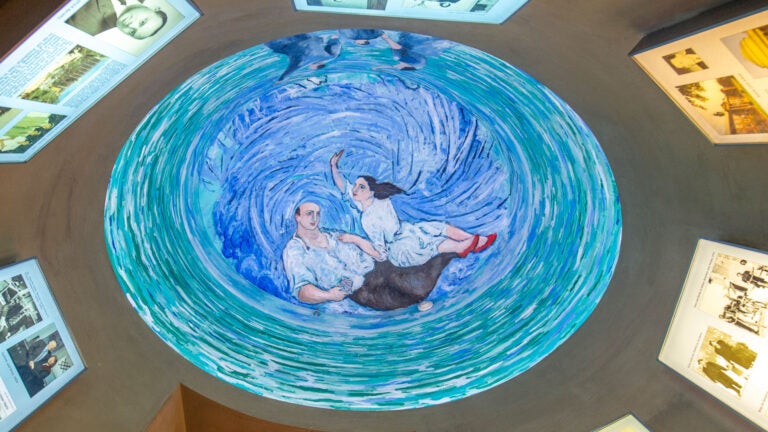 Through technology, USC's museums and galleries keep people connected to the arts
For the first time in its more than 80-year history, the USC Fisher Museum of Art has closed its doors. Yet the museums and galleries of USC remain conduits to the arts for many.
From the assassination of President John F. Kennedy to the 9/11 attacks and civil unrest in Los Angeles, the USC Fisher Museum of Art managed to stay open.
Not this time. In the wake of the COVID-19 pandemic, the museum closed its doors on March 14 for the first time in its more than 80-year history.
"This decision was not made lightly," said Selma Holo, executive director of USC Museums and Galleries. "This is in step with USC's current COVID-19 response and with the evolving national health guidelines designed to slow potential transmission of the coronavirus."
Once the doors were closed, though, Holo had an idea.
Inspired by the art world's move to social media to promote digital art content, Holo and her team introduced the hashtag #MyMuseumAtHome to encourage staff to share privately owned art from their homes.
"The initial idea was to get a peek into the art that museum professionals choose to surround themselves with at home," Holo said. "Then we thought it would be fun not just to see the artwork belonging to museum staff but everyone's at-home collections."
In addition, Holo added, posting art online is a tremendous opportunity to call attention to makers and artists who are likely suffering greatly due to the closing of museums and art venues in Los Angeles and around the world.
"It is a recognition that we are in a unique moment. Not only in regard to the current crisis, but a moment when technology — photography, video, web platforms and social media — allows museums to continue to the serve their audiences and extended online audiences exponentially larger than those who might walk in the doors of any single museum," she said.
"Just because we can't be standing in front of the art doesn't mean that we can't continue to enjoy it and perhaps even see it in new ways," said Holo, who is also a professor of art history at the USC Dornsife College of Letters, Arts and Sciences, where she teaches museum studies.
USC: home to a collection of museums
When the museums eventually open again, even the savviest Trojan may be surprised to learn that USC is the home of four museums and 11 art galleries. Holo said revealing those hidden treasures to the community is job No. 1.
"USC is a polyphonic constellation of museums and galleries that have relevant, dynamic and empowering exhibitions," she said. "As executive director of USC Museums and Galleries, it is my goal to explore what each of our museums and galleries is doing and to share that collective knowledge among all of us in an effort to remain a major cultural force not only in Los Angeles but worldwide."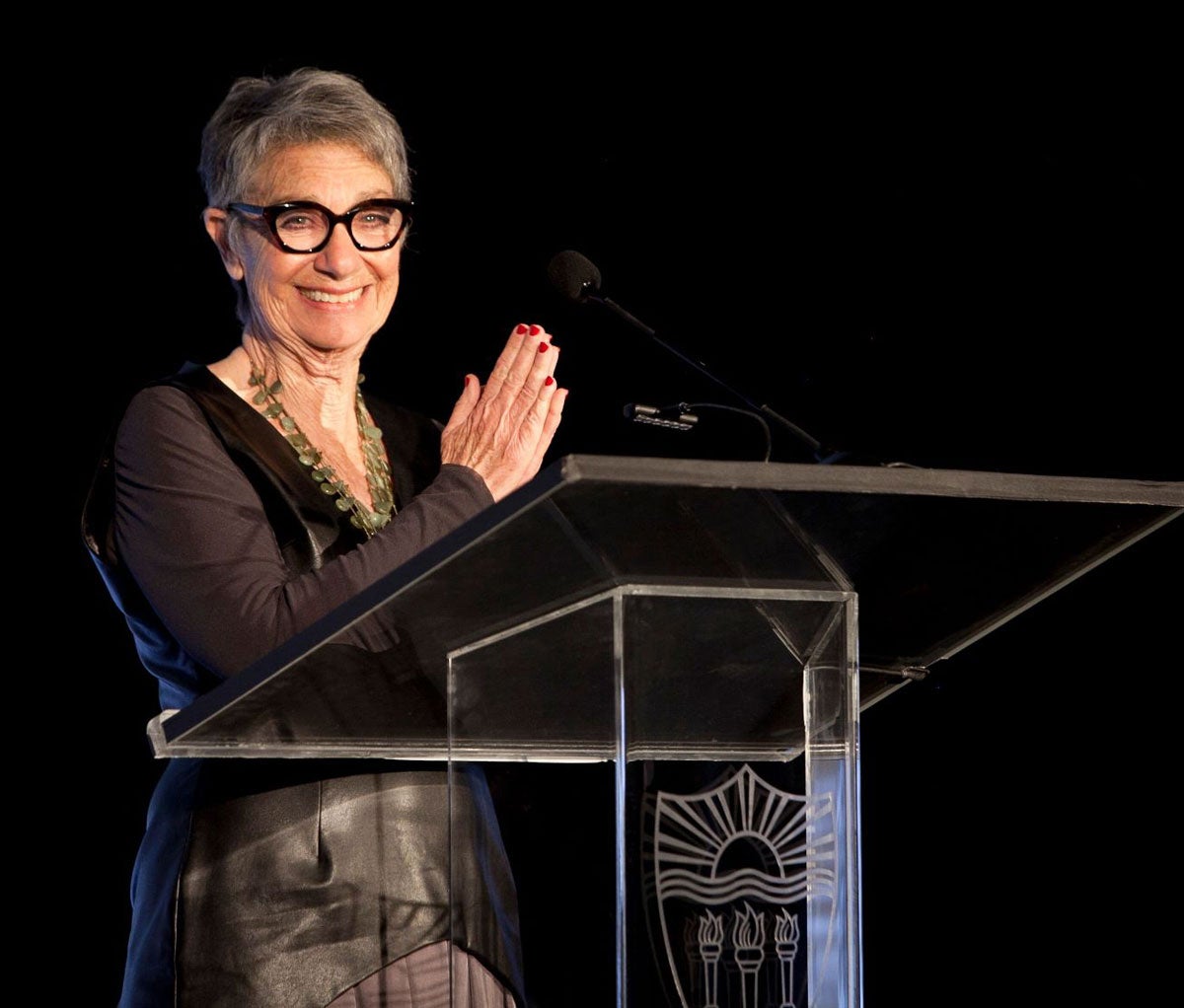 Holo added that USC is in a notable position: Two of its museums — the USC Fisher Museum of Art and the USC Pacific Asia Museum in Pasadena — are accredited by the prestigious American Alliance of Museums. Out of some 55,000 museums worldwide, only 1,080 museums are accredited by the alliance.
There is also the importance of location. USC sits in the heart of L.A.'s "museum alley" in Exposition Park. In fact, the USC Fisher Museum of Art was on museum alley before one even existed. The museum — established in 1939 by Elizabeth Homes Fisher as the USC Fisher Gallery — was the first local museum dedicated exclusively to art.
"The L.A. art world doesn't have anything else like that," Holo said. "For 80-plus years, we have been a leading stable and credible artistic presence — not only at USC but in the city of Los Angeles."
The USC Pacific Asia Museum also offers its own unique history, with art dating back 4,000 years to China's Ming Dynasty. Its director, Bethany Montagano, said visitors can also expect a focus on the future.
"We're definitely looking toward contemporary art exhibitions that will resonate with our current social issues," Montagano said. "We want to be a place that supports cutting-edge dynamic contemporary art exhibitions that will launch new artists' careers."
In addition, Holo believes USC's University Park Campus should be seen as a mecca for art enthusiasts. "USC is certainly a destination for art, with a staggering number of art and cultural venues to visit," she said.
A campus of galleries worth visiting post-pandemic
While many USC museums and galleries are known to the public, there are a select few that some visitors might not know exist but are worth exploring once the shelter-in-place policy is lifted and the university reopens.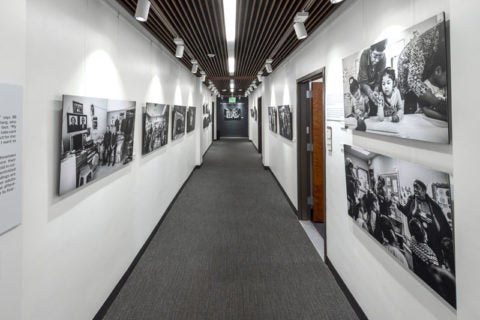 The Sophie Davis Gallery
The city of Los Angeles has long been labeled a youth-obsessed culture, but that's not the case at the USC Leonard Davis School of Gerontology. In fact, inside the school's Sophie Davis Art Gallery, aging is an art form. The gallery celebrates older artists and explores topics related to aging across the lifespan through the lens of creativity.
"This gallery supports the idea of art transcending age," Holo said. "In essence, an artist might physically age but his or her vision of art is eternally vital, robust and ageless."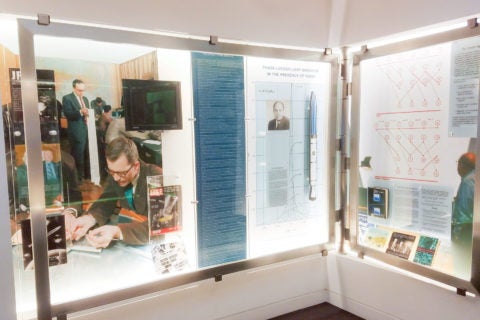 The Viterbi Museum
Holo was also quick to point out that USC's museums do not fit a particular mold — as seen in the display at the Viterbi Museum, located at the USC Viterbi School of Engineering's Tutor Hall. The gallery displays revolutionary digital and electric devices that the school's namesake, Andrew Viterbi, pioneered — equipment that connects cellphone technology to the internet.
"At this gallery, expect the unexpected," Holo said.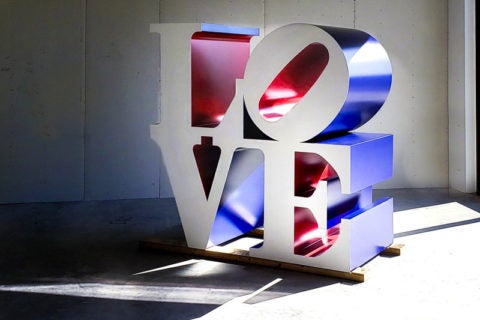 Lawrence J. Ellison Institute for Transformative Medicine of USC
Holo also calls attention to art as creating a positive change in the world, whether it be to inspire, calm, breed creativity or push us to think differently.
That's a sentiment shared at the gallery space at the Lawrence J. Ellison Institute for Transformative Medicine of USC in West L.A., where the goal is to foster collaborative insights into cancer and health where art plays a pivotal role in the experience that patients and visitors have when they step foot inside.
"We believe along with the Ellison Institute that art can be healing and inspiring," Holo said. "The LOVE sculpture sits in the heart of the building and is a constant reminder of what drives the researchers, clinicians, patients and staff every day."
The video wall and Annenberg Art Gallery
Finally, Holo notes that a museum that doesn't generate new knowledge is a dead museum. She notes the USC Annenberg School for Communication and Journalism's knowledge-driven video wall in the lobby of Wallis Annenberg Hall.
"Right when you walk in, there is a three-story floating video screen," Holo said. "It's literally a kind of contemporary art in motion, transferring knowledge at lightning speed."
In addition, there is the school's more traditional Annenberg Art Gallery that features a variety of art from paintings and sculptures to famous international photographers.
Through online art and beyond, USC's museums and galleries work together
"Together we can have a greater cultural impact than any one of our galleries or museums could do singularly," Holo said. "My message is merely to say, 'We're all here for our USC community and Los Angeles neighbors, and we're going to make your lives better through the transformative power of art and the evidence of our exciting material culture located at every corner of our campus.'"
Holo noted that the closure of USC's museum and galleries is temporary. When the doors reopen, she feels it's vital that visitors experience the art in person.
"The most enduring thing about museums is that they allow us to experience art in a situation that is essentially social. That communal experience can be exhilarating or consoling, confirming or challenging," she said. "Museums provide us with physical, authentic portals into the great creativity of humanity that can only be hinted at online."