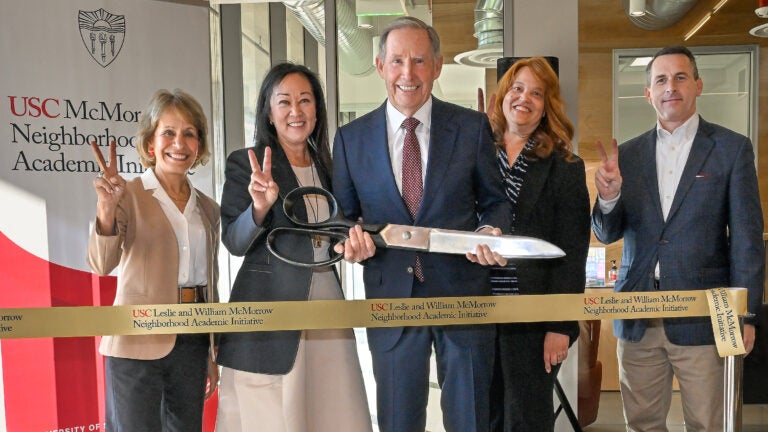 USC Neighborhood Academic Initiative opens dedicated space on Health Sciences Campus
The state-of-the-art classrooms are the result of another generous gift from the college access program's namesakes, Leslie and William McMorrow.
For over a decade, the USC Leslie and William McMorrow Neighborhood Academic Initiative has operated out of borrowed classrooms on the Health Sciences Campus and in other Los Angeles Unified School District spaces.
On Tuesday, all that changed when USC's premier college access program opened its very own dedicated space on the Eastside — on the Health Sciences Campus.
"This is a space of gratitude," said Kim Thomas-Barrios, associate senior vice president for educational partnerships, recalling how difficult it has been to get classroom space ever since the program expanded to the east area in 2013.
"NAI is the real deal," said USC President Carol L. Folt, applauding the program's 1,500-plus graduates since 1997 and the significant impact it has made on families in South L.A. and on the Eastside. "Students are forging their own paths, and now they have this incredible dedicated space, right here at HSC."
"NAI is the real deal. Students are forging their own paths, and now they have this incredible dedicated space, right here at HSC."

— USC President Carol L. Folt
Eli Alcantara, part of the program's inaugural cohort on the Eastside and now a USC first-generation student pursuing a progressive degree in health and human sciences and drug development management, remembered the logistical challenges as well.
"There would be days where we would be scrambling to find a room," Alcantara said. "We would be at Wilson [High School] and the classrooms were locked. Sometimes we would just be out in the courtyard doing tutoring and doing our homework."
The dream space, with state-of-the-art amenities for students and staff, became a reality through a generous gift of approximately $3 million from Leslie and William McMorrow. The McMorrows' naming gift in 2018 enabled the program's expansion of services; during the pandemic, they donated laptops to NAI scholars to help them continue their studies remotely.
USC Facilities Planning Management managed the renovation of the former Seeds restaurant in the Soto Street Building starting in 2020. They were able to transform it into classrooms and office space while preserving access to natural light and views of a courtyard filled with rose bushes and shade trees.
New space will serve more than 400 USC Neighborhood Academic Initiative scholars
The new space will serve over 400 NAI scholars from grades six through 12. Along with providing space for programming that includes weekday high school classes and after school tutoring, it will also host the program's Saturday Academy for scholars in sixth through eighth grades. NAI plans to open up the space to create a hub for other community programs, including USC's School for Early Childhood Education and its preschool parent education classes.
"This is truly a new campus within a campus," said Sam Garrison, senior vice president for university relations, who opened the ribbon cutting event by noting the wonderful moment it was to celebrate the space and NAI scholars. "NAI, as we all know, embodies USC's commitment to supporting and strengthening our communities, and this new dedicated space is going to serve hundreds of neighborhood students, families and community members."
The USC NAI program expanded to the Eastside in 2013 and had its first east area graduating class of scholars in 2020. Since then, 133 Eastside scholars have graduated from the program, with 63 being admitted to USC on full tuition scholarships.
USC NAI and programs like it focus on accessibility, affordability, belonging and debt reduction, and are representative of President Carol L. Folt's "USC Competes" moonshot, which includes a focus on recruiting top students in all fields.