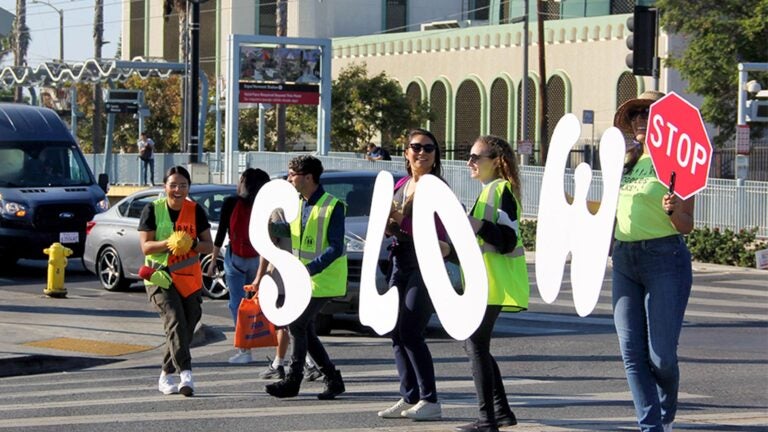 University Park Slow Jams collaboration raises awareness of local traffic dangers
USC's Kid Watch joins Public Matters to improve pedestrian safety. With Giving Tuesday upon us, learn about one of the many ways the university's Good Neighbors Campaign helps the community.
In Los Angeles, over half of pedestrians injured in vehicle accidents are hurt while using a crosswalk.
In the University Park neighborhood, that's more than a startling statistic: It's a reality that has plagued the area — and sparked a new collaboration between USC's Kid Watch program and the social action group Public Matters.
With support from USC's Good Neighbors Campaign — through which staff and faculty donations serve the areas surrounding the university's campuses — the two organizations launched University Park Slow Jams, a program designed to improve pedestrian safety.
Public Matters strives to bring awareness to a variety of civic engagement issues through art and art-inspired activities. The group analyzes and assesses community data and then leverages its creativity to push for social change. Along the way, the group collaborates with community partners to ensure buy-in and a lasting impact.
"It's important … to make sure the work we do is shaped by and led by the people that are most impacted, and that's the folks that live there," says Reanne Estrada, Public Matters co-founder.
Temple Street experiment inspires University Park Slow Jams
Traffic in residential neighborhoods has long been a concern of Public Matters. In 2017, the group took its unique approach to a section of Temple Street, to create the first Slow Jams program.
The high traffic area of Historic Filipinotown and parts of Echo Park had the dubious distinction of being called "the little 101." Public Matters partnered with city organizations and non-profit advocacy groups to transform Temple into a spectacular stretch of bold, beautiful art and public performances for a week.
Big signs, colorful umbrellas and choreographed street crossings are some of the methods Public Matters regularly employs to impress. "We want to make sure we're infusing a sense of joy and fun into our process," Estrada says — even if the issues they're addressing are serious ones.
University Park Slow Jams brings focus on pedestrian safety
The Temple Street Slow Jams caught the attention of Professor David Sloane from the USC Price School of Public Policy. After Estrada and her partner, Mike Blockstein, spoke to USC classes, Public Matters identified the 3.8-square-mile University Park neighborhood as a high-risk traffic danger area and receive a grant from the Good Neighbors Campaign to launch University Park Slow Jams in partnership with Kid Watch.
A staple in the neighborhood since 1996, USC's Kid Watch employs ambassadors to ensure children can more safely walk to and from school, museums, libraries and other neighborhood institutions. Kid Watch was looking to expand the role of its ambassadors, so the partnership and grant timing were a fit.
In fall 2019, the groups met for a traffic safety demonstration at the intersection of Vermont Avenue and Exposition Boulevard. Everyone got a preview of how art and creativity can promote pedestrian safety.
I remember seeing the big signs and umbrellas and thinking, 'Wow, this is cool.'

Irvin Jeres, Kid Watch program manager
"We walked to Vermont and Exposition, not really knowing what was going to happen. I remember seeing the big signs and umbrellas and thinking, 'Wow, this is cool,'" said Irvin Jerez, program manager for Kid Watch. "We ended up doing choreography as we crossed the street together. USC Kid Watch ambassadors were opening and closing yellow umbrellas to mimic flashing signs."
The stage was set to expand the program and bring Slow Jams throughout the neighborhoods surrounding USC. Then came the pandemic. Since University Park Slow Jams couldn't proceed as planned, it quickly pivoted to collect data, produce traffic safety videos and build the capacity and skill set of USC Kid Watch ambassadors while they waited for schools and services to reopen.
Today, the program is thriving. It affords ambassadors the expanded role USC Kid Watch was looking for: They are seen as community leaders as they spread the word about traffic and pedestrian safety and advise residents how to report potentially harmful situations, like broken sidewalks or unsafe crosswalks.
"We want people to feel comfortable walking around their neighborhoods," says Estrada. "USC Kid Watch ambassadors have done an amazing job growing the University Park Slow Jams program."