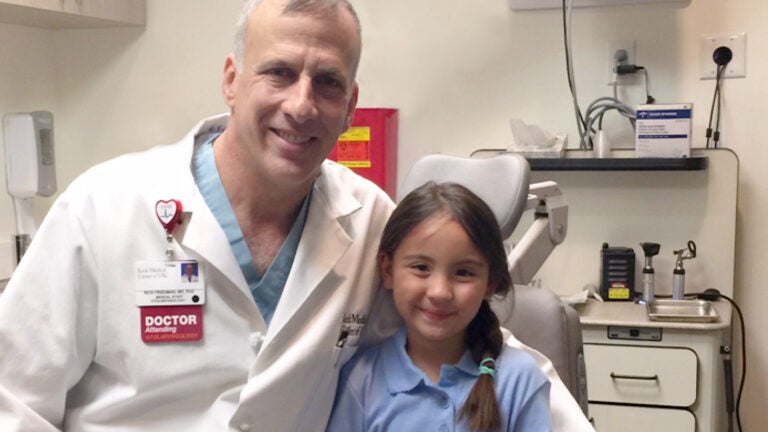 USC surgeons save a little girl beset by a big tumor
Brain surgery by Keck Medicine of USC specialists removes a benign tumor that affected the child's hearing
For Adrianna Bowman, a vibrant 5-year-old preparing to start kindergarten, what seemed to be a routine health screening turned out to be a potentially life-saving event.
As part of their preparations for school, Adrianna's mother, Alona, took her to a well-child checkup earlier this summer. There was no reason for concern — the little girl seemed perfectly healthy, leading an active life that included karate, piano, drum lessons and even some modeling.
Then Adrianna failed her hearing screening.
She was deaf in her left ear, as further testing that would soon involve specialists at Keck Medicine of USC would confirm. The underlying culprit turned out to be a benign brain tumor, known as an acoustic neuroma. And it was a big one.
An immediate threat
The large tumor in such a child posed an immediate threat to her basic life function. The tumor was compressing her brain stem and could be deadly if not removed.
Quick and decisive action was needed, and on Sept. 8, just one week after Adrianna started kindergarten, she underwent brain surgery performed by Rick Friedman and Steven Giannotta, two world-class surgeons from USC's Acoustic Neuroma Center.
This was a challenging tumor considering the size and Adrianna's age.

Steven Giannotta
"It was imperative that the entire tumor was resected in one treatment to preserve the quality of life for Adrianna," said Giannotta, chair of neurological surgery for the Keck School of Medicine of USC. "This was a challenging tumor considering the size and Adrianna's age," he explained, "requiring delicate dissection around her significantly impacted facial nerve."
The result? Complete and gratifying success.
"We saved her life," Friedman proudly said later. "Adrianna is my youngest acoustic neuroma patient, and it was incredibly humbling to be able to help her and provide such a successful outcome."
Friedman, the director of otology, neurotology and skull base surgery for Keck Medicine of USC, had come to the attention of Alona Bowman and her husband as a result of their frantic search for help upon first learning of their daughter's condition. Bowman found an online community of acoustic neuroma patients, which in turn embraced the family and helped connect them with Kristine Siwek, a patient navigator at the USC Acoustic Neuroma Center.
"I was determined to find the best team," a relieved and grateful Bowman recalled just a few days after the surgery. "We felt reassured after speaking with Dr. Friedman and hearing the compassion in his voice."
Bowman also credits the guidance and compassion she received from non-surgical staff members who assisted with Adrianna's care.
"It was a relief to have the patient navigator, who listened to my concerns and guided me through every step of the process," Bowman said. "For once, I didn't have to do all the work; someone was making sure the process was working."
The tumor's effects
Acoustic neuromas are usually diagnosed in adults from age 30 to 60, but they can occur at any age. Located on the eighth cranial nerve, the tumors can affect balance, hearing and facial nerve function. In Adrianna's surgery, the tumor was removed via a translabryinthine approach, which means an incision made directly behind her left ear.
Just six days after the operation, Adrianna and her parents were back at the Acoustic Neuroma Center to complete follow-up appointments.
Adrianna, recovering more quickly than the family ever imagined, danced playfully in sparkly sneakers and a colorful dress. She joked with Jennifer Tanaka, a physical therapist, who used a toy from the Minions movie to gauge her sensory responses. Then they took a walk — frontward and backward — down a hallway to test the child's balance.
Friedman soon stopped by to check her progress and make sure she was healing well. He praised her courage and optimism during the ordeal and reassured Adrianna's parents that everything was going great.
"High five?" Bowman asked.
With that, the little girl with the big tumor lifted her tiny hand and reached out toward the hand that the neurosurgeon had used just a few days before to save her life. They smacked palms.
"High five," Adrianna said.
Kristine Siwek and Sunny Jones contributed to the story.