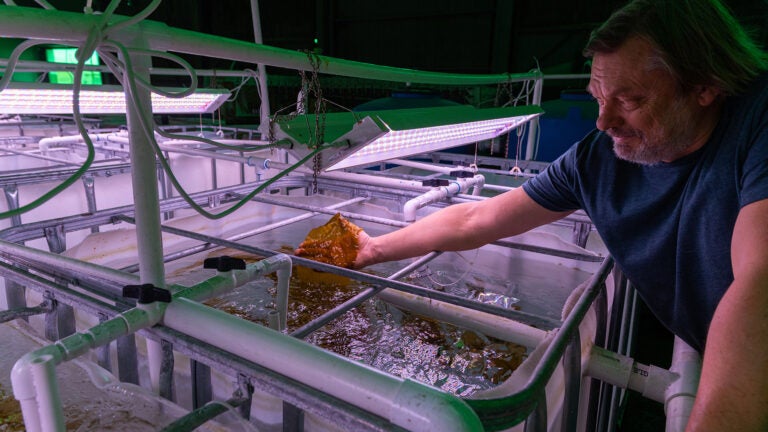 USC Nuzhdin Lab opens new facilities at AltaSea at the Port of L.A.
The 6,000-square-foot Sustainable Seaweed Aquaculture Lab will pursue groundbreaking research on regenerative aquaculture.
For years, Sergey Nuzhdin has been working to create a more sustainable world through aquaculture. After what he called a "modest" start — a few hand-built systems for growing kelp and mussels — his lab will be the newest part of the West Coast's largest center for researching the development of ocean resources.
The Sustainable Seaweed Aquaculture Lab at the Nuzhdin Research Laboratory opened Monday at a ribbon-cutting ceremony at AltaSea at the Port of Los Angeles, an event that included about 150 guests, donors and investors. Despite his appreciation for the new home, Nuzhdin wants the takeaway to be the work itself — and the researchers who make it possible.
"First and foremost, I'm an educator," says Nuzhdin, professor of biological sciences at the USC Dornsife College of Letters, Arts and Sciences. "I work for my grad students and for my undergrad students, so this reception will help my students accept how important their work is."
Nuzhdin's lab, one of several within this 35-acre facility, aims to advance the sustainable use of ocean resources. That "blue economy" is projected to produce more than 126,000 jobs, paying a combined $37.7 billion in wages by next year, according to a report that AltaSea co-authored with the Los Angeles County Economic Development Corp.
USC formed a collaboration with Holdfast, an aquaculture-focused startup, to co-develop the AltaSea's site. These organizations and their AltaSea partners Pacific6, Spira and Braid Theory will collaborate for research and training.
The interdisciplinary work of Nuzhdin's original lab on the University Park campus — which launched in 2007 and incorporates aspects of marine biology, molecular biology, food security and sustainability — appealed to Jordan Chancellor, a PhD student in marine biology and biological oceanography.
"The people in the lab are all working on highly applicable research projects and are motivating, innovative and supportive," Chancellor says. "The work our lab is doing has the potential to greatly impact the local aquaculture industry and has the potential to mitigate impacts of climate change."
AltaSea in July announced the collaboration with USC for Nuzhdin's 6,000-square-foot research lab. It focuses on regenerative aquaculture — the breeding, rearing and harvesting of macroalgae and shellfish — as well as the commercial application of new technologies, including biofuels made from kelp that could reduce the need for fossil fuels. Nuzhdin's lab will continue to do molecular and computational work on campus, while also conducting field research at the AltaSea site to advance the commercial production of seaweed and develop varieties that are particularly well-suited for producing biofuels and biochemicals, as well as alternative livestock feeds from the ocean.
"Dr. Nuzhdin's lab is a great example of how innovative research can discover new products and environmental benefits to help humanity and solve the climate crisis," says AltaSea CEO Terry Tamminen. "By harnessing nature, especially the bounty of the ocean that covers two-thirds of our planet, he and his students are making exciting discoveries that will make the world more sustainable for generations to come."
When Nuzhdin looks at how far the research and his lab have come in the last several years, he's optimistic.
"This has the potential to reduce global warming, produce biofuels from the ocean, restore kelp populations, and provide and propose a natural solution for the security of California shoreline," Nuzhdin says.