USC partners with international universities to enrich East Asian studies
Elite institutions establish a consortium with Keio University in Japan, Yonsei University in Korea and the University of Hong Kong.
USC students soon will join counterparts from other elite universities around the world in a unique study-abroad experience. Along with Cornell, Georgetown, Princeton, King's College London and the University of Geneva, USC is partnering in a consortium with Keio University (Tokyo, Japan); Yonsei University (Seoul, Korea); and the University of Hong Kong.
Representatives from all partner schools attended a memorandum of understanding signing ceremony in Hong Kong on May 13. "East Asia has always been a priority for USC with many long-standing partnerships across the region, and now with this opportunity we hope to continue strengthening our academic ties and increase our study offerings for USC students abroad," said Matthew Erskine, USC associate provost for global initiatives, who attended the signing ceremony.
This elite and competitive program is open to undergraduate students of all majors. The Office of Overseas Studies at USC Dornsife will operate and manage USC's participation in the three-campus consortium.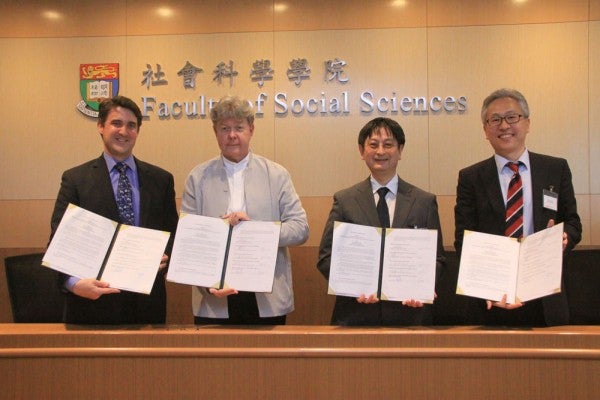 "We are pleased to join such an elite group of institutions sharing the common goal of enriching our students' understanding of the world," said Steven Lamy, vice dean for academic programs at USC Dornsife.
Strengthening East Asian cultural studies
The program for comparative East Asian studies is a chance for selected undergraduates from diverse backgrounds to study and intern for an extended time in three East Asian countries, alongside peers from each of the Asian institutions, as well as cohorts from USC and the other partner universities.
Students from the participating institutions will attend the 23-week East Asian academic program starting at Tokyo's Keio University, followed by a spring semester at Yonsei University in Seoul. They'll culminate their experience at the University of Hong Kong with a summer study and internship program.
"This program provides a unique opportunity for students to examine East Asia in a truly comparative context while balancing area studies and language coursework with experiential learning," said David Kang, director of the USC East Asian Studies Center and Korean Studies Institute.
Students will be selected for participation beginning in spring 2015.
In addition to numerous programs across the university sending students to Asia, USC has been operating an office in Seoul since 2010 and an office in Hong Kong since 1998.