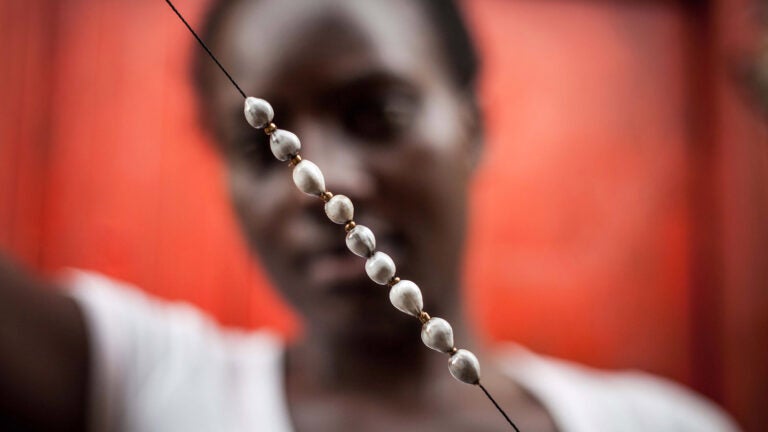 USC Price alums create platform to empower artisans in Thailand and beyond
Husband and wife build a company dedicated to bridging the gap between disadvantaged artisans and consumers around the world
After earning their Master of Public Administration degrees from the USC Price School of Public Policy in 2012, Alana Hitchcock and Mark Weber quit their state government jobs, got married and moved to Thailand to inspire social change.
Not long after, they founded Trade Monkey — a company dedicated to bridging the gap between disadvantaged artisans and consumers around the world.
"From when we first met and started talking about our ambitions and where we find motivation, it didn't make sense not to do it," Weber said. "In a way, it wasn't a decision to make this bold step. It was realizing that this was something that we had to do. Otherwise, we would regret it for the rest of our lives."
Thinking big
Born and raised in California, Hitchcock and Weber always dreamed of working at the international level. At the University of California, San Diego, Hitchcock majored in international studies with a focus on political science and third world studies, minoring in environmental studies. After high school, Weber spent about three years in the U.S. Air Force, stationed in Alaska and deployed in Saudi Arabia. He then attended California State University, San Marcos, where he majored in political science with an emphasis in Middle Eastern studies.
After graduation, Weber was backpacking through Southeast Asia when he learned of his acceptance into the Capital Fellows Program in Sacramento. He served as a fellow in then-Gov. Arnold Schwarzenegger's Office of Homeland Security and later worked as an investigator for the California Fair Political Practices Commission.
One year later, Hitchcock began the Capital Fellows Program in Schwarzenegger's Office of Climate Change, until securing a job as a sustainability planner for Caltrans. ??Having met through the fellowship, Hitchcock and Weber decided to pursue MPA degrees, taking most of their classes at USC Price in Sacramento while continuing to work full-time for the state. ??It was through the MPA program that the pair learned more about the emerging social business model, Hitchcock explained.
"That really caught our attention as a way to make change happen using business-driven forces," she said.
In their first class, Professor Shui Yan Tang talked about the Asia Pacific region, further inspiring Hitchcock and Weber. They also drew from their experiences in their capstone class with faculty members Ajay Agarwal and Daniel Haverty.
"We had originally started thinking about starting a nonprofit, but the more we learned in classes and from our classmates, the more we learned how constricting that could be for the kind of help that we wanted to provide and results that we wanted to see," Hitchcock said. "Particularly the last semester of classes did help shape our plan to build a social business that connected artisans with consumers and helped provide sustainable incomes in disadvantaged areas internationally."
Turning ideas into impact
With USC diplomas in hand, Hitchcock and Weber made the move to cash out their savings, rent out their house, strap on their backpacks and head to Thailand, where they began an exploration of the markets where local artisans sell goods.
Soon their vision crystallized. They would buy handcrafted jewelry, scarves and crafts produced in fair labor conditions. They would then sell these products via their website gotrademonkey.com and at fairs, festivals and boutiques, reinvesting profits into social impact programs to improve the communities of origin.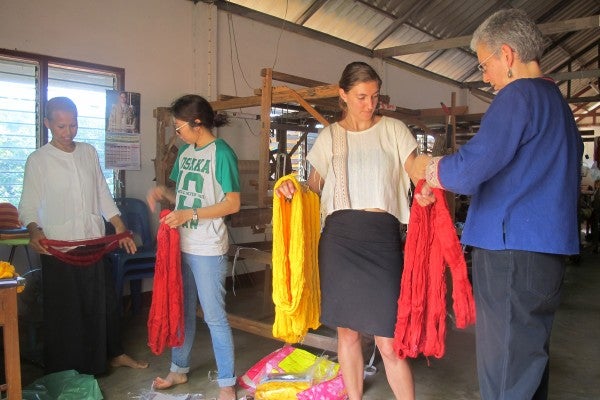 The husband and wife connected with their first nonprofit partner, Warm Heart, which supports sewing and weaving cooperatives to provide economic opportunity in the rural community of Phrao, Thailand. Warm Heart now produces several popular Trade Monkey items, including cardinal and gold Karma Scarves sold in the USC bookstores.
Trade Monkey has grown to partner with approximately 20 organizations, at least half of which are nonprofits representing more than 200 artisans in Thailand, Cambodia and Uganda.
Hitchcock and Weber originally staffed Trade Monkey with like-minded volunteers who worked in exchange for lodging at the home of Hitchcock and Weber in Chiang Mai, Thailand. Now they've established six-week internship and 10-week fellowship programs and are currently hosting three fellows who recently graduated from USC.
During a college speaking tour early in 2015, Weber visited a dozen universities and delivered a keynote speech at a conference for the California State University campuses. During one stop, Weber remembers telling a group of business students that he hasn't been paid in three years.
You're either all in or you're not. In reality, it requires a lot of tenacity, and there are ups and downs.

Mark Weber
"There were crickets in the room, except for the sound of their jaws hitting the floor," he recalled. "I was trying to emphasize that if you have a vision and a dream that you want to accomplish, you do whatever it takes to make sure that happens. You're either all in or you're not. In reality, it requires a lot of tenacity, and there are ups and downs."
Expanding scope, unlocking potential
Trade Monkey recently has been experiencing more ups than downs. The company was named a 2014 finalist in Project Inspire, a social innovation competition run by the Singapore Committee for UN Women and MasterCard, and has received media coverage from Good Day Sacramento and other outlets.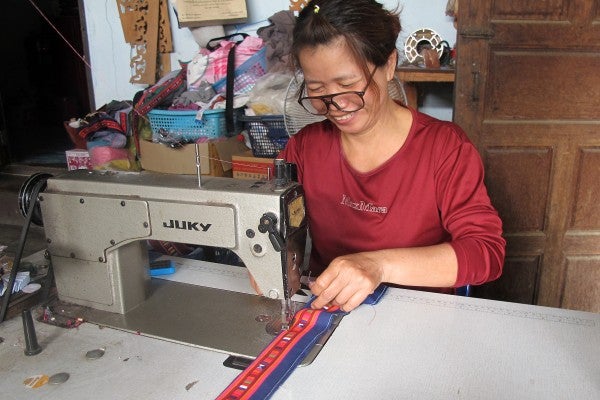 Trade Monkey's website is poised to evolve into a platform for carefully vetted partner organizations to sell their goods directly to customers, rather than through Hitchcock and Weber. This offers Trade Monkey the promise of scalability and expansion into additional countries, such as Rwanda, Kenya, Zimbabwe and Nepal.
"Through the model of us providing services and vetting and transparency instead of buying directly from them, that will allow us to expand a lot quicker, but still help these organizations that have great products and have direct community connections, but don't have a wide audience or marketing dollars," Hitchcock said.
Weber added, "There are millions of people in this world who simply just need to have their potential unlocked and be given access to be able to do that. By opening up a platform, we're able to do that on a large scale."