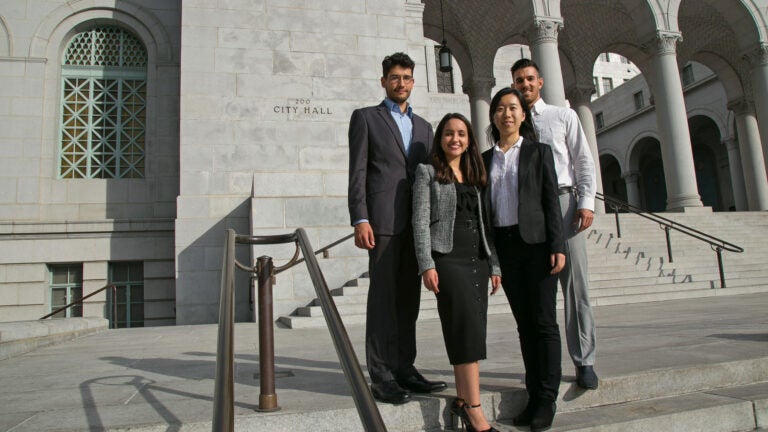 USC Price policy students put analysis into action in high-profile projects around L.A.
Trojans consult for the Chamber of Commerce, L.A. Unified School District and the mayor's office
During the year-long Policy Analysis Practicum, Master of Public Policy students put analysis into action.
Working as small teams, the students took on professional consulting projects for high-profile clients from government agencies, educational organizations, nonprofits and the private sector.
"The students produce usable knowledge for the community — it's not just going to sit on the shelf," said USC Price School of Public Policy Professor Gary Painter, director of social policy at the Sol Price Center for Social Innovation, who co-teaches the course.
Students worked with national and international clients, including the United Nations and the Mexican nonprofit organization El Instituto para las Mujeres en la Migración, AC.
State and local clients included the California Foundation for Commerce and Education, the Civic Resource Group, the Downtown San Diego Partnership, the Friends of EXPO Center, the Housing and Community Investment Department of Los Angeles, the Los Angeles Area Chamber of Commerce, the Los Angeles Unified School District and the USC Schaeffer Center for Health Policy and Economics.
The professional experience gave the students a chance to showcase their best analytical, thinking and writing skills to address important policy questions for real-world clients. They also learned to collaborate with each other, overcome challenges and work against the clock.
"The projects cover a host of fascinating issues," said Professor Dan Mazmanian, academic director of the USC Schwarzenegger Institute for State and Global Policy, who co-teaches the course. "And what affirms the value of this culminating activity is that the clients are very interested in the findings of students and will be using those results."
Preventing neighborhood price-out
The MPP student team of Sean Angst, Sandy Lo, Edward-Michael Muna and Difan Xiao won the Biller Award for most outstanding practicum project, producing a "gentrification susceptibility toolkit" for their client, the Housing and Community Investment Department of Los Angeles (HCIDLA). The team classified each of Los Angeles' census tracts as having low, medium or high susceptibility to gentrification in coming years.
"The USC Practicum offers a tremendous opportunity for the city to partner with graduate students in tackling tough issues from an unbiased, analytically rigorous perspective that helps to better understand a problem," said Marisol Romero, a housing, planning and economic analyst at HCIDLA.
HCIDLA plans to use the MPP students' findings as a toolkit to guide their strategic investments in places most in need of affordable housing.
"I am extremely interested and passionate about issues of affordable housing and equitable community investment, especially within Los Angeles," Angst said. "This project aligned directly with my professional goals and allowed me to see firsthand what it would be like to work toward these goals in the field. Moreover, I was able to make real connections at HCIDLA and have even discussed continuing to work with them as I transition into the PhD program at USC Price."
The MPP students based their results on a thorough examination of family composition, housing, rents, demographics and economic statuses. Drawing upon their academic knowledge base, the students used a regression analysis covered in the "Multivariate Statistical Analysis" course, writing and policy skills gleaned from the "Foundations of Public Policy Analysis" and "Policy Formulation and Implementation" courses, and mapping lessons learned in the "Geographic Information Systems for Policy, Planning, and Development" course.
Yet Angst explained that he learned the most from his fellow team members.
"They were amazing to work with and really helped make the final year at Price a special one," he said. "The biggest takeaway from this project is start early, plan to create multiple iterations of any project and seek out feedback as often as possible from a diverse group of trusted mentors or advisers."
Encouraging smart shopping for prescription drugs
The MPP student team of Jessica Du, Leigh Ann Haley, Noah Miller and Arpita Sharma — the runner-up for the Biller Award — examined variability in prescription drug prices for the uninsured. Their client was the USC Schaeffer Center.
"We wanted to collect real-world data to test a hypothesis about variation in prescription drug prices," said Geoffrey Joyce, director of health policy at the Schaeffer Center and associate professor and chair of the department of pharmaceutical and health economics at the USC School of Pharmacy. "The USC Practicum was a perfect way to do this, benefiting both the researchers and the students. The experience was better than expected. The students were smart, ambitious and professional throughout."
The students systematically visited 112 Los Angeles pharmacies, using a scripted dialogue to "secretly price shop" for prescriptions. For certain drugs, such as the generic form of the cholesterol-reducing statin Lipitor, they found dramatic price differences by geographic area, and between chain and independent pharmacies. They then made "smart shopping" recommendations for prescription drugs.
"The recommendations the students made can help the uninsured save money on drugs and also highlight the need for policies to promote price transparency for prescription drugs," said USC Price Vice Dean for Research and Associate Professor Neeraj Sood. Sood is also the director of research at the Schaeffer Center.
Sharma, who is earning dual public policy and urban planning master's degrees, accepted an internship with the Schaeffer Center after completing the practicum project. As part of her internship, she is translating her team's report into information for the general public. The Schaeffer Center also plans to share the students' findings with providers and patient advocates.
"Being able to present our findings to Dr. Sood and Dr. Joyce was really rewarding because they're leading researchers in these fields, and they're incredibly knowledgeable, and they definitely helped guide us," Du said. "It was really great to be able to present findings to them and have them say, 'Wow, this is really interesting. This is something that hasn't been done before.' "
Finding a place to 'park'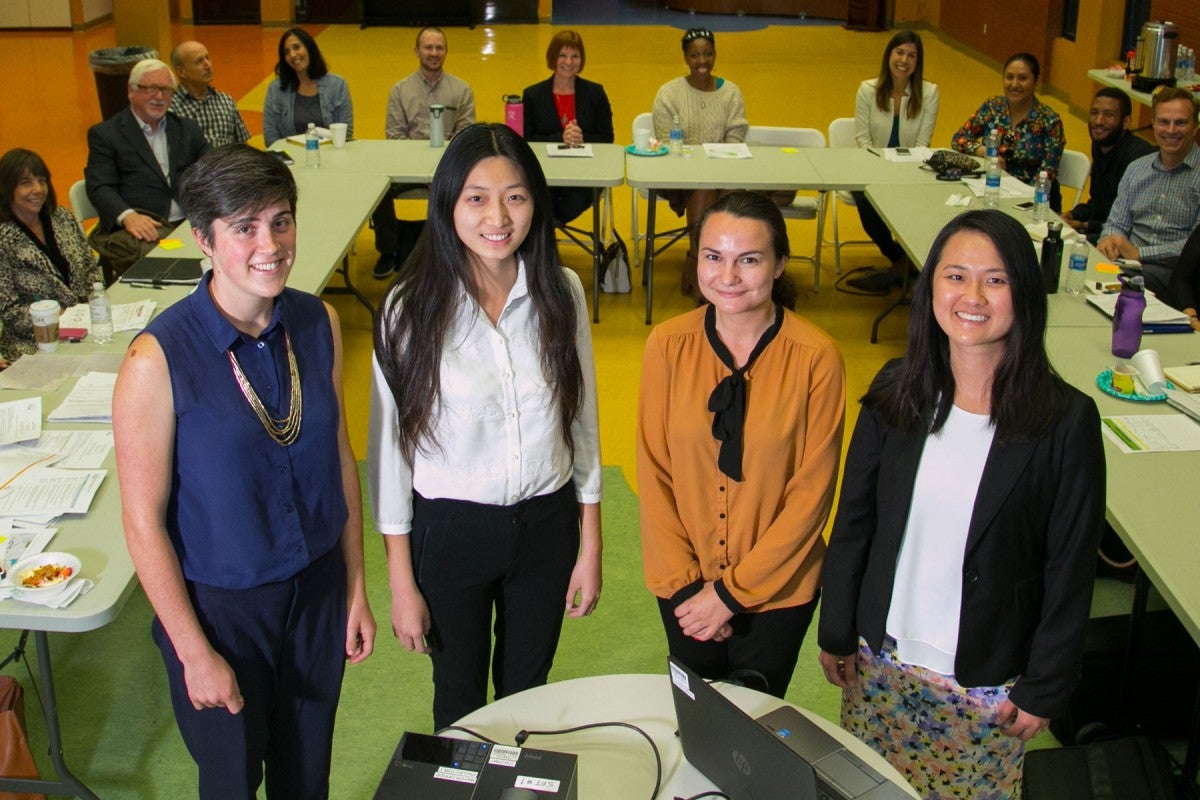 In another practicum project, students Megan Bonilla, Ge Jin, Sarah Lee and Tess Thorman worked to identify schools that are willing and able to serve as recreational park spaces in the L.A. Promise Zone, a newly designated high-poverty community by the White House that encompasses the dense urban neighborhoods of Hollywood, East Hollywood, Westlake, Wilshire Center and Pico-Union.
At the request of their clients — the city of Los Angeles Mayor's Office of Economic Development, along with the Youth Policy Institute — the MPP students recommended establishing Community School Parks first at Young Oak Kim Academy and Lockwood Elementary School, and then at the Grant and Kingsley elementary schools. Other options were Alexandria Avenue Elementary, Hoover Elementary and RFK Community of Schools.
According to Erich Yost, management analyst and L.A. Promise Zone community liaison in the Office of Field Policy and Management at the U.S. Department of Housing and Urban Development, "this report provides both the public policy perspective about the great need for Community School Parks and the academic research in support of the project, case studies from other successfully implemented joint-use agreement school park projects in other cities and recommended strategies for the L.A. Promise Zone Community School Parks project."
Yost added, "the four graduate students that participated in this project were very professional, receptive to constructive feedback and in-tune with the end user and client needs that resulted in a final deliverable that has already proven instrumental in actionable items for implementation."
The MPP students presented their findings at an L.A. Promise Zone Neighborhoods Working Group meeting. The clients also shared the students' findings with the L.A. Promise Zone Community School Parks project team, school principals and key partners such as the city of L.A. Department of Recreation and Parks, the L.A. Unified School District and the U.S. Environmental Protection Agency.
"The thing I enjoyed most about this project was engaging with the other people in L.A. working on joint use: the school principals, our expert interviewees and the Community School Parks team," Thorman said. "It was a powerful thing to be working on a project that the Promise Zone leaders were planning to implement because people were excited to share their experiences and opinions with us, and we got to see firsthand how it would come together."
Alison Becker, L.A. Promise Zone director in the Mayor's Office of Economic Development, underscored her satisfaction by pointing out that this is the second year that the Promise Zone Initiative has participated in the practicum.
"This second-year team has been equally impactful," she said. "We hope to recruit a USC team for another, yet-to-be-determined project next fall."
Creating a collective impact on education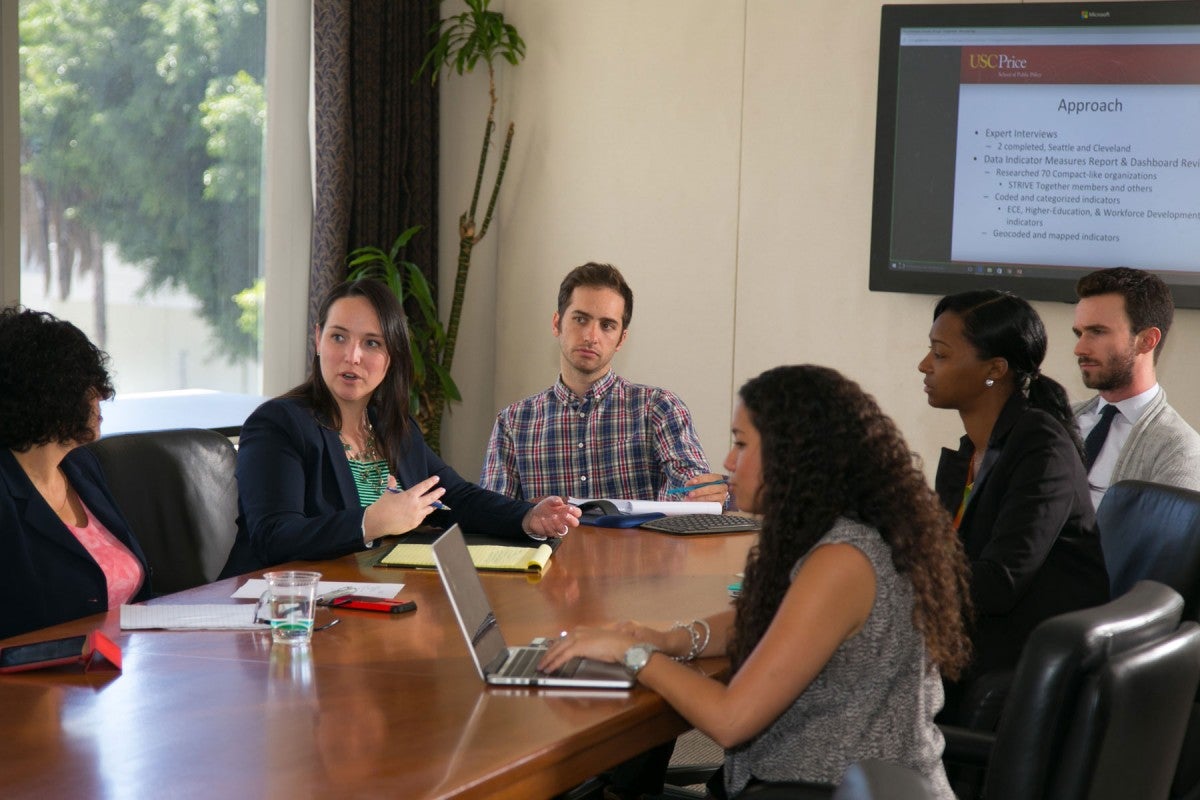 MPP students Jeanette Borden, Shinquell Green, Christopher Records and Avery Seretan explored a collective impact education initiative called the L.A. Compact, for their client, the Los Angeles Area Chamber of Commerce. Led by the nonprofit UNITE-LA, the L.A. Compact brings together the mayor of Los Angeles, the city council president, the superintendent of the LAUSD, labor and business leaders, and 11 college and university administrators with the goal of improving youth education and workforce outcomes in Los Angeles County.
The MPP team made recommendations about how the L.A. Compact can improve cradle-to-career data tracking and evaluation of collective impact initiatives. By studying best practices from more than 70 different collective impact organizations across the United States, the students identified common approaches to data tracking, as well as noteworthy exceptions.
The USC Price students presented their findings and recommendations to the L.A. Compact's staff and Data Workgroup.
"The students were fantastic — very professional, organized, smart and productive," said Lisa Catanzarite, director of research and evaluation for the Los Angeles Area Chamber of Commerce and UNITE-LA. "We really appreciate all of their hard work."
The students drew their motivation to work hard from a deep investment in educational outcomes.
"We're all actually former Teach for America corps members," said Seretan, who plans to pursue her Doctor of Education at the USC Rossier School of Education in the fall. "Overall, we were all really deeply invested in education, and knowing that our client was so heavily invested in collective impact as a tool for education was really inspiring. It definitely made our job just a little bit more meaningful that we were producing something that's going to be used in the L.A. area for the kids we are directly impacting."