Between running plays and studying, USC quarterback tackles hunger in L.A.
Mo Hasan shares food surpluses through Second Spoon, his nonprofit that feeds those in need.
Somewhere along Anthony "Mo" Hasan's journey from Miami to Syracuse to Kansas, then Nashville, and now L.A., the USC quarterback found time to start his own nonprofit.
Second Spoon is a nonprofit organization with a simple mission: take surplus food from the athletics cafeteria and distribute meals to those in need. Now, the organization has extended beyond the cafeteria and partnered with the Los Angeles Memorial Coliseum to distribute surplus food from the stadium's boxes and suites to Skid Row residents, earning Hasan a spot on the Allstate AFCA Good Works Team.
"To say it wasn't difficult wouldn't be truthful, but I always just saw it as a challenge," Hasan said. "Most of the things worth doing are going to be challenging anyway, so at the end of the day, it was something that I just felt was really important and worth doing."
Given the road that has brought Hasan to USC as a student athlete, it is no surprise that he embraces challenges. Recruited out of the Miami area, Hasan started his collegiate football career with Syracuse University, before transferring to Coffeyville Community College in Kansas and then Vanderbilt University. There, he graduated with a degree in economics and history and headed to L.A. as a grad transfer.
How football helped inspire a fight against food insecurity
The idea for Second Spoon started when Hasan was back home in Miami in 2018, during a semester off before heading to Nashville. He had noticed for years the amount of food that was being wasted in the athletic dining halls, and felt that — given the number of people who go hungry every day — he had to do something about it.
"I ended up just seeing a need in the food and food waste space that no one was really addressing," Hasan said.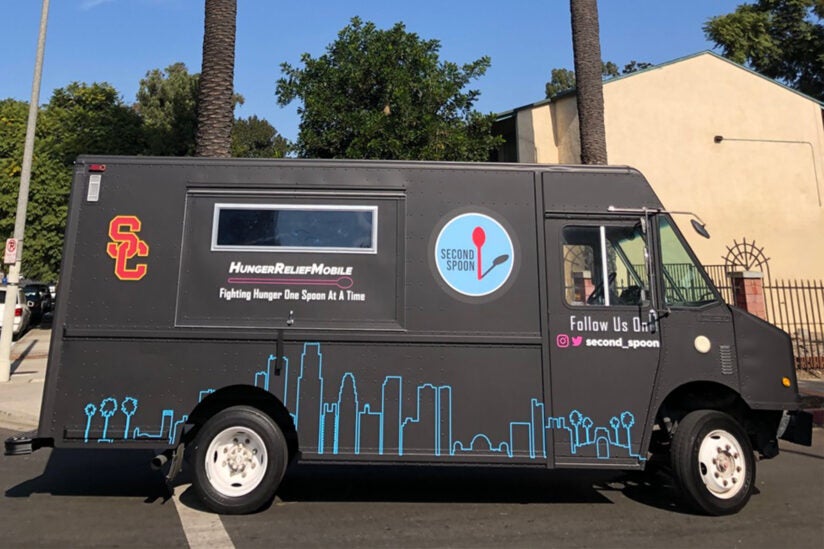 After some fundraising, Hasan bought an old package delivery truck and Second Spoon was born.
"That's the beauty of the truck: We're able to go around to different locations because there are a lot of people in need around the different shelters," Hasan said.
From there, Hasan and several former high school teammates who played collegiately in the area started delivering surplus food around Miami.
When he left for Vanderbilt, he brought Second Spoon with him. Hasan raised money for a second truck to deliver food around Nashville.
After graduating from Vanderbilt in 2020 and with two years of eligibility left, Hasan decided to come to USC. An injury had cut his previous season short, so the Trojans represented an opportunity for a fresh start — and to expand Second Spoon into a community where it could really fulfill a need.
"The homeless issue in L.A. is well documented, so I definitely knew about that, and it was something that we felt like we could definitely help with," Hasan said.
Hasan arrived on campus in the middle of the COVID-19 pandemic. So even after getting another truck for the L.A. branch, the organization was limited by county rules. As regulations eased up, the L.A. Second Spoon truck was able to make deliveries regularly.
Reducing food waste across America
Now, Second Spoon has seen interest from other schools, including a recent partnership with Louisiana State University. The nonprofit has also reached a first: a partnership with an actual college football stadium, and one as iconic as the Coliseum. After USC's final two home games, against UCLA and BYU, Second Spoon delivered surplus food from the Coliseum's suites.
"Especially around the holidays, I think it's something that's just really neat for us to do," he said. "The more people we're able to help the better — that's kind of just my mentality."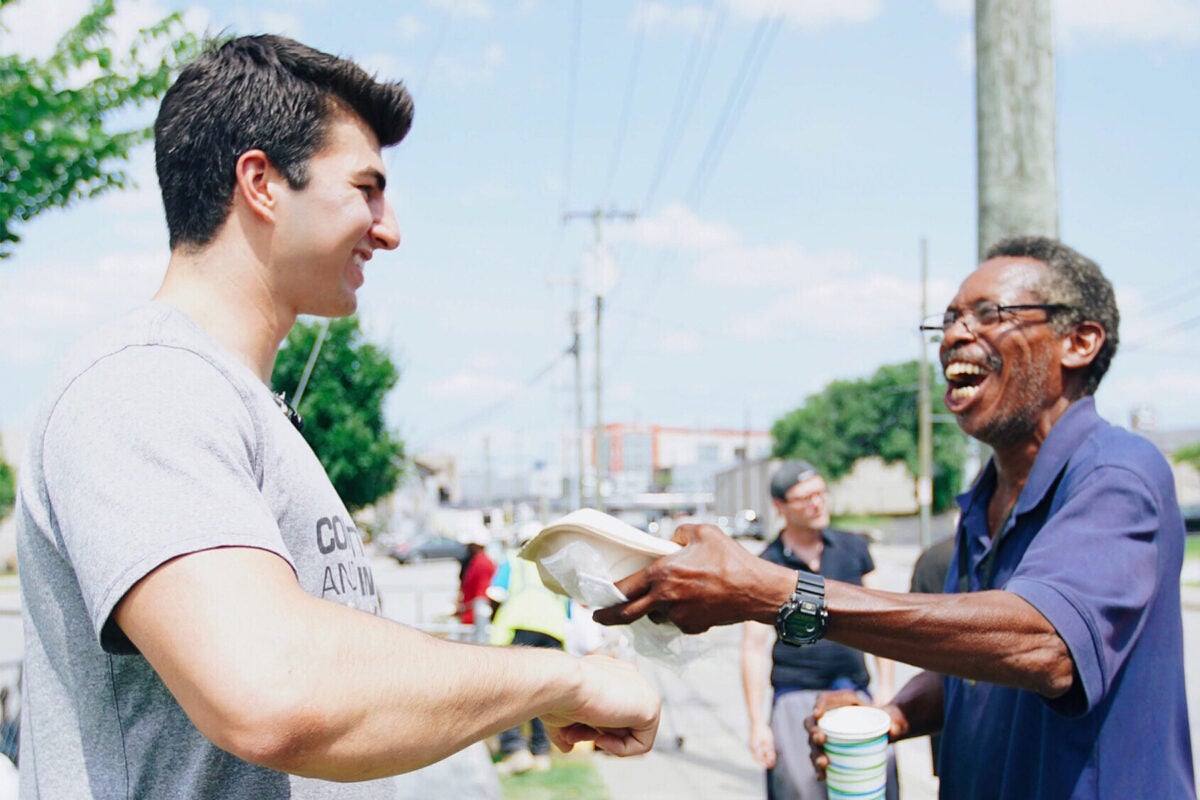 It's that mentality that got Hasan recognized by the American Football Coaches Association and Allstate when deciding on the 2021 Good Works Team, which recognizes college football athletes for their "unwavering commitment to community service and their good works off the field." In previous years, the team has included players like Heisman Trophy Winners Tim Tebow and Robert Griffin III, and this year, for the first time in the program's 30-year history, athletes named to the team will share $1 million in financial support from Allstate for their charitable causes.
"I've known a few guys that were part of [the team], and I always thought it was a really cool program," Hasan said. "It's another really cool part [of our story] that will continue to help Second Spoon and continue to help our mission."
Food for thought
After sitting out of this season due to a knee injury, Hasan has another year left of eligibility as he earns his master's in entrepreneurship and innovation at the USC Marshall School of Business.
The injury was another setback in a long college football career that has spanned five years and four states across the country. But Hasan doesn't seem to view it that way. It's hard to call them setbacks when the result has helped so many people. So as Hasan reflects on his academic, athletic and philanthropic journey, he doesn't appear to have any regrets — he's just excited for where the path will take him next.
"What we've done with the Second Spoon across the country is really neat, and brings my teammates, coaches and I tons of joy to be able to do together," he said.
"I do want to see where a Second Spoon goes and if we have an opportunity to continue to scale.
"But whatever I do, I think there'll be some element of helping the community and giving back, so whether that's with Second Spoon or something else I don't know yet, but right now I just want to kind of see where it goes and see where the chips land."