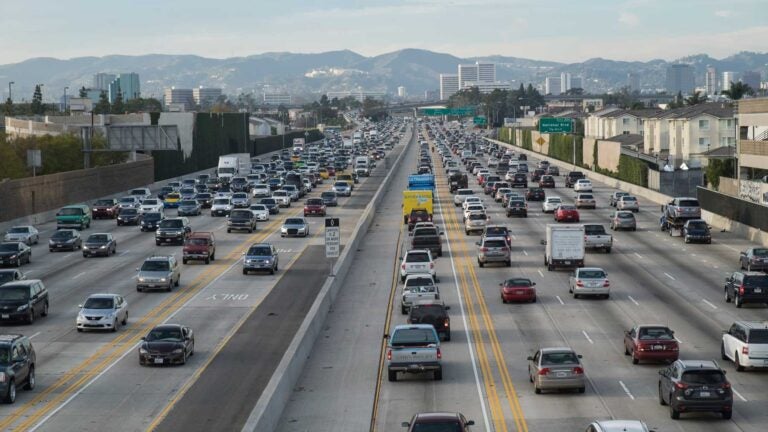 USC researchers to study environment's influence on health
The 20-year USC Children's Health Study, which covers the impact of air pollution, will receive funding from the National Institutes of Health
Keck School of Medicine of USC researchers have received a two-year, $6 million National Institutes of Health grant to examine health issues related to asthma and obesity.
Part of the funding will go toward the USC Children's Health Study, the nation's longest study on air pollution and kids' health. The new research program, "Life Course Approach to Developmental Repercussions of Environmental Agents on Metabolic and Respiratory Health," or LA DREAMERs, will be led by Carrie Breton, assistant professor of preventive medicine, and Frank Gilliland, professor of preventive medicine, both of the Keck School of Medicine.
"While much is known about the negative impacts of air pollution and exposure to toxic metals on human health, many questions remain," Gilliland said. "What we know for sure is that a good start is essential for a healthy life. LA DREAMERs will help us gain a better understanding of what it takes to ensure newborn children get off to a great start so they can avoid lifelong health consequences from environmental exposures that can even impact future generations within a family."
The seven-year NIH initiative, the Environmental Influences on Child Health Outcomes (ECHO), awarded more than $150 million to over 30 research institutes. USC will analyze data collected from prenatal to young adult participants in two existing studies: the Maternal and Developmental Risks from Environmental and Social Stressors (MADRES) and Children's Health Study.
Continued local, national and global awareness of the negative health impacts of air pollution and exposure to toxic metals have created more questions for researchers that the team at USC will attempt to answer. The LA DREAMERs program will include two research projects: one focusing on respiratory health and the other focusing on metabolic health. Assessing exposure to environmental pollutants, including air pollution and metals, will be integrated into both projects.
The idea that environmental pollutants can exacerbate pre-existing asthma is supported by decades of research. However, whether these pollutants can cause asthma has remained less clear, and the critical time periods of exposure remain largely unknown. Respiratory health research will focus on systematically assessing critical windows of exposure, including in utero, early and late childhood and across generations.
The metabolic research project will evaluate the respiratory and metabolic health effects from environmental exposures experienced across the life span: from childhood to adulthood.
"We are becoming increasingly aware that different environmental exposures occurring early in life, even prenatally, have the potential to cause lasting harm to children as they grow into adults," Breton said.
Southern California has long been home to one of the most extensive air pollution monitoring networks in the country. This data has been used by USC researchers and other groups to establish links between regional air pollution levels and the health of communities.
Rima Habre, an assistant professor of clinical preventive medicine at the Keck School of Medicine, noted the significance of the exposure-modeling component within the two research projects.
"LA DREAMERs will develop new, hybrid models that incorporate satellite and ground-based measurements and rich information on local sources of air pollution in order to overcome the shortcomings of traditional approaches that solely rely on data from ambient monitors separated by a few kilometers," Habre said. "Models will be developed for the Southern California region and extended nationwide to contribute to the ECHO consortium."
Research partners
In addition to USC researchers, which include investigators from the departments of preventive medicine and obstetrics and gynecology, partner institutions include California State University, Los Angeles, the University of California, Irvine, Sonoma Technology and Northwestern University. Additional resources will be provided by the Southern California Environmental Health Sciences Center, the MADRES Center (NIEHS/NIMHD/EPA), the Southern California Children's Environmental Health Center, the Hastings Center for Pulmonary Research, the Southern California Clinical Translational Sciences Institute and the Diabetes and Obesity Research Institute.
Research was supported by the Office of the Director of the National Institutes of Health under award number UG3OD023287.