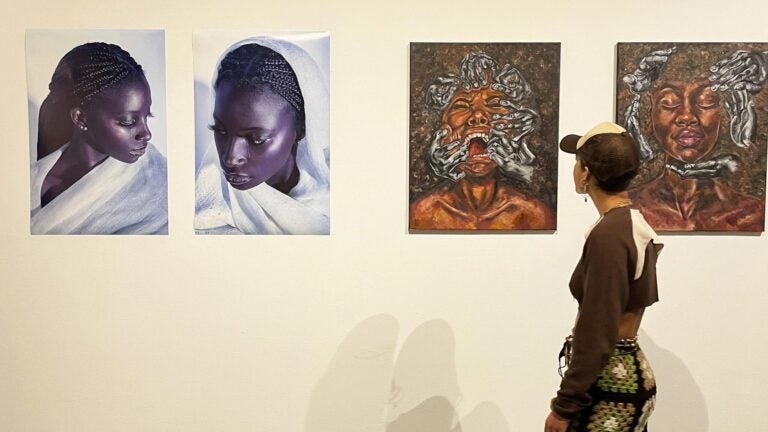 USC Roski students 'confront and contextualize Blackness' with new art exhibition
Art students Jayna Dias and Angel Itua present a lifetime of experiences as Black women and Black artists living within the Black diaspora in the exhibition The Black Experience.
When art students Jayna Dias and Angel Itua walk through their new exhibition at the Gayle and Ed Roski Master of Fine Arts Gallery, they see not only the culmination of nearly a year's work, but also a lifetime of experiences as Black artists living within the Black diaspora.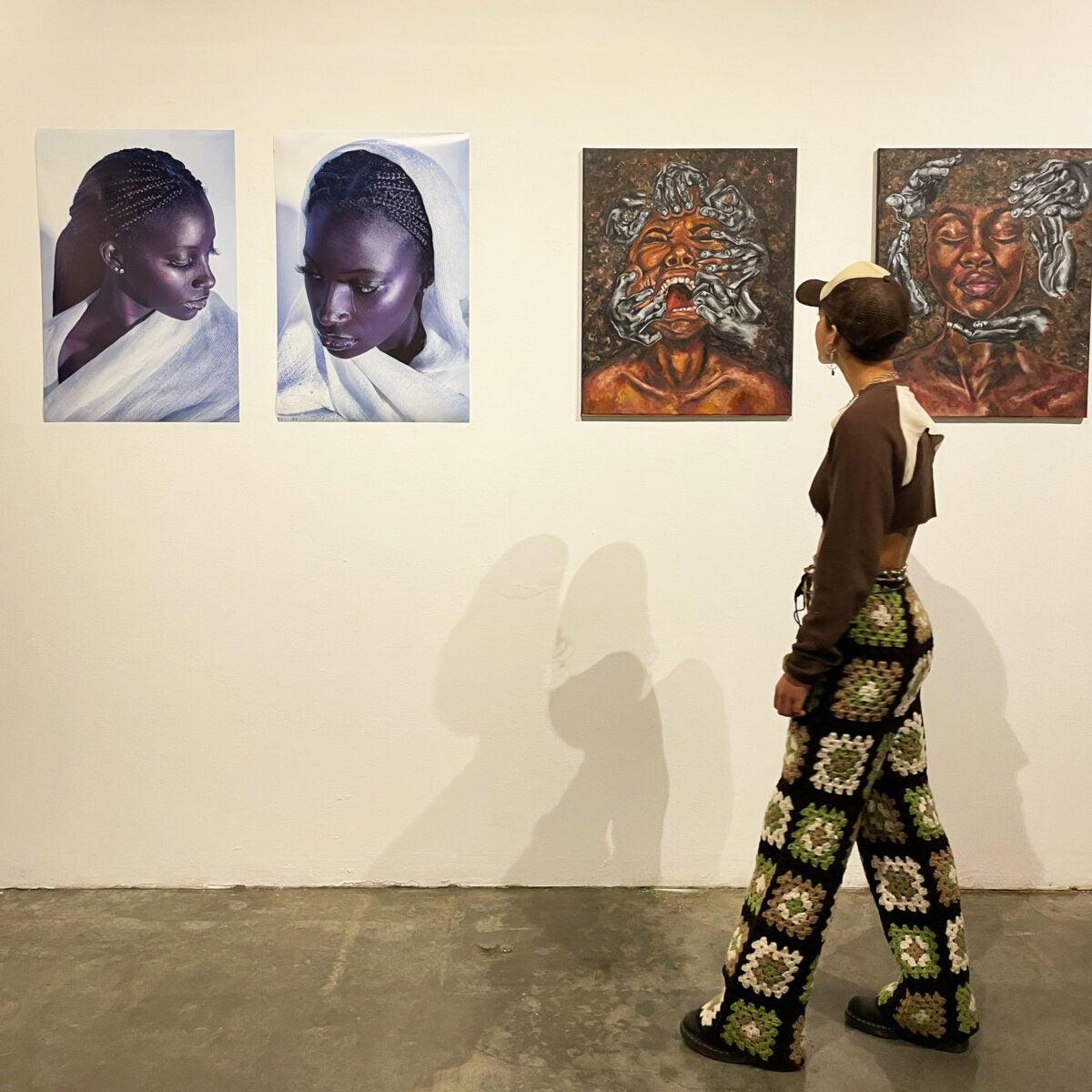 Those experiences prompted Dias and Itua to create The Black Experience. The exhibition serves as an immersive celebration and representation of the diversity of experiences within the Black diaspora, an international community of those descended from the African continent, including the descendants of enslaved Africans brought to the United States, the Caribbean and South America during the Atlantic slave trade.
"The Black experience has so many different facets that go into it," said Dias, a junior at the USC Roski School of Art and Design. "But we wanted it to be a space that people can move through and kind of experience it as a collective, because that's obviously how it does feel in your everyday life."
The exhibition is composed of four sections: "The Excellence," "The Struggle," "The Features" and "The Hair." Each section features a combination of photography and video by Itua — also a junior art major at USC Roski — and paintings by Dias.
One section of the exhibition that Itua conceptualized is located in between "The Excellence" and "The Struggle." In the corner, against a metal retractable door, are two textiles — one features Dias with her natural hair and several brightly colored hair picks. The text across the bottom reads: "Choose and color… it's your pick!" The other textile shows Itua with her natural hair and the text: "I might be a doll, but I'm not yours! Don't touch my hair!"
"As Black students, we don't really see ourselves in art around here, so we wanted to have a space for a Black audience from Black artists about like Black art," Itua said.
The textiles are edited to look like 1970s magazine ads, an era in which both Itua and Dias said Black hair was praised.
"We wanted to call back to this '70s retro era that was a peak of celebrating Blackness, with this push for natural hair and these beautiful Black retro ads," Dias said.
To add to the immersive experience, a model living room was set up using couches, a wooden entertainment center and a TV playing a video from the Ebony Beach Club, a Los Angeles-based surf and arts collective.
"During the opening, people were just sitting on the couch like it was their own living room, just relaxing and talking to friends," Itua said. "I wanted the exhibition to be as immersive as possible."
The process of mounting The Black Experience started last spring when Dias and Itua applied for one of the USC Roski independent student exhibitions. After being accepted last summer, the two artists spent the following semester creating the pieces. One in particular — a painting of Dias' aunt doing her cousin's hair — was completed just before the exhibition opened earlier this month.
"A lot went into this one, but it felt super special because my aunt came to see it in person," Dias said. "So, that made all the sleepless nights worth it."
For Itua, some of the photos she used for "The Hair" were several years in the making. An avid photographer from a young age, Itua said this exhibition allowed her to showcase some of her older work for the first time in a gallery.
"I did a concentration about hair for an AP studio arts class, [about] how hair has been a staple to the Black community," Itua said. "We needed to have a hair section since it's just so important to our culture, and since I'd already explored that, I knew I had the perfect pieces for the exhibition."
The Black Experience is open through Wednesday, Feb. 15, at which point Dias said much of her work will go into storage. She hopes that isn't for long — both artists have been looking to local galleries to continue the exhibition. Regardless of the next venue, the two know that the message of their work extends beyond the gallery.
"This was our trial run with USC Roski facilities, and the process of getting a space to just show our work, but now we understand how this all works so we definitely want to take it and apply it to further projects," Dias said.
"As for The Black Experience, we definitely want to keep pursuing it, because having a space for Black creatives is just so vital and so important."