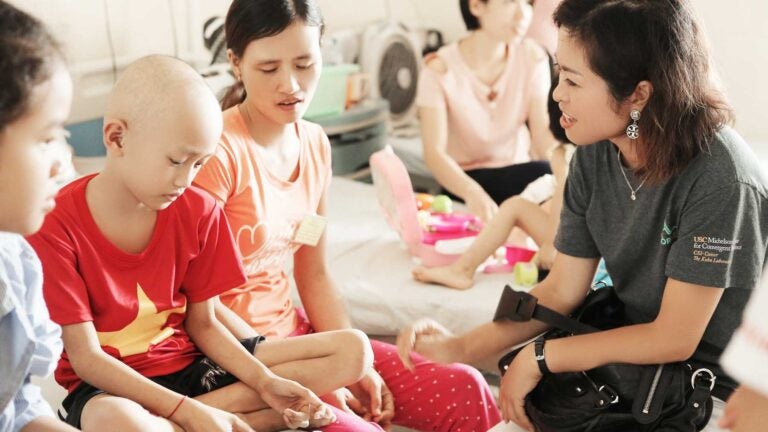 USC scientists put the cancer patient at the center of scientific discovery
Peter Kuhn travels to Vietnam, where he explains the university's personalized approach to treatment and research
[new_royalslider id="196″]
Technology allows scientists to put the patient first, a founding member of the USC Michelson Center for Convergent Bioscience told his audience during an international stop.
"The internet-based technologies we are developing at USC can connect and help patients around the world," said Peter Kuhn, Dean's Professor of Biological Sciences, who traveled to Vietnam, where he spoke about a patient-centric approach to cancer treatment and research in a forum called "Era of Hope."
"USC's global convergent science initiative in cancer is aimed at providing patients with hope for the future and with certainty about their cancer care," said Kuhn, a professor of medicine, biomedical engineering, and aerospace & mechanical engineering at the USC Dornsife College of Letters, Arts and Sciences, the Keck School of Medicine of USC and the USC Viterbi School of Engineering. "Our collaboration with the Salt Cancer Initiative is a critical piece in working directly with the patient community in Vietnam."
Salt Cancer Initiative, which hosted the weeklong event in Ho Chi Min City on Sept. 8, is a nonprofit that provides information, education and support to cancer patients and caregivers in Vietnam. About 1,000 cancer patients, oncologists and medical students were in attendance for the series.
"It was the vision and commitment of Salt Cancer Initiative and its co-organizers to provide mental support for cancer patients in Vietnam so that no cancer patient has to face this fatal disease alone," said Thuy Truong, president of the nonprofit and a lung cancer survivor.
An international initiative
Kuhn talked about USC's Convergent Science Initiative for cancer (CSI-Cancer). The multidisciplinary project quantifies how cancer evolves over time, forecasts how an individual's cancer will progress and quantifies health.
One of the projects under this umbrella is CancerBase, an international cancer mapping initiative that enables patients to use social media to securely and anonymously share their cancer data. The online tool enables patients to better understand the progression of their own treatment and cancer as well as to compare their journey to that of people facing a similar cancer.
CancerBase also enables researchers to gather basic cancer data in real time, which could speed up cancer research. Scientists currently need to wait years until they can review analyses of data from cancer surveillance programs across the United States.
"USC's focus on solving wicked problems that affects our global society has enabled us to build a convergent science initiative that puts the patient at the center of scientific discovery," Kuhn said.
The USC Michelson Center for Convergent Bioscience program draws from a diverse network of scientists, engineers and students in the search for biomedical discovery, innovation and real-world solutions. The goal is to fast-track detection and cures for diseases ranging from microbial infections to Alzheimer's and cancer.