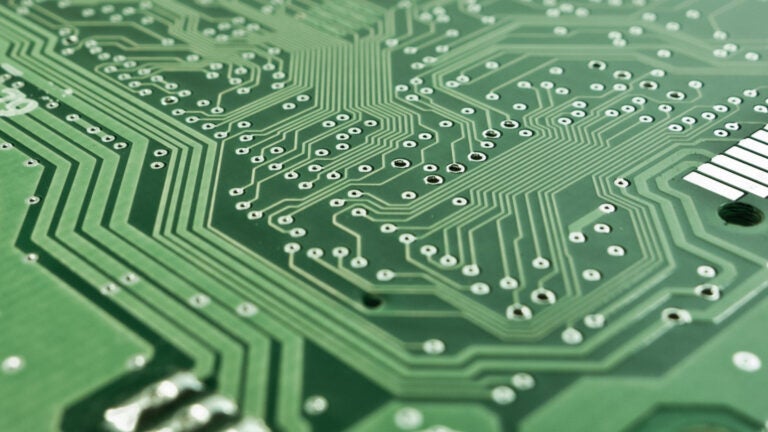 Defense Department awards nearly $27M for USC-led coalition to boost microelectronics production for 5G/6G  
The funds for the Microelectronics Commons project support a USC-led hub involving 16 other university, community college and corporate collaborators.  
The U.S. Department of Defense has announced that it has awarded approximately $27 million for a USC-led Microelectronics Commons project. The university will lead a coalition of research and industry organizations with the power to accelerate the development and manufacturing of microelectronics in the United States. 
The CHIPS and Science Act of 2022 this year provides a total of $2 billion for the Microelectronics Commons program, Deputy Undersecretary of Defense for Research and Engineering David A. Honey said at a news conference last week.  
In all, eight hubs involving more than 360 institutions nationwide are involved in the program, he said.  
Scientists and engineers at the USC Viterbi School of Engineering and its Information Sciences Institute (ISI) will lead a coalition of 16 other universities, contractors and workforce-development partners to quickly translate the sophisticated materials and devices developed in academic labs to fabrication. Their work will also focus on 5G/6G technologies.    
"It's USC's privilege to be leading and collaborating with the powerhouse research universities and industry in Southern California, addressing national security, helping solve global problems, bringing major technological advances and jobs to our region, and ensuring U.S. economic growth," USC President Carol L. Folt said.   
The coalition is led by researchers at ISI and the USC Viterbi Ming Hsieh Department of Electronic and Computer Engineering. The partner institutions within higher education ​are Caltech; Morgan State University in Baltimore; North Carolina A&T State University; Pasadena City College; University of California, Irvine; UCLA; University of California, Riverside; University of California, San Diego; and University of California, Santa Barbara. 
"It's USC's privilege to be leading and collaborating with the powerhouse research universities and industry in Southern California."

— USC President Carol L. Folt
Among the many companies involved are The Boeing Co., HRL Laboratories, Lockheed Martin, Northrop Grumman, PDF Solutions, Raytheon and Teledyne Scientific Co. 
The award reflects USC's accelerated focus on computing. Earlier this year, Folt announced a $1 billion-plus, multipronged initiative, USC Frontiers of Computing, to propel computing education and research into a new period of innovation. This effort will drive improvements in areas ranging from improving human health and well-being to increasing economic growth and developing a computing-savvy workforce for tomorrow.   
As part of Frontiers of Computing, the university is creating the USC School of Advanced Computing, recruiting new computing faculty and researchers across the sciences — such as in data science, quantum computing, and blockchain — as well as instilling in every USC student a greater awareness of computing and issues with AI, such as ethical development and use of the technology.  
Frontiers of Computing also is a catalyst for the Los Angeles tech corridor near Playa Vista and Marina del Rey known as Silicon Beach. USC aims to draw additional educational programming and research to the area. Silicon Beach is home to two of the university's important technology research institutes — ISI and the Institute for Creative Technologies.    
"This federal award recognizes USC Viterbi and its research institute, ISI, with their legacy of achievements and expertise in computing, as innovative institutions that not only nurture the professionals who revolutionize technology but also bring together key collaborators to deliver the best and most strategic solutions for a challenge with global impact," USC Viterbi School of Engineering Dean Yannis C. Yortsos said. 
Inspirational and intentional
The coalition has an inspirational name, California DREAMS, an acronym for the California Defense Ready Electronics and Microdevices Superhub.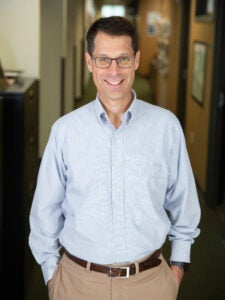 "The DREAMS coalition will unite us and our strengths to work together much more closely than we ever have, and in a much broader collaboration than has ever existed in this area," said Stephen Crago, associate director of ISI and the principal investigator for the USC-led hub. He is also a research associate professor of electrical and computer engineering at USC Viterbi. 
"California DREAMS brings experts together from across Southern California to provide research-based solutions that will impact our world positively," said Ishwar K. Puri, USC's senior vice president of research and innovation. "For U.S. chipmaking to be globally competitive, we must make dramatic investments to grow our talent and research infrastructure. The scale of funding secured by the consortium and its far-flung reach offers strong testimony to the stellar work and global leadership of USC's researchers."  
California DREAMS will concentrate its efforts in 5G/6G technologies and on the broader effort to establish advanced communications networks, focusing mainly on hardware, Crago said. One goal of the superhub will be to accelerate the transition from invention to impact.  
Within the university, "we develop innovative technologies that are better than anything that's ever been done before, and potentially world-changing," Crago said. "This program will improve the odds that creative science will lead to devices and solutions that make a difference to the Department of Defense, the commercial markets and the American people." 
"Southern California has a long history of addressing the nation's needs in aerospace and defense and expanding the benefits to the public," said Andrea Belz, vice dean of transformative initiatives at USC Viterbi. "We are delighted to step up to the challenge by leading the hardware and software development for the next generation of communication technologies."  
USC and the superhub collaborators have laboratories and fabrication facilities capable of producing the technologies and capabilities needed for rapid "lab-to-fab" development for the U.S. Department of Defense.  
"Southern California has a long history of addressing the nation's needs in aerospace and defense and expanding the benefits to the public."

— Andrea Belz, USC Viterbi vice dean
Scaling these advanced technologies to high-volume production while still preserving high yields is a major challenge, said Rehan Kapadia, the Colleen and Roberto Padovani Early Career Chair in Electrical and Computer Engineering and associate professor of electrical and computer engineering at USC Viterbi. 
"This is a really big deal," Kapadia said. "We're trying to figure out a way to build the connective tissue between what we would call academic-scale labs — like what we have here [at USC's John O'Brien Nanofabrication Laboratory] and what Caltech and UCSB have — and the high-volume manufacturing fabs making millions of devices."   
Training for Southern California
​Semiconductors, which run everything from smartphones to fighter jets and have enabled many of the advances in the modern world, are continuously becoming more complex and powerful. Breakthroughs in materials and techniques have allowed engineers to go from fitting four transistors on a silicon wafer in the 1960s to etching trillions onto an even smaller-size platform.  
In the 1990s, the United States had about 37% of the global market in these semiconductors, but that share has slipped to 12%. A crucial goal of the superhub is to inspire the next generation of students to design and build microelectronics, with an emphasis on recruiting community college students.   
Researchers anticipate that over the next five years, there may be even more opportunities to further their involvement in the national effort to return microelectronics manufacturing to the United States. 
"This is a key win for USC," said Craig Knoblock, executive director of ISI. "It again demonstrates the university's long-held status as an innovator in research and education, as well as its ability to collaborate with other institutions and private industry." 
---
What California DREAMS collaborators are saying
North Carolina A&T State University:
"As a land-grant university, North Carolina A&T is charged with creating better opportunities for our students and our communities. We are also the nation's largest producer of Black engineers, so being a part of The Commons helps us create more defined pipelines of talent into fields like microelectronic/semiconductor engineering, a necessary component of the CHIPS Act strategy. This partnership with DoD and USC demonstrates A&T's continued commitment to innovative research, national partnerships and critical workforce development."
— Daniel Limbrick, associate professor for the College of Engineering at North Carolina A&T State University
---
Pasadena City College:
"This program presents a stellar opportunity to increase students' awareness and job opportunities in semiconductor research and manufacturing. Two-year colleges are proven pathways to high-quality jobs for an increasing number of our Nation's students – of any age. We look forward to joining this partnership, building new connections and new avenues of discovery, and delivering workforce results in the semiconductor industry for Southern California college students."
— Jared Ashcroft, professor of natural sciences at Pasadena City College
---
University of California, Irvine:
"On behalf of my entire team here at the University of California, Irvine, I am proud to be part of this hub and excited to be aiding in efforts to build a robust microelectronics and microdevices manufacturing industry in the United States. UCI scientists and engineers have pioneered some of the leading breakthroughs in integrated circuit design over the past few decades. We have the knowledge and expertise on our own campus to contribute to the success of the California DREAMS hub and the DoD's goal of improving U.S. microelectronics innovation and growth."
— Payam Heydari, Chancellor's Professor of Electrical Engineering and Computer Science at the Henry Samueli School of Engineering, UC Irvine
---
UCLA:
"CA DREAMS will catalyze the integration of technology resources across Southern California to enable the scalable production of next-generation microelectronic devices. Built upon a foundation of open-access infrastructure that has supported the research community for over 30 years, the UCLA Nanofabrication Laboratory looks forward to delivering transformational capabilities through this new regional partnership."
— Adam Stieg, associate director of the California NanoSystems Institute at UCLA
"UCLA Samueli School of Engineering is very excited to be part of the California DREAMS team. We look forward to contributing our expertise in leading RF components and advanced systems, and to accelerating the adoption of innovative 5G/6G technologies in a domestic prototyping facility."
— C.K. Ken Yang, chair and professor of the Electrical and Computer Engineering Department at the UCLA Samueli School
---
University of California, Riverside:
"UCR is enthusiastic about working with USC and the hub partners to provide next generation focused helium and neon ion beam services for forensics and edit work on microchips as well as be the first US source of high temperature superconductor materials and electronics for high performance communication systems."
— Shane A. Cybart, associate professor for the Bourns College of Engineering and director of the Nanofabrication Facility at UC Riverside
---
University of California, San Diego:
"As a member of the California DREAMS superhub, UC San Diego is looking forward to working collaboratively to streamline the transition of advanced semiconductor research in university laboratories to DoD-scale industrial fabrication facilities. We are committed to advancing integrated circuits and systems to serve the defense sector as well as 5G/6G communications, which are supported by many of our industrial partners and critical for our national security and economic growth. UC San Diego's expertise in electronic design automation and 3D heterogeneous integration will help support the missions of the superhub, enabling us to produce hybrid 2.5D and 3D systems, as well as enhance the functionality of CMOS through post-process integration of novel materials and structures. Together with our fellow collaborators, we aim to usher in a new era of microelectronics innovation that will shape the future of our industry and society."
— Yuhwa Lo, professor of the Department of Electrical and Computer Engineering at the UC San Diego Jacobs School of Engineering
---
The Boeing Co.
"We are very excited to be part of the Microelectronics Commons program. Combining Boeing's technical expertise with the broader California DREAMS coalition members will accelerate the development of disruptive microelectronic technologies critical to the future of our country." 
— Todd Citron, Boeing chief technology officer 
---
HRL Laboratories:
"HRL Laboratories is excited to work with other hub members to accelerate so-called 'lab-to-fab' transitions, which are a focus of the CHIPS act. We have a strong focus at HRL on transferring cutting-edge innovations to real-world applications and look forward to contributing this expertise to the USC ISI-led CA DREAMS hub."
— Franklin Monzon, Vice President, Microfabrication Technology Laboratory, HRL Laboratories
---
Lockheed Martin
 "The advanced technologies our customers need to ensure 21st Century security depend on a steady and secure supply of microelectronics. Lockheed Martin looks forward to partnering with DREAMS Hub to help realize the CHIPS and Science Act's vision to expand America's vital semiconductor industry and create resilient, domestic supply chains for national security missions."
— Steve Walker, vice president and chief technology officer at Lockheed Martin
---
Northrop Grumman
"Reshaping the U.S. semiconductor industry will be critical for defense microelectronics advancements. Alongside our partners, we will make great strides in innovation and development that will strengthen the defense industrial base and meet mission needs on an accelerated timeline."
— Rajinder Sandhu, manager, microelectronics, Northrop Grumman