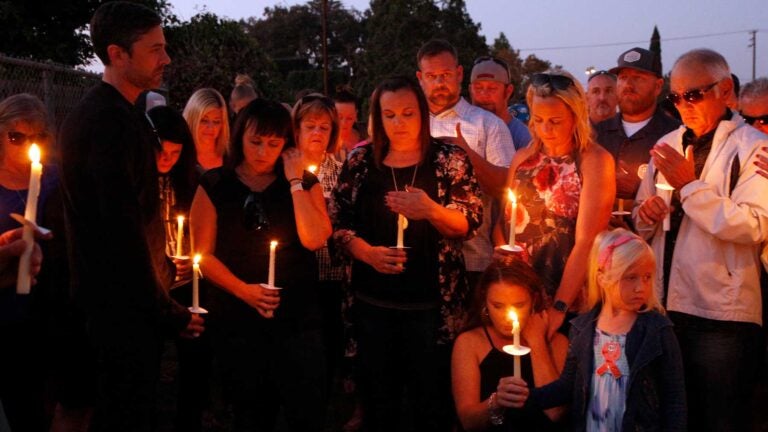 Las Vegas begins to heal after mass shooting with help from USC social work experts
David Schonfeld and Marleen Wong offer school officials training and guidance as they begin to develop counseling and support programs for children and community members
In the wake of the country's deadliest mass shooting in modern history, experts from the USC Suzanne Dworak-Peck School of Social Work are helping the Las Vegas community respond to the widespread psychological impact of the incident.
Beyond the obvious trauma inflicted on those in attendance when a lone gunman opened fire on thousands of concertgoers from the window of a hotel room on Oct. 1, killing 58 people and injuring hundreds of others, the effects of the shooting have rippled across the city in complex ways. USC's David Schonfeld and Marleen Wong are helping school leaders in Las Vegas prepare to address issues like post-traumatic stress disorder, anxiety and grief.
"People might have trouble sleeping or feel shaken up, even if they weren't in attendance at the concert," said Schonfeld, a professor of social work and pediatrics and director of the National Center for School Crisis and Bereavement at the school. "Children might come forward with other worries or concerns spurred by exposure to death and mourning. They are still affected by hearing about what happened in their community."
Contacted the day after the shooting to help organize the recovery process, Schonfeld and Wong have met with local school officials to offer training and guidance as they begin to develop counseling and support programs for children and community members.
The USC team is also providing guidance on how to apply for federal and philanthropic funding for those support efforts, Wong said, noting that Nevada likely will have trouble expanding or rolling out new trauma recovery programs at the local level because its state budget is tight.
Mixed emotions
Schonfeld said he expects that Las Vegas residents will continue to experience a wide array of reactions to the shooting, from fear and anxiety to post-traumatic stress and bereavement. Some might be unsettled by news coverage of people grieving or appearing upset.
Other reactions might be surprising. Some people might be experiencing troubles unrelated to the tragedy and feel they're unimportant in comparison or that it's inappropriate to discuss them. They might be resentful that their concerns aren't receiving attention.
And many citizens will struggle with the realization that tragic events can occur at any time and be outside of their control.
Even individuals who don't personally know anyone who was involved in the shooting might still feel pretty vulnerable.

David Schonfeld
"Even individuals who don't personally know anyone who was involved in the shooting might still feel pretty vulnerable," Schonfeld said.
An essential approach for those offering support, including mental health professionals and school counselors, is not to deny those emotions, he said, but to help individuals understand what is being done to keep them safe and to acknowledge their fears and concerns.
"We need to allow them to own those feelings if we are going to show them how to cope with them," he said.
In addition to alerting school leaders about signs of behavioral and psychological issues often seen among kids after tragedies, Schonfeld and Wong are helping them develop communication materials for children, school staff members and families about how to access help for problems like grief and anxiety. The approaching holiday season could prove challenging, especially for anyone who lost a family member.
Wong, an expert in crisis response and recovery who serves as the school's vice dean of field education and holds the David Lawrence Stein/Violet Goldberg Sachs Professorship, said community members also must confront returning to their everyday lives and trying to establish a new routine — all amid frequent reminders of the trauma they experienced.
In addition to triggers in their local community such as passing the site of the shooting or seeing memorials to those killed or injured, residents could be psychologically affected by news of other mass shootings, such as recent events in Texas and Northern California.
"Every time there was another school shooting, it was like ripping off the bandage," Wong said, describing another community she worked with following a mass-casualty shooting. "They understood, having lived through it, what it is like to go through that experience of terror."
Long-term vision
Wong and Schonfeld plan to offer consultation to the Las Vegas community as long as needed. Their work is covered by the National Center for School Crisis and Bereavement at USC, which just received a new round of funding from the New York Life Foundation. In addition to a $1.5 million award to support the center for the next four years, the foundation issued a $450,000 matching challenge grant.
The center uses its funding to offer technical assistance and training after a crisis situation, including site visits, professional presentations and training sessions for school and health professionals, conferences and other resources, all of which are provided free of charge.
"The New York Life Foundation has been a strong pillar of support, but we really need to start fundraising and developing resources to continue to provide help and grow the center," Schonfeld said. As the lone faculty member at the center, his time is often booked for months in advance.
He encouraged anyone interested in the center's work to visit its website, which accepts donations to the challenge grant, and an affiliated site, which features resources to help children deal with grief.