USC social work pioneers inducted into California's Hall of Distinction
Janet Black, David Kuroda and Armando Torres Morales earn accolades for their advancements in education and the community
Three USC Suzanne Dworak-Peck School of Social Work alums who spent decades advancing social work education, countering the negative effects of divorce on children and families, and advocating for the Latino community and other underserved populations, have been inducted into the California Social Work Hall of Distinction.
Janet E. Black MSW '71, a central force in the professionalization of social work education throughout California; David Kuroda MSW '72, a seminal pioneer in social work and family law; and Armando Torres Morales MSW '63, DSW '72, a lifelong advocate for mental health services and civil rights in the Latino community, received the honor during a recent ceremony.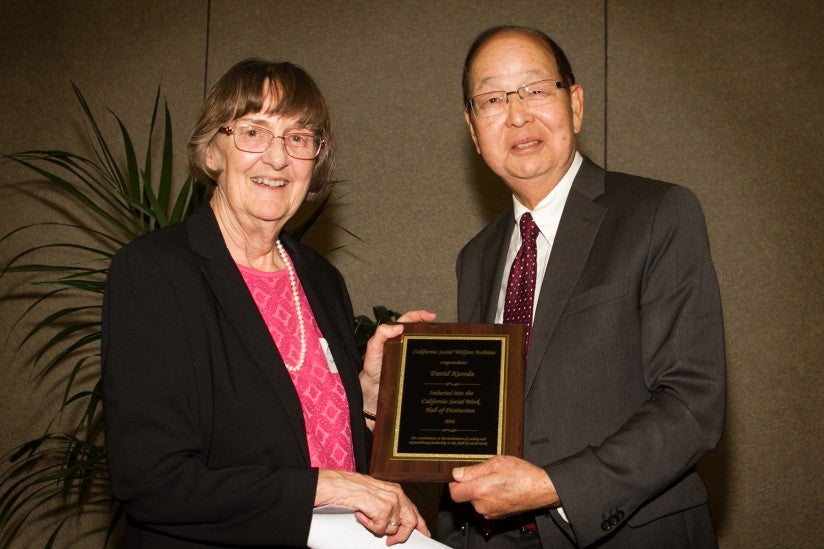 Since 2002, the Hall of Distinction has honored more than 100 individuals, preserving their legacies by providing biographies and interviews with inductees on its website.
"It identifies, recognizes and salutes social workers who have made significant contributions to the field of social welfare in California," said Esther Gillies, president of the California Social Welfare Archives and retired clinical associate professor at the USC Suzanne Dworak-Peck School of Social Work. "Without having a special arena and forum to take on this function, those contributions of social workers throughout the state would get lost over time."
Janet E. Black
Throughout her many roles in the profession of social work, from chief of long-term care at Sepulveda Veterans Administration Hospital to professor, director of field education and interim director in the Department of Social Work at California State University, Long Beach, Black has held a steadfast passion for social work education.
She is known as an early advocate of distance education, has developed curricula and training programs for dozens of schools of social work and served as a consultant to the California Social Work Education Center, promoting the advancement of competent professionals in mental health care.
Beverly J. Buckles, dean of Loma Linda University's School of Behavioral Health, introduced her friend and colleague with words such as dedication, passion for service, unwavering integrity and humility.
"Jan is all those things and many, many more," she said.
Reflecting on her 45-year career, Black highlighted her efforts to establish distance education programs that have since grown into full-fledged Master of Social Work programs. She also noted she is currently involved with efforts to develop competencies for mental health workers throughout Southern California.
"I am still a practicing social worker and plan to continue with that as long as I can," Black said, adding later, "I'm so very proud to be a social worker and to uphold the values and ethics of our profession."
David Kuroda
A licensed clinical social worker, Kuroda is a pioneer of an area of family law known as collaborative divorce, which focuses on creating a forum for out-of-court resolution and conflict-free divorce that minimizes negative effects on children.
"I believe the greatest public health concern in this county is divorce and its effect on children and families," he said. "My job as peacemaker is to encourage parents to resolve disputes themselves, with the help of collaborative lawyers and other professionals."
After earning his MSW at USC, Kuroda spent nearly three decades in the public sector, serving as division chief and director of the Mediation and Conciliation Service in the Superior Court of Los Angeles, the first and largest court mediation program in the nation. He also oversaw the county's district court mediation programs, including Parents and Children Together and a program designed to find solutions for parents with high levels of conflict who chronically violated custody and visitation orders.
In 1999, Kuroda left public service to help establish A Better Divorce, an interdisciplinary group of professionals devoted to the collaborative divorce process.
Armando Torres Morales
Described as a Chicano Renaissance man, Morales was a boxer and a musician who served in the U.S. Air Force. He is best known, however, for his work as an advocate for the Latino community, particularly in terms of advancing mental health services and ending abusive policing.
A Los Angeles native, Morales earned his MSW at USC in 1963 and returned to complete the DSW program in 1972, becoming the first Latino in the nation to earn a doctorate in social work. Concerned about the lack of mental health services being accessed in the Latino community, he founded the first psychiatric clinic for Spanish-speaking patients at the UCLA Neuropsychiatric Institute.
He also directed the institute's Clinical Social Work Department and Clinical Internship Training Program from 1979 to 2000, eventually rising through the ranks to attain the highest level of professorship possible at UCLA.
In addition to his academic and community work, Morales is known for his service as an expert witness in dozens of criminal cases, including the infamous Reginald Denny beating trial. He also authored a seminal book focused on the Chicano political movement, Ando Sangrando (I Am Bleeding): A Study of Mexican American Police Conflict.
His son Rolando and daughter Christina accepted the posthumous award on his behalf.
"He would have been so honored and so proud to have been inducted," Rolando Morales said.
The California Social Work Hall of Distinction is part of the California Social Welfare Archives, housed at the USC Doheny Special Collections Library and supported by the USC Suzanne Dworak-Peck School of Social Work. The archives identify and preserve documents and memorabilia related to social work and social welfare programs in California, including oral histories by professional and volunteer social welfare leaders.
The induction ceremony and oral history interviews are available online under the California Social Welfare Archives playlist.