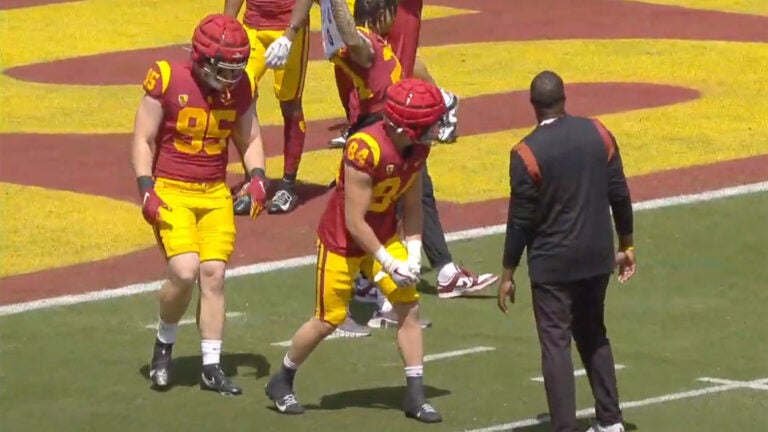 USC spring football game: Caleb Williams honored as fan anticipation meets expectations
At the Coliseum, Trojan fans have high hopes as they look toward the upcoming season.
Last year, the Los Angeles Memorial Coliseum saw the highest attendance for a USC spring football game ever — officially 33,427 — as fans flocked to get a glimpse of the new look Trojans under head coach Lincoln Riley with quarterback Caleb Williams.
One year, a conference championship game berth, a New Year's Six bowl and a Heisman Trophy later, that same excitement could be felt throughout the Coliseum during Saturday's spring football game — only now there are serious expectations to go along with it.
"Our mentality this entire spring has been take the standard that was established in Year 1 and really go do something with it," Riley said at a news conference after the game.
USC spring football game: Setting the standard
The spring game — shortened to two 15-minute quarters — is essentially a scrimmage between the offense and defense. The offense scores points the traditional way with touchdowns, field goals and extra points. The defense is given a 24-0 lead and earns points though plays like turnovers, fourth down stops, defensive touchdowns and safeties.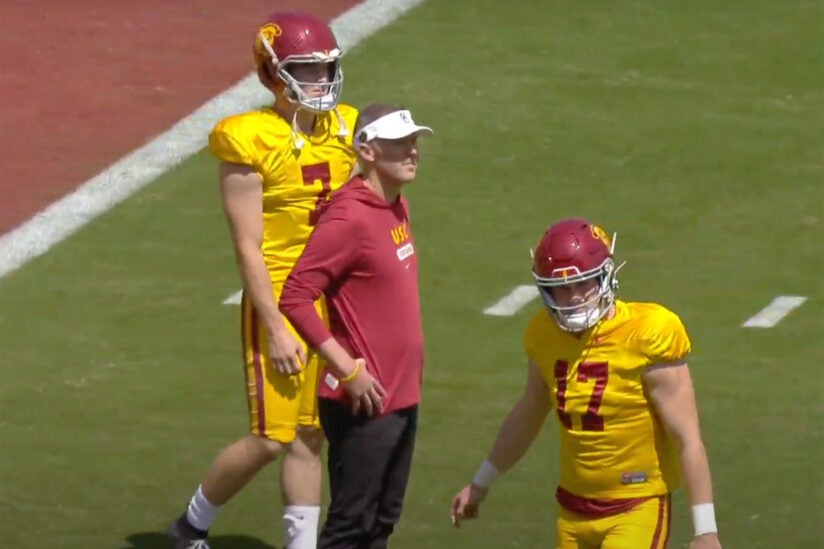 With the offense in the home cardinal jersey and the defense in visitor colors, Williams and his offensive unit seemed to pick up where it left off last season, scoring right off the bat in a familiar way — a touchdown pass from the Heisman winner to wide receiver Mario Williams.
"It was business as usual," said senior running back Austin Jones after the three-play 75-yard touchdown drive that started that game.
"My first thought was just, 'We're back, baby,'" said redshirt junior offensive lineman Jonah Monheim.
There was little concern among the 25,213 Trojan fans in the stands that the offense wouldn't produce: The squad led the nation last year in passing touchdowns and was third in total yards and scoring offense.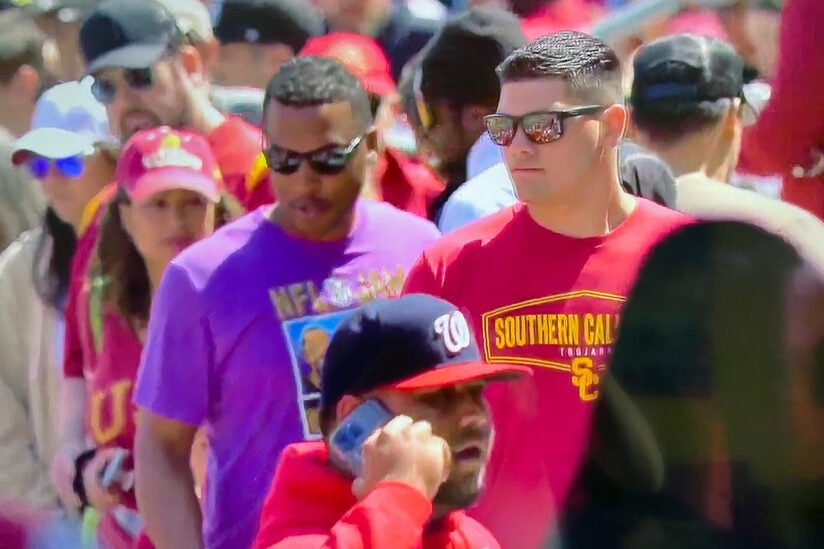 The concern was the defensive side of the ball as last year's squad gave up 93 points in the Trojans' final two losses.
"I think we all knew deep down that we had some holes there last year," Riley said. "Even when we were winning games and playing well defensively, you knew at some point this has got to be addressed."
Luckily for the defense, Williams only played the first drive. Backup quarterbacks Miller Moss and highly touted local recruit Malachi Nelson put together some respectable drives, but the defense fought back the entire game and intercepted a pass on the final play to seal the 42-34 victory.
"This was a really fun and competitive day," said Riley. "That was a very fitting end to our spring, because that's, in a lot of ways, kind of what our spring is look like in terms of being competitive down to the wire."
The Heisman Trophy comes back to L.A.
The loudest cheers of the day came as Williams held up the 45-pound trophy to the fans in the Coliseum.
(Story continues after video)
Congrats to @CALEBcsw and Coach @LincolnRiley on this well deserved award. Fight on! pic.twitter.com/nWjQ4lZWh1

— Carol Folt (@PresidentFolt) April 15, 2023
Williams finished his Heisman Trophy-winning season — his first as a Trojan — with a slew of national awards as well as just about every USC football record. And even though Saturday's spring game highlighted the accomplishments of an individual, Williams made sure to give credit to his teammates by inviting some of the 2022 class to share the moment with him.
In addition to sending the trophy back to USC, the Heisman Trust donated $25,000 to Williams's charity, Caleb Cares, which focuses on anti-bullying efforts, youth empowerment and mental health awareness.
USC spring football game: Unfinished business
Even with the records, awards and 11 wins of last season, it was a shaky defense, along with some key injuries, that contributed to USC losing its last two — and arguably, most important — games: a 47-24 loss to Utah in the Pac-12 Championship Game and a 46-45 loss to Tulane in the Cotton Bowl Classic.
During his Heisman Trophy acceptance speech in December, Williams noted that his job wasn't done: Even though he was headed home with the trophy, the other three finalists — Georgia's Stetson Bennett, TCU's Max Duggan and Ohio State's C.J. Stroud — were all headed to the College Football Playoff.
In that same speech, he told Riley that the "job's not done." And the overall vibe of the Coliseum Saturday would suggest that everyone on the field and in stands knows that, too.
"We really try to push it to another level, and we've raised the standards for our guys in every part of the program to help achieve that," Riley said. "There's a lot to build on but also a lot to be excited about after today."