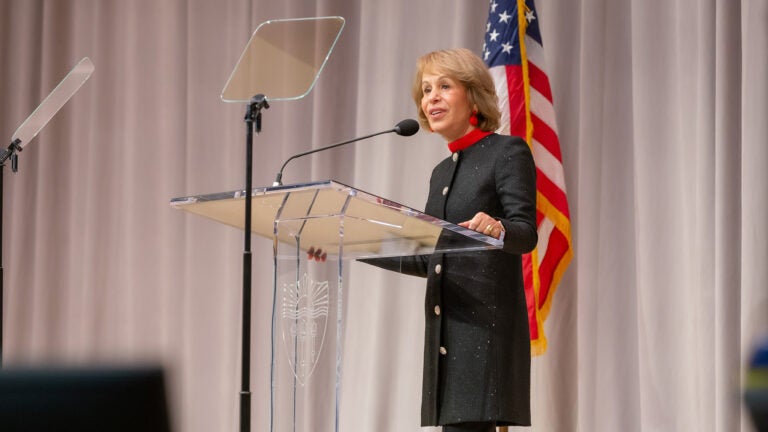 USC President Carol L. Folt shares 2023 health system highlights, goals
In the second of two State of the University speeches, the president outlines robust construction, healthy funding and strong ties to the local community.
Bold ideas, smart investments and strong compassion helped USC navigate the COVID-19 pandemic, and those assets are key to future growth in health sciences, USC President Carol L. Folt said Wednesday in the second of two annual State of the University speeches.
"We have faced down challenges that come only once in a lifetime," Folt said to attendees in Mayer Auditorium on the USC Health Sciences Campus. "You were steering our health system and our associated schools to protect and care not only for the USC community but for millions of fellow Angelenos."
Major growth in space cited in USC State of the University address
The speech offered updates on various projects in development. Folt shared her excitement about the Discovery Translational Hub, a planned 260,000-square-foot multidisciplinary facility designed to translate new discoveries into clinical care.
(Story continues below video)
Scheduled to open in July 2026, the seven-story structure on the Health Sciences Campus will house 84 research groups and employ 850 people.
"It's going to be such a dynamic place," Folt said, adding that the completion will "take us one step closer" to doubling the university's overall research portfolio in seven to 10 years and increasing the scale of Keck Medicine of USC — a core goal in her 2022 State of the University speech.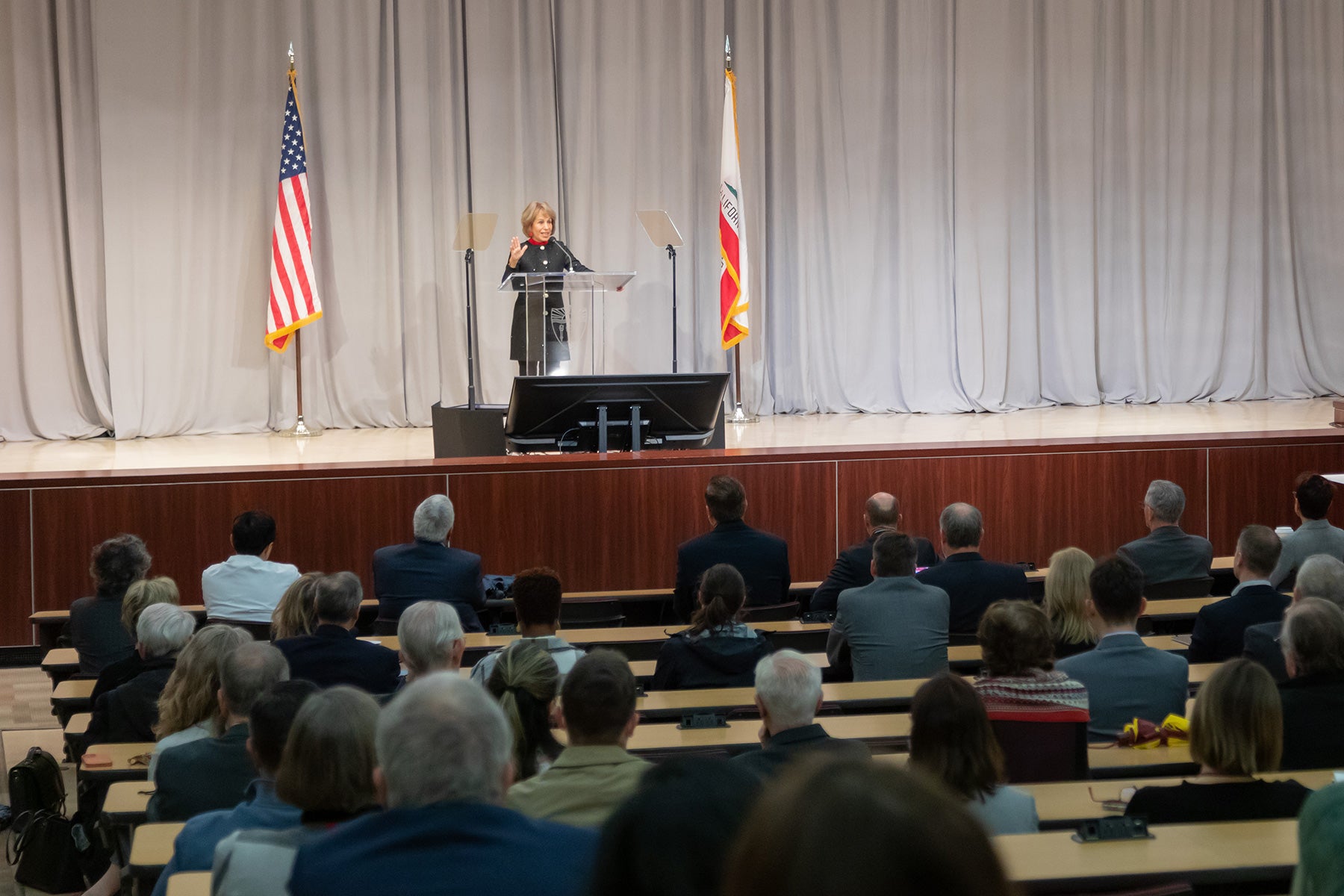 Folt also pointed to the recent dedication of the USC/CHLA cGMP Laboratory. Housed at the USC Norris Comprehensive Cancer Center, the lab — launched through a partnership with Children's Hospital Los Angeles — is designed to study the power of modified cells to develop and expedite lifesaving therapies to treat diseases such as arthritis, blindness, cancer and diabetes.
Other noted highlights included the newly announced Center for Generative AI and Society, a research center exploring the impact of artificial intelligence on culture, education, media and society, as well as a 100,000-square-foot ambulatory site under construction in Pasadena that will serve as Keck Medicine's largest satellite clinic.
USC State of the University address: New faces, strong funding
Folt took time to recognize new faculty and staff appointments, including Ikenna "Ike" Mmeje — the new president and CEO of USC Arcadia Hospital, which became affiliated with Keck Medicine of USC in July 2022 — as well as Ishwar K. Puri, senior vice president for research and innovation, and Scott Rabenold, senior vice president for university advancement and alumni relations.
Folt congratulated the 11 USC professors who were recently inducted into prestigious national academies. Among them: Keck School of Medicine of USC Dean Carolyn Meltzer, who joined the American Association for the Advancement of Science.
She also called out the university's $1 billion in funded research grants in 2022, which exceeded the prior year's total by 8%. Of the $3.5 billion in grant proposals submitted by USC in the past year, 40% were accepted (universally, the rate is about 10%, Folt said).
"That exceptional number places USC researchers among the very top of the top in the country," Folt said.
Despite economic challenges related to the pandemic and inflation, Folt cited a balanced budget and "a very aggressive plan to mitigate gaps and enhance our revenues."
Care for the community
USC's work extends beyond its campuses, Folt said, and its reach is especially crucial for "finding ways to eliminate health care disparities."
Praising the Keck School of Medicine's Street Medicine program, which provides on-site services to the unhoused, Folt noted the effort was the topic of conversation during her recent breakfast with Los Angeles Mayor Karen Bass.
Folt cited other examples of care in action, including:
Resuming community health clinics and fairs held by the Herman Ostrow School of Dentistry of USC.
The launch of a Trauma Recovery Center at the USC Suzanne Dworak-Peck School of Social Work to provide free mental health services for local survivors of crime and violence.
Partnerships between the USC Leonard Davis School of Gerontology and local nonprofits to help older Angelenos safely age in place.
The creation of a new, first-of-its-kind master's program at the USC Institute of Addiction Science.
Continued support of and safe access to women's reproductive health care.
"We can make belonging and mattering feel very real for people and partner with our communities to improve health, fairness and prosperity," Folt said.
Moonshot efforts planned
Looking ahead, Folt pointed to five moonshot goals — including a transformation of USC Health Sciences via an alignment of USC's health-related schools under the leadership of Senior Vice President for Health Affairs Steven Shapiro.
She also described the reimagining of a $230 million gift from physicist, inventor and former USC Trustee Alfred E. Mann to endow the newly named USC Alfred E. Mann School of Pharmacy and Pharmaceutical Sciences and the Alfred E. Mann Department of Biomedical Engineering at the USC Viterbi School of Engineering.
More than $100 million of Mann's gift will go toward supporting early investment in research, Folt said.
The president also included a nod toward the Academy Award-winning film Everything Everywhere All at Once.
That title, she said, perfectly captured the tenor of our times, as new technologies, shifting demographics, the changing nature of work and pioneering discoveries in STEM and other fields collide on college campuses.
"Our academic and our clinical programs are providing opportunities for complementary and competing ideas to … transform the future," Folt said.
"I truly believe that our work together matters more than it ever has."