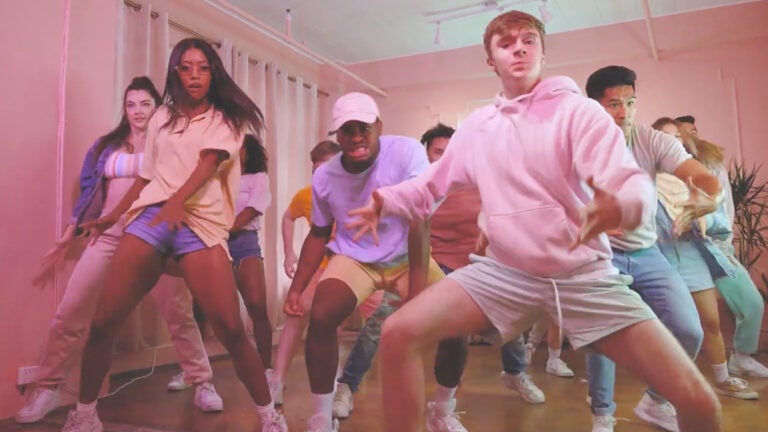 Watch USC Student Dance Clubs Bring the Moves — and the Fun — to Campus Life
Students find good vibes and good friends in a vibrant dance community.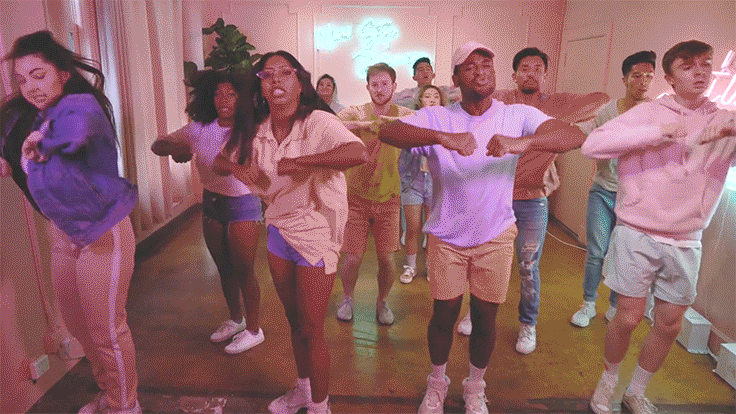 Paige Arredondo loves to dance. But growing up, the studio-trained dancer shied away from joining competitive teams. At auditions, she often encountered others who made assumptions or comments based solely on her body type. When she arrived at USC, Arredondo wondered if she'd encounter the same biases. Then she found NSQK.
The students on the hip-hop team at USC expressed themselves through movement, free of judgment. "I have never felt more welcome in a dance-centered space than I do in NSQK," says Arredondo, a USC Annenberg School of Communication and Journalism senior who now directs the team. "It has mended my relationship with a sport I have had a rocky relationship with in the past."
More than 20 dance clubs call USC home, and they all offer students a place to belong. Check out six of the groups that bring the moves — and the fun — to USC's dance scene.
NSQK
A noncompetitive hip-hop dance team, NSQK provides a safe space for students. "Through genuine friendships and unconditional support, we hope to create a team environment that our members can call home here at USC," Arredondo says. Everyone feels like lifelong friends, she adds.
The group not only reconnected her to performing but also gave her the chance to stretch her skills. With encouragement and support from members, she choreographed and directed a dance team for the first time.
From their colorful swirling skirts to the precise heel clicks in their zapateado dance steps, Grupo Folklórico de USC spreads the beauty and art of traditional Mexican dance. "Having a space to share your cultural pride, especially on stage, is an unforgettable feeling," says junior LeeAnna Villarreal, the group's secretary.
Villareal remembers struggling to transition to college in her first year. Then she attended a Grupo Folklórico event. "I laughed the hardest out of that entire semester," she says. "It was the first time I felt at home." The group's weekly four-hour rehearsals forge close-knit friendships. "Seeing each other grow — from bonding over our many failed attempts of zapateado to performing on stage in our vestuario glory — is what makes this group very special," she says.
"We consider ourselves to be a family before a dance team," says Deborah Fagan, director of the Latin dance group. But don't underestimate their moves. The team won the Collegiate Latin Dance Cup in 2019.
Originally a spin-off from a USC Kaufman School of Dance ballroom class taught by Jesus "Jay" Fuentes (now the group's faculty advisor), Break On 2 hopes to instill great dance skills as well as respect, consent and inclusivity among members. "Break On 2 has cultivated a beautiful family culture," says Fagan, a senior at the USC Dornsife College of Letters, Arts and Sciences "Without it, my USC experience would not have been the same."
The group performs competitively, but its members also spread their love for Latin dance through Club Annex, a weekly social night at the University Park Campus. Students can get free lessons, meet new people and maybe even ignite a passion for Latin dance.
Unity, drive, energy, fun and accountability are the special ingredients that make Break Through Hip Hop so inclusive and welcoming to the USC community, says Sabrina Goldfeder. She manages this 15-year-old dance team that encourages students to learn together. "Our goal is creating a welcoming social environment for students from all walks of life united by a common love of dance," the junior says.
When she joined Break Through Hip Hop, Goldfeder found like-minded students who value the personal growth and development of dancers. She also found a sense of belonging. "Coming from a small high school, it was nice to find a group of 30 people that's like an extended family," she says. "It helps USC seem smaller."
Members of Spade A come from all over the world, but they're united by Korean pop music. "We are made up of all types of students, undergraduate to graduate, from the U.S. to China and lots of places in between," says Tiffany Rollerson, a master's student studying social work.
The team produces high-energy K-pop dance covers that pull in views on social media. Members also perform complex pieces by Korean choreographers or their own members. "Our projects, from start to finish, usually take about two or two-and-a-half weeks, with only four weeks or less for rehearsals," Rollerson says. They power through with their love for dance — and for their friendships. "When you have an intense structure like this, you become bonded to the people you dance with. It becomes a family."
In the Chinese folk story Legend of the White Snake, a female snake spirit takes human form and undergoes an epic journey of star-crossed love and revenge. Students in TCDance choreographed their own retelling of the centuries-old tale for an annual showcase. Telling these stories through dance is a great way to introduce Chinese culture and folklore to the USC community, says Aline Wu, co-president of the team.
TCDance — short for Traditional Chinese Dance — shares Chinese culture with new audiences and deepens its members' connection to cultural traditions.
In addition to their annual showcase, they perform at philanthropic and cultural events for the community. Their friendships are bound by a common thread. "Despite our varying backgrounds and experiences, everyone who joins our club is here for the same reason," she says. "We are passionate about Chinese dance."