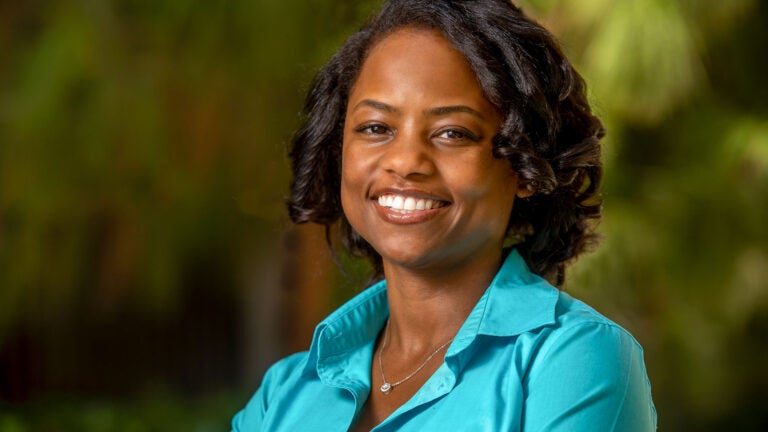 USC Student Health services for women grow as alumna joins staff
Education and health care go together for OB-GYN Deirdre Logan, who returns to her alma mater after 14 years at a community clinic
Deirdre Logan, a board certified obstetrician-gynecologist and alumna, will join USC Student Health in October as the second full-time physician devoted to the care of female students at USC.
Logan returns to her alma mater after 14 years at Watts Healthcare, a community clinic providing health care and services for patients with little to no insurance. She served there as chief physician of the OB/GYN department and founded and directed the teen clinic.
For Logan, health care and education go hand-in-hand.
"I feel that, as a physician, you're also a teacher. We're kind of health care consultants and have to be partners with our patients," she said. "If you prescribe a medication or [give a medical recommendation], and the patient doesn't understand why or how it well help them, often they won't do it. Education is important in order for patients to make the best decisions for themselves."
Second OB-GYN an advocate for USC Student Health services
Logan, who earned her medical degree from the Keck School of Medicine of USC and her master's in medical management from the USC Marshall School of Business, has also been an advocate for equity in women's health care.
She serves on committees for the March of Dimes and the California and Los Angeles County departments of Public Health to reduce African-American infant mortality rates. She has also collaborated with the Maternal Mental Health Now organization to improve mental health screening and care in the medical realm.
As a member of The American College of Obstetricians and Gynecologists, Logan lobbied congressional leadership in Washington, D.C., to protect women's health.
Logan, who was born on a military base in Tokyo and raised in Las Vegas until college, said she knew she'd be in a helping profession very early on.
I was interested in both ballet and medicine since age 6.

Deirdre Logan
"I was interested in both ballet and medicine since age 6, so family friends joked I was going to be a dancing doctor," she recalled with a laugh. "In elementary school, I was part of the safety patrol and volunteered to wear an orange hat and vest and monitor the playground to ensure people were running safely. I always wanted to help people and was thinking about how to change situations for the better for people."
'Young women are at a critical point'
Those inclinations found their focus in health by college, when she moved to Los Angeles to study biology as an undergraduate at Loyola Marymount University and then medical school at the Keck School. Logan said she looks forward to helping the young women of USC this fall.
"Young women are at a critical point where the decisions they make can have a lasting effect on their lives," she said. "This is a perfect age group to educate and empower, and it's also a population that is receptive to learning how to better their health."
Logan hopes to educate women in all aspects of health.
"College can be a stressful time, for example, and stress has an effect on your reproductive and overall general health," said Logan, who meditates regularly and has taken up jewelry-making as a stress reliever. "I want to educate them about how to cope with stress in a way they can carry for a lifetime."
Logan said she remembers positive encounters as a student on the Health Sciences Campus.
"During my first year of medical school, I had the flu and felt awful," she said. "The doctor I saw was so warm and so kind, I felt like I was talking to my mom. I had such a great experience, and I just want to give that back to someone."