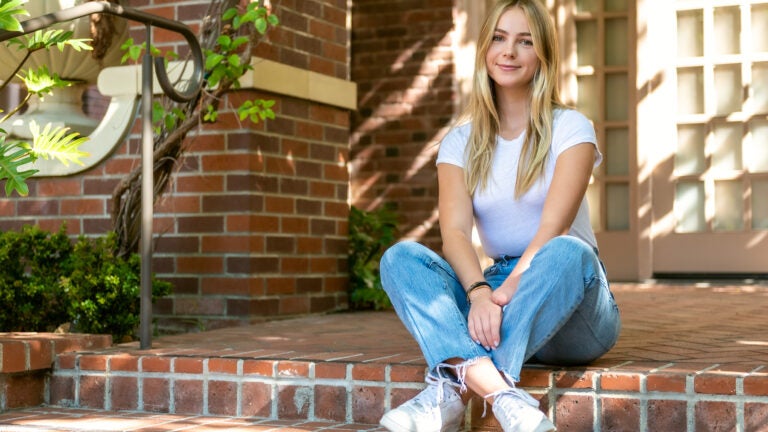 USC student builds community to celebrate and encourage kids with limb differences
Lexi Brooks, a first-year USC undergrad born without a left hand, helped build 3D-printed prostheses and organized fun events for children with limb differences as a teenager.
USC student Lexi Brooks knows how tough and isolating it can be to look different than everyone else at school.
As a child, she noticed the stares and heard the whispers. Some classmates even teased her — all because she was born without a left hand.
Brooks brushed it off, but she felt alone. She yearned to connect with other kids her age who understood what she was going through. So when the teenager from Newport Beach reached high school, she decided to build a supportive community where children and others like her could come together.
Her idea turned into the nonprofit High Five Project, which has hosted trips to the beach and other fun events for people with limb differences. The response from Orange County families floored her.
I saw how much it meant for these young kids to see someone else like them.

Lexi Brooks
"The first time, I was in awe," she said. "Some of the parents were crying, and I saw how much it meant for these young kids to see someone else like them. For the parents, it seemed like they realized it's going to be OK. Their kids will be fine."
Now a first-year student at the USC Marshall School of Business, Brooks continues those efforts, both back home and as a Trojan. She wants to ensure children born with limb differences get the encouragement and support they need to thrive.
"There isn't a lot of representation in media, so it's about helping them realize, 'Oh, I'm not the only one going through these struggles,'" she said. "You can also learn from other people. How do you tie your shoes? How do you blow-dry your hair? And it's just good to see how we come in all different shapes and sizes."
Personal experiences fuel student's passion to help others with limb differences
Brooks got a lot of practice as a kid explaining to others what it means to have a limb difference. She started her childhood in Newport Beach, but soon the family had made stops in Denver, Sacramento and Oklahoma City. Her dad, Scott Brooks, coaches in the NBA and is now the head coach of the Washington Wizards.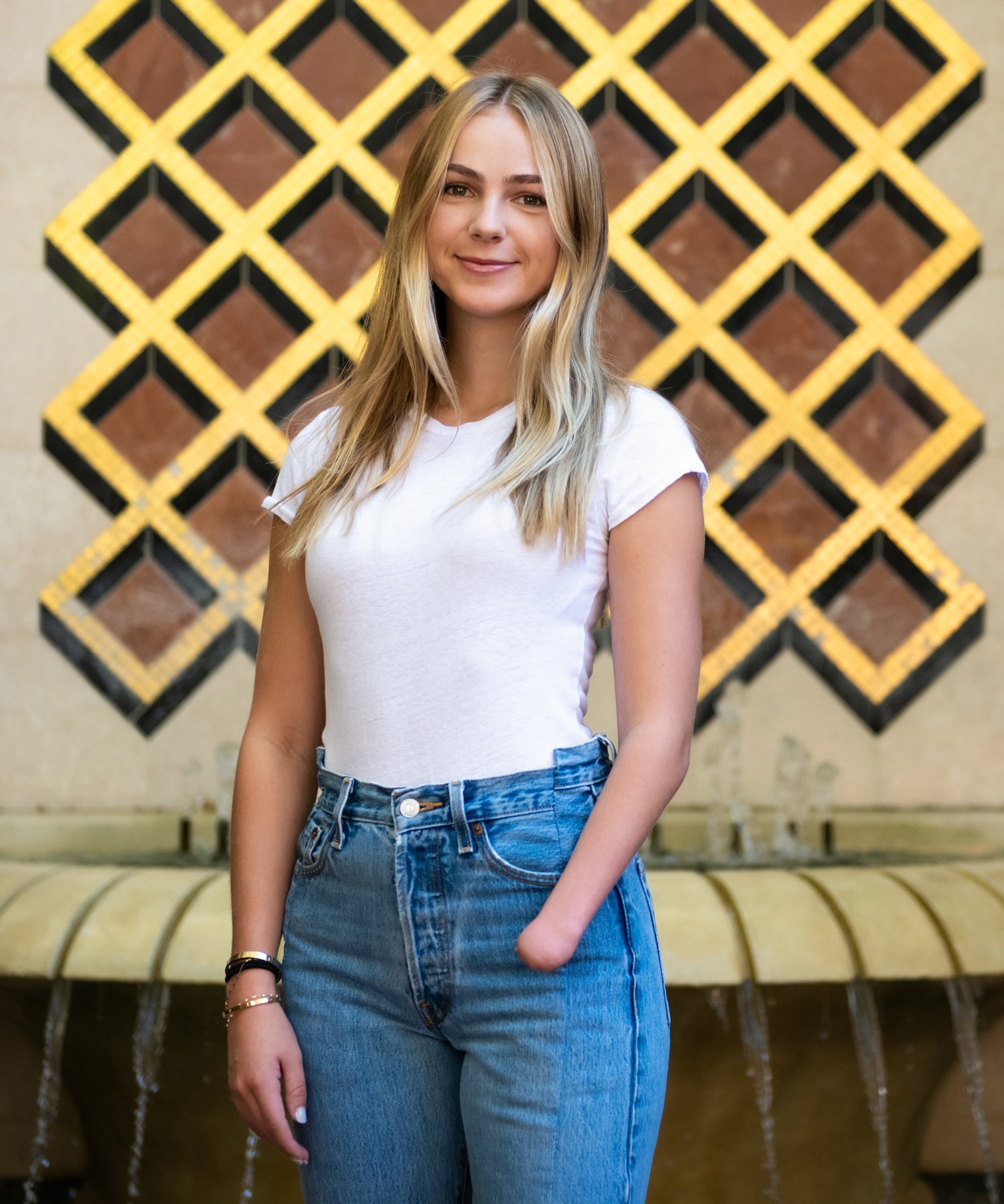 Moving every few years was tough, but she learned how to handle the transition to a new school and the same questions from her new classmates. Many were simply curious, asking what had happened and how she managed her daily routine.
"I wish that more people were less shocked by it," she said. "It is the worst when you can tell that your limb difference is the elephant in the room. Sometimes it is best to just ask the person about it. Limb difference should not be something that makes people uncomfortable or feel bad for the person."
After a tornado scare in Oklahoma, Brooks and her mom and older brother retreated to Newport Beach, where the kids finished high school. It proved fortuitous for Brooks, who discovered that her high school had a service program that was a perfect fit for her.
Students in the group use 3D printers to create prosthetic hands for children who can't afford or don't have access to a traditional prosthesis. The lightweight plastic devices are provided at no cost to the kids' families, and the group gets requests from across the country.
From building custom prostheses to helping kids connect
Using detailed photographs from recipients, the students print and assemble dozens of components. The result: a custom prosthetic hand that fits well and responds to movements in arm muscles, allowing the user to pick up and grasp items.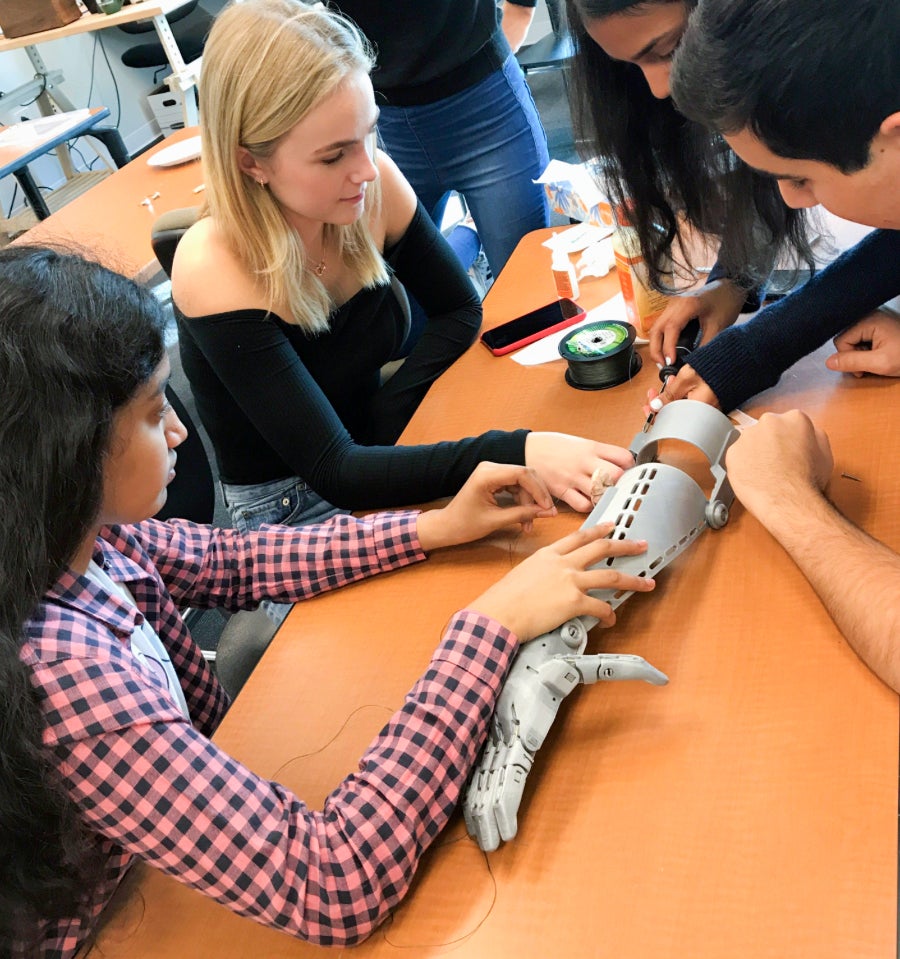 "It's definitely not high-tech, and they usually last about six or seven months," Brooks said. "But a lot of the recipients are younger kids, so they grow out of them pretty quickly anyway."
Prosthesis recipients often bond with students in the group, especially when they live nearby and can drop by to watch their device be assembled. Brooks recognized she would have benefited from an experience like that when she was growing up.
As a child, she had one important role model: Jim Abbott, the famed professional baseball player born without a right hand. Brooks had become close friends with Abbott's daughter, Ella.
"We both realized as children how important it is to see people who look like you," Brooks said.
USC student's nonprofit supports children with limb differences
Brooks and Ella Abbott joined forces to launch the High Five Project during their senior year of high school. They raised money for the nonprofit and organized events like a visit to a baseball game at Angel Stadium of Anaheim.
"A lot of the people coming to our events are on the younger side, so we try to make it a fun day where they are able to play and interact with other kids like them," Brooks said.
During the baseball trip, they saw 8-year-old Hailey Dawson, born with underdeveloped fingers on her right hand, complete her goal of being the first person to throw the ceremonial opening pitch at every Major League Baseball stadium. Hailey used a 3D-printed prosthesis to toss the baseball to Angels player Mike Trout, and Jim Abbott joined her on the mound to celebrate.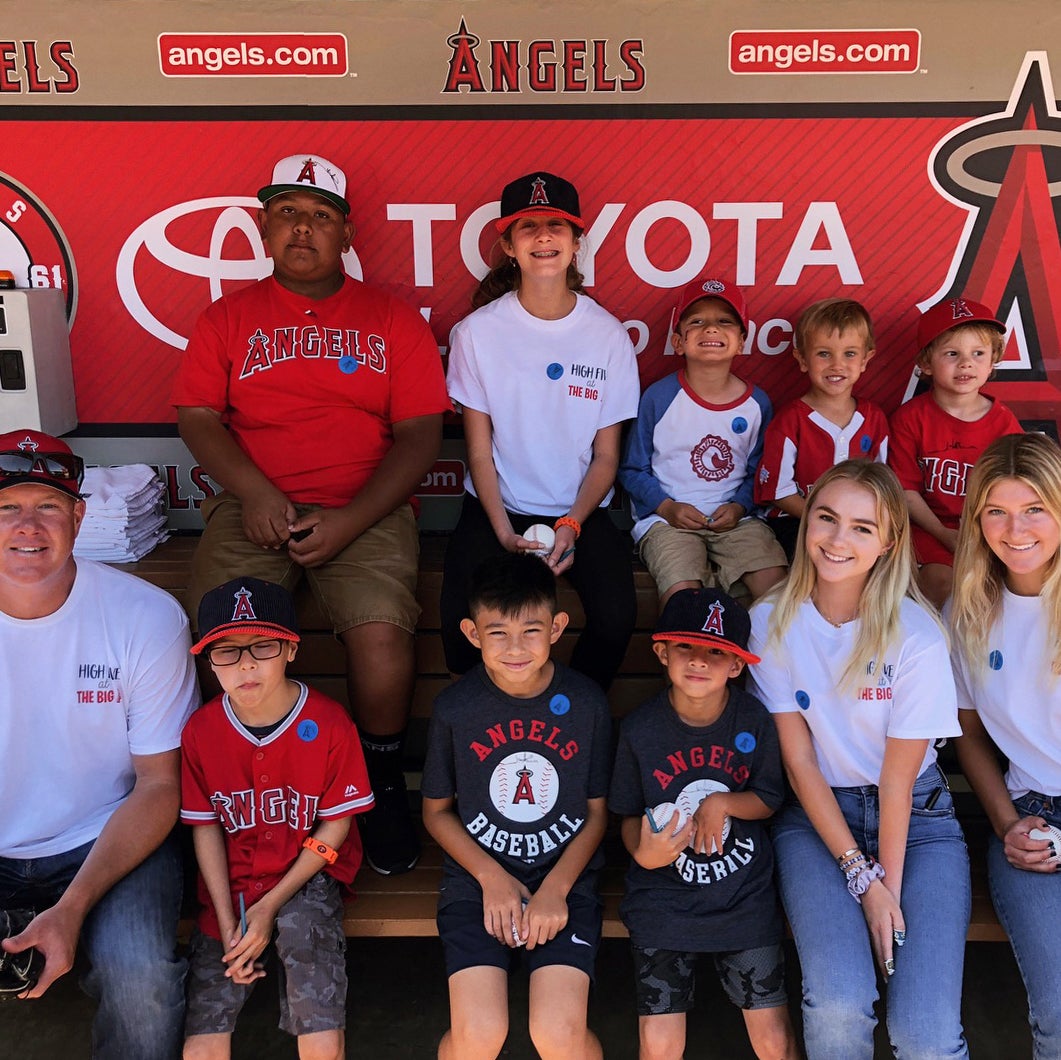 Enabling that kind of encouraging experience for kids with limb differences is inspiring and impressive, said Thomas Knapp, an associate professor of clinical entrepreneurship at USC Marshall who met Brooks when she took his summer entrepreneurship course before her senior year of high school.
"Anytime you can find ways to be impactful and get people involved in life, it's great," said Knapp, who serves on the board of the Challenged Athletes Foundation. "Lexi is a great ambassador, and she has that drive to have an impact and make a difference."
First-year student uses mind for business to give back
Knapp gave Brooks advice on building up her nonprofit during his summer course, Exploring Entrepreneurship. The experience inspired Brooks, who enrolled as a business administration major after being accepted to USC. It was her top choice after she fell in love with the campus while visiting her brother, who completed his degree in economics at USC last year.
Now Brooks wants to put her newfound knowledge about entrepreneurship to work by expanding the High Five Project to USC and its surrounding community.
"She really wants to make an impact, not only for the kids she is serving, but for the families and the community," Knapp said. "I'd be surprised if she wasn't successful at whatever she chooses to do moving forward."
And although she is still figuring out what she wants to do after college, Brooks said she plans to continue building awareness and acceptance of people with limb differences.
"From a young age, my parents have always emphasized the importance of giving back," she said. "I think it is important to see the change that just one person can make and the impact it has on others."