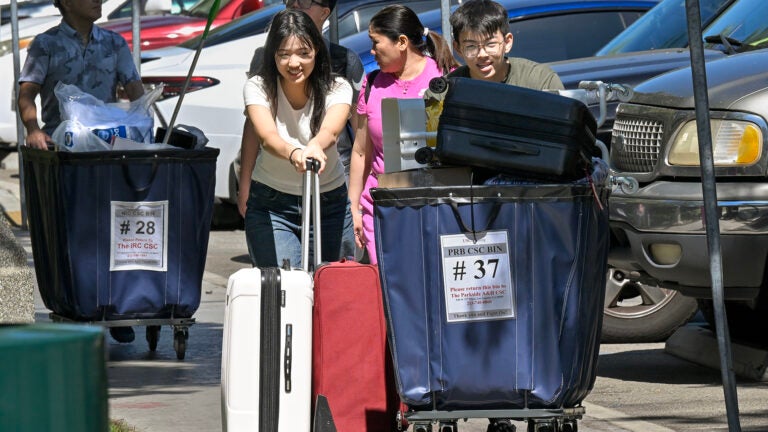 Excitement, emotions run high as students from near and far begin on-campus life
Approximately 8,700 Trojans moved into residential colleges this week. Meet some of them and their families.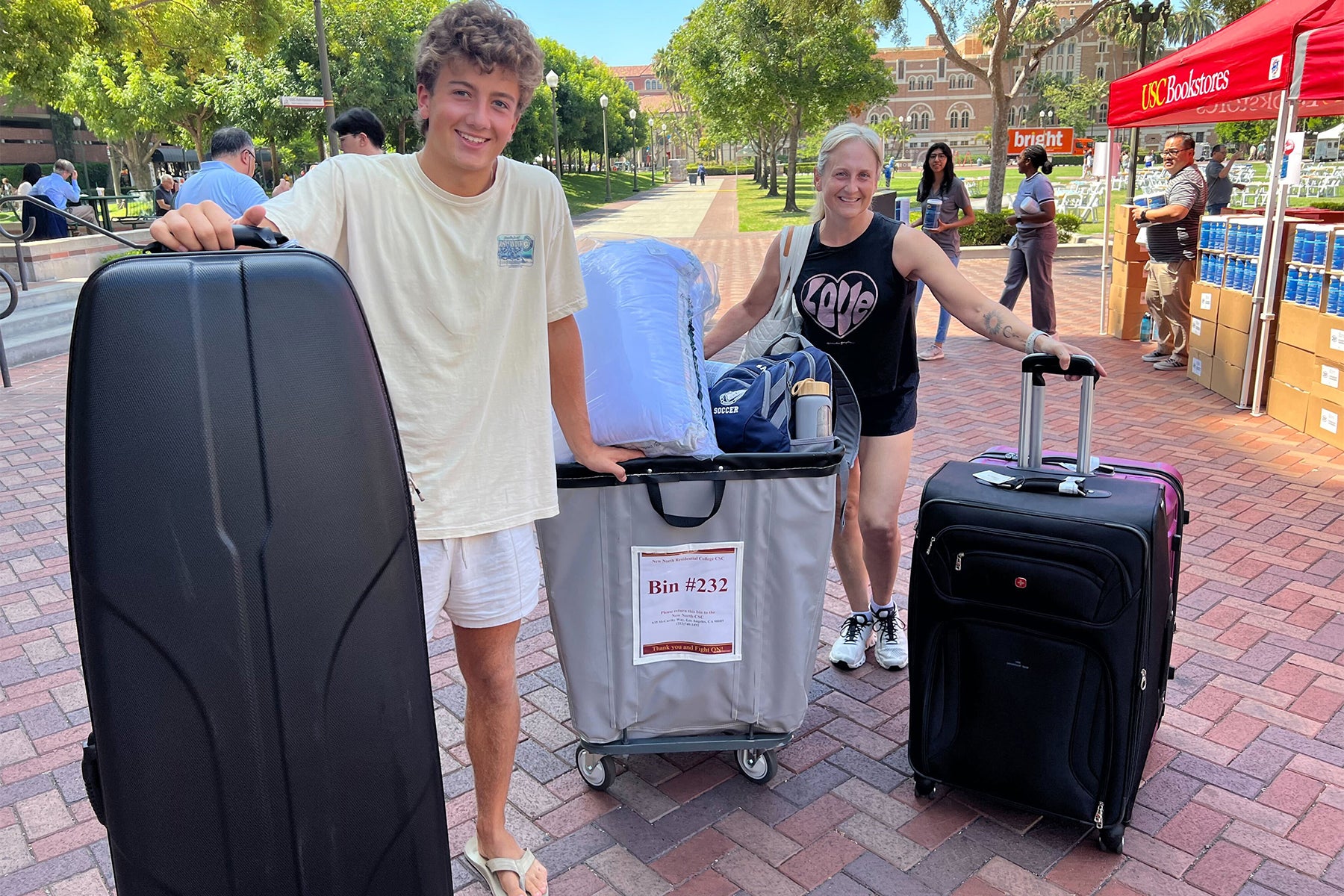 With the help of their parents, USC freshmen Isis Teng and Olivia Knowles were busy moving into the same floor of Birnkrant Residential College around the same time on Wednesday. But their journeys to this monumental day could not have been more different.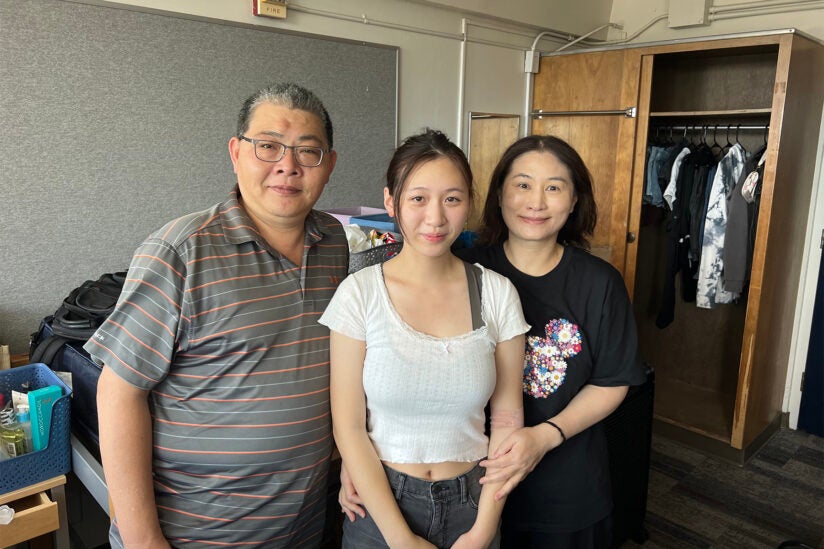 Teng arrived after a 15-hour flight from her home in Taipei, Taiwan, while Knowles had an approximately one-hour drive from Newport Beach. They were among the approximately 8,700 first-year, returning, transfer and graduate students making themselves at home in USC's residential colleges during move-in week, which concluded Wednesday.
"I'm really excited but a little bit nervous," said Teng, who will study at the USC Annenberg School for Communication and Journalism. "We've been buying supplies, and it was my first time in a Target store. It was really big."
Teng's father, Sunny, was busy hooking up his daughter's computer, and her mother, Lichunchgu, was hanging clothes in the closet.
"This is a very good chance for my daughter to live on her own, a good opportunity," her dad said. "I will miss her, but she will be fine here."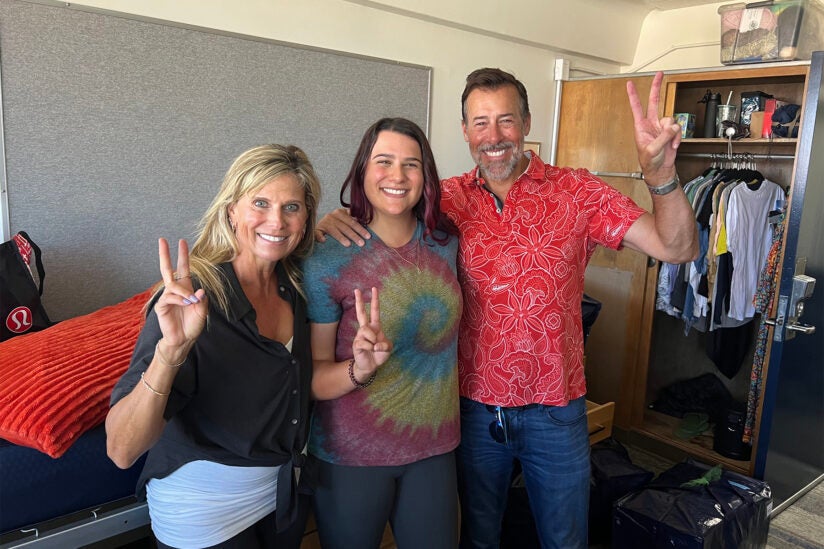 Meanwhile, Knowles' father, Chris, was smiling widely as he wheeled a bin filled with his daughter's belongings down the hall. Chris Knowles is a two-time Trojan alum who was a member of the USC men's volleyball team. His daughter is majoring in choral and sacred music at the USC Thornton School of Music.
"It's really nice to have my dad be the muscles and my mom the driving force behind a lot of the packing," the new Trojan said.
Her mother, C.C. Knowles, was excited that the family happened to be among those greeted in the Birnkrant lobby by USC President Carol L. Folt, who visited several of the residential colleges on Wednesday.
"I think we as parents were more excited about that than the kids, but it was a really nice touch to meet her," C.C. said.
"When you think about who's the most nervous, it's probably the parents," said Folt, who was accompanied by USC Vice President for Student Life Monique S. Allard while visiting with Birnkrant resident assistants. "We are seeing some students walking six feet in front of their families but also some staying close to a parent."
Parents get emotional during USC move-ins
Whether they traveled from near or far, families arrived on campus and quickly focused on checking out bins and dollies and unloading suitcases and duffle bags from their vehicles. But as they got their students settled into their new homes for the next year, emotions never seemed far from the surface.
"I mean, good grief, this is bittersweet," said Cindy Sampedro, whose son, Sebastian, will study creative writing at the USC Dornsife College of Letters, Arts and Sciences. "I'm super excited for him and all the adventures that lie ahead. The community seems fantastic and welcoming."
I mean, good grief, this is bittersweet.

Cindy Sampedro, new Trojan parent
The Sampedros arrived from New Jersey on Sunday and made stops at Best Buy and other stores before their assigned move-in day.
"It's amazing to have mom here; it's good for me," Sebastian Sampedro said. "I'm a little anxious but more excited. I'll miss home, but hopefully it will be good for me."
Freshman Will Sharp, a biology major at USC Dornsife, had most of his belongings moved into his room by lunchtime on Tuesday before making a trip to the Target store at USC Village for additional items.
"I think I'm more excited than nervous," he said. "It's a cool campus, and I'm ready to move in and get going."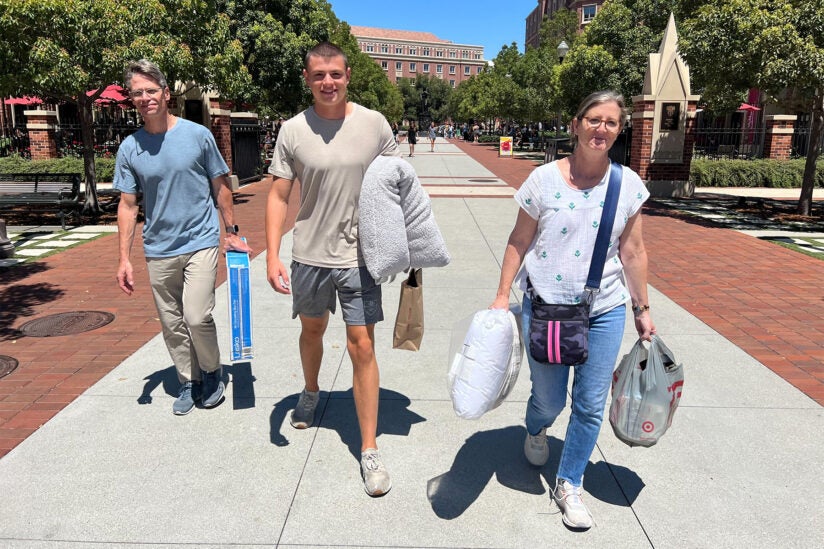 His parents flew to Los Angeles with him from their home in Washington, D.C., to get their son settled into New North Residential College. Their emotions were bubbling up.
"It's a hard day, but a happy day," Will's mother, Ashley Sharp, said, unable to speak further.
Doug Sharp echoed his wife's sentiments.
"It's been tough," he said. "But it's nice to see the campus in person and to see where my son's going to be hanging out. It's kind of reassuring to see that."
Their son sought to comfort his parents in the moment and said, "I think they prepared me well, and I'll be home a lot visiting them."
Amid USC move-ins, students are happy to have families still nearby
For junior Solana Marquez of the USC Viterbi School of Engineering, moving into Troy Hall this week is a dream come true. She has had her eyes on USC "since I figured out what college was" and was able to transfer after attending Rio Hondo College near her family's home in L.A.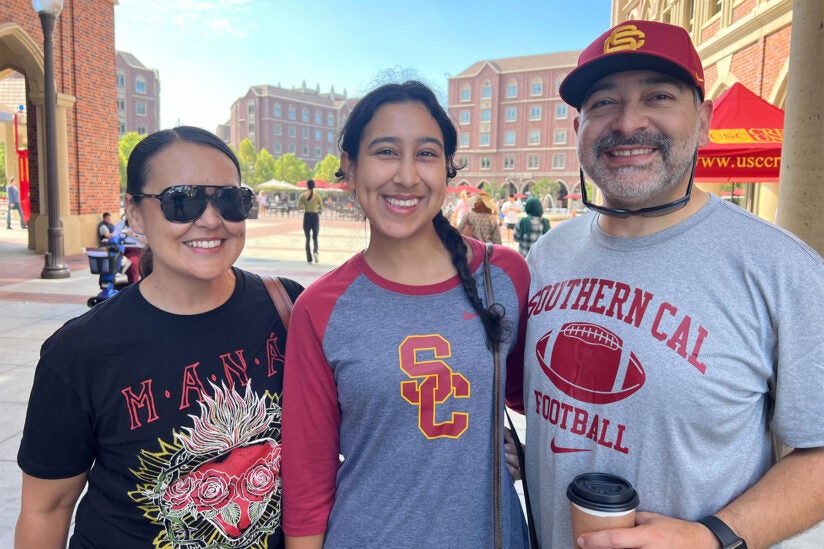 "I feel like I will be able to find out more about living in the community by living in the dorm, and it will be easier to get settled and to make friends," she said. "I didn't have to overpack because our house is less than an hour away from campus."
Her father, Lou Marquez, graduated from USC in 1999 and could barely speak when asked what it means to him to have his daughter following in his footsteps.
"I'm very proud, OK?" he managed to say. "I couldn't be prouder."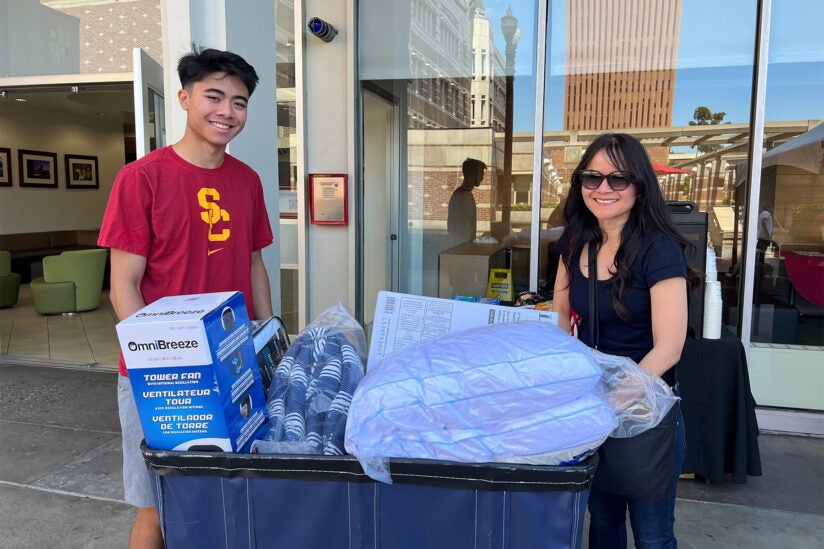 If freshman Noah Suboc was already feeling at home at USC before moving into Birnkrant, it's because both his parents are Trojan alums. He had also been accepted into UCLA but ultimately chose his parents' alma mater.
"I've been on campus since I was young, so moving feels like something that's long overdue," said Suboc, who is majoring in global health at the Keck School of Medicine of USC. "Still, it's kind of surreal."
Monica Suboc is happy her son is attending school not too far from the family home in Burbank.
"I'm very, very happy for him," she said. "Whatever other emotions that you're feeling, you have to put it kind of on the backburner and put the focus on your child. This day is all about them."
Excited for second year on campus
USC Dornsife sophomore Brandon Barnes, a human biology major, was calm and cool as he moved into Cowlings Residential College with the help of his mother and older brother who had traveled with him from Macon, Ga., for move-in week.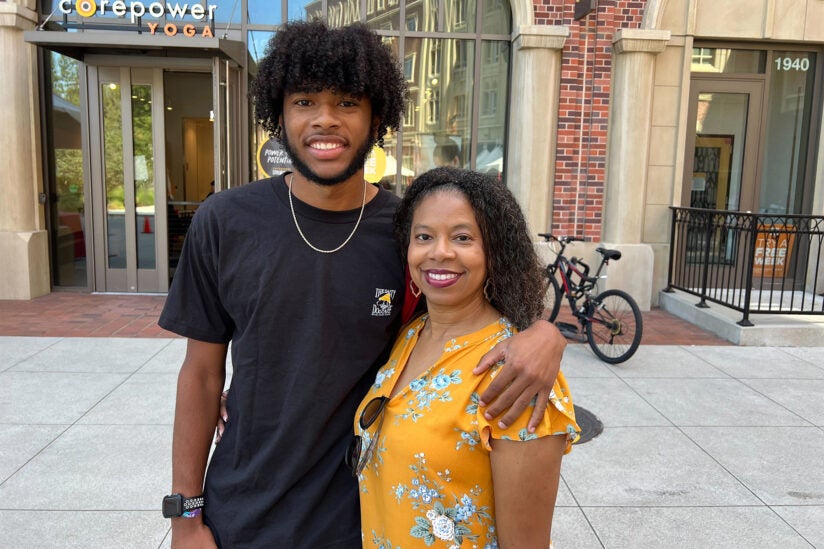 "He's become very independent and has made good choices and good decisions," said his mother, Kim Barnes. "He calls home frequently and has been having a good experience. I'm very pleased with his growth here at USC."
Barnes said his freshman year living assignment was especially memorable because he lived in Somerville Place, which focuses on uplifting and exploring identities within African American culture and the larger global diaspora.
"I got to be around a lot of African American people of color who I was able to have a deeper connection to because of our similar backgrounds," he said. "I really enjoyed that living experience and made some of my closest friends. I never have a dull moment on campus. I really enjoy it and I love it."
Students will have the rest of the week to settle in before fall semester classes begin on Monday.