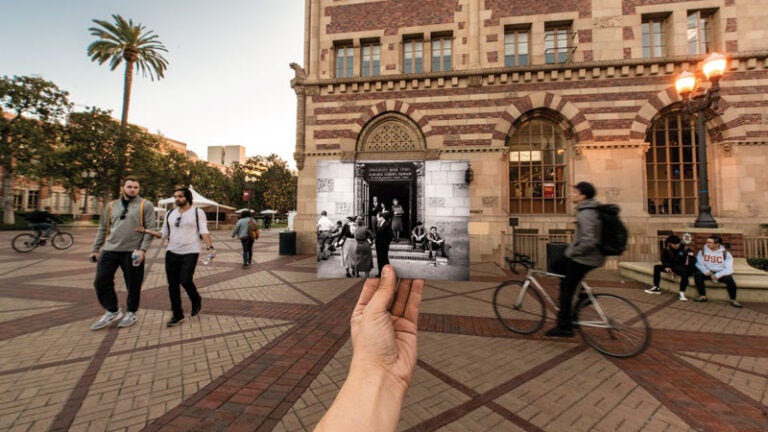 The USC Student Union, From Clubhouse to Historic Monument
The Gwynn Wilson Student Union has been located at the center of campus life for nearly a century.
When it opened at the corner of Childs Way and University Avenue (today's Trousdale Parkway) in 1928, the USC student union was at the intersection of one of the busiest car thoroughfares on campus. The cars on University Avenue eventually gave way to bicycles and skateboards, but the building remains perched along one of the most active hubs of the University Park Campus.
Students in the inset photo (circa 1937) gathered in front of the original university bookstore housed in the student union. The bookstore has since moved to the Ronald Tutor Campus Center. Today, the building — one of Los Angeles' designated historic cultural monuments — is home to a pharmacy and the USC Ticket Office, which offers the USC community discounted movie and theme park tickets. It's also home to the USC Kortschak Center for Learning and Creativity.
USC student union history goes way back. The building was one of the 21 structures proposed in the university's first masterplan, which was developed in 1919 by prominent L.A. architect John Parkinson. The building's Romanesque Revival design incorporates graceful arches and brick striping, architectural motifs familiar on the University Park Campus. But it is perhaps most famous for its whimsical carvings that depict college life, as well as its gnomes, gargoyles and an infamous monkey that seems to be thumbing its nose in the direction of former USC President Rufus Von KleinSmid.
The building was named the Gwynn Wilson Student Union in 1971 in recognition of the former student body president and alumni association president. Gwynn Wilson '21 was a track star who also made his mark on USC football: In 1926, he met with Notre Dame coach Knute Rockne and set up the first matchup that would kick off the tradition of the USC – Notre Dame football game.
Historic photo by Herman Schultheis, courtesy of the Herman J Schultheis Collection/Los Angeles Public Library