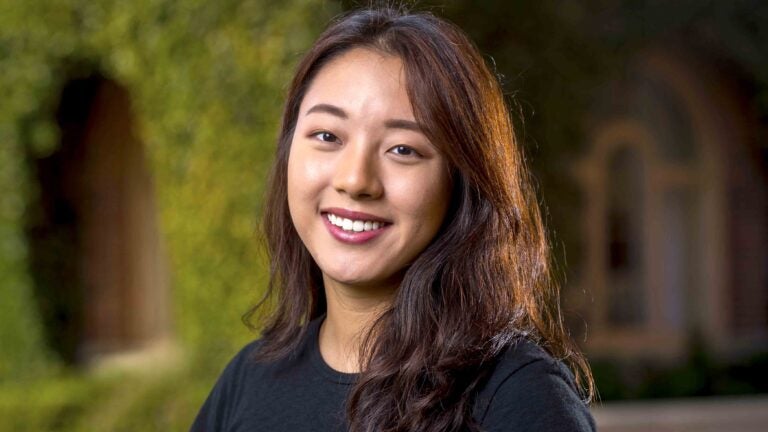 USC students get a firsthand look at the government's inner workings
The Schaeffer Government Service Fellows Program encourages undergraduates to pursue careers through internships at the federal, state and local levels

First in a four-part series on the Schaeffer Government Service Fellows Program.

Politics and personality came sharply into focus last summer for Pleres Choi, a USC senior who interned in the office of state Assemblywoman Young Kim.
Choi said she witnessed a pivotal moment for the assemblywoman. Young had decided to vote against a bill that required school buses to have a child safety alert system installed, Choi said. The legislation stemmed from a tragic incident involving a special needs student who died after being left on a sweltering school bus.
As Choi tells it, the assemblywoman had a meeting with the students' parents. Afterward, Choi said Young could no longer oppose the bill.
"It was definitely not a clear vote for Young," said Choi, an international relations and economics major with a Korean studies minor at the USC Dornsife College of Letters, Arts and Sciences. "She was very conflicted … I thought it was very interesting how she changed her opinion based on the emotion of the issue."
"Honestly," Choi said, "it was a highlight" to see how the issue played out.
Choi took part in the Schaeffer Government Service Fellow Program, which offers talented undergraduates high-level internships with elected officials and agencies and at the federal, state and local levels. In addition to their internships, fellows are paired with alumni who serve as mentors. The students receive a stipend, and housing and travel costs are paid. Choi is now applying for other opportunities, including the Fulbright Scholar Program and the Capital Fellows Program.
The internship was a firsthand opportunity for Choi to see the inner workings of government. And she was interning for a Korean-American, like herself, who had graduated from USC. In addition, she and Young are both from the same part of Orange County.
"I really connected with her," Choi said. "I knew the interests she was pushing for … I looked up to her."
A Republican member of the Democratic state Assembly, Young has a small staff, which allowed Choi to participate in a wide variety of activities at the Capitol. She attended Republican caucus and committee hearings, and she was on the Assembly floor during voting. And she went to meetings with members of Orange County nonprofit groups.
"I got to see prospective careers," said Choi, who wants to do policy research after graduation. "It was really helpful to me … to be in a position to see all aspects of an Assembly office."
The downside: "You really see how partisan everything is."