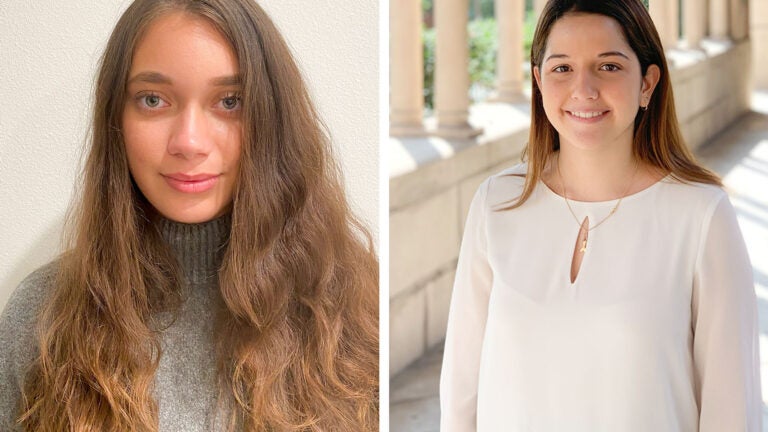 Undergrads use sustainability fellowship to improve waste disposal for homeless Angelenos
Though Camila Rojas and Sandra Maestre know they can't solve all of L.A.'s problems, the juniors from Costa Rica and Venezuela are hoping their project can at least address hygiene concerns on Skid Row.
Despite having different majors in different programs and coming from two different countries, Sandra Maestre and Camila Rojas have a lot in common. They are both juniors, both are originally from Latin American countries and both share a passion for sustainable solutions to issues affecting their new home.
Those similarities led to a partnership and a proposal for improving waste disposal among the homeless population of L.A.'s Skid Row. And that proposal earned the duo an Undergraduate Sustainability Challenge Fellowship from the USC Center for Sustainability Solutions.
"Latin American countries sometimes idealize the United States because so many people immigrate here for better opportunities," Rojas said. "Back home, there's also a homeless population, but it's not as concentrated and it's not as big of an issue as it is here, which was surprising for me."
Rojas, an industrial and systems engineering major from San Jose, Costa Rica, and Maestre, an architecture major from Maracaibo, Venezuela, met outside of classes and quickly became friends. When it came time to apply for the fellowship, the interdisciplinary aspect appealed to both of them.
The duo earned one of four fellowships given out by the center. The program, which is open to undergraduate students in all USC majors, supports multidisciplinary research projects focused on sustainability. Fellowships are awarded for a one-year duration, renewable for up to three years.
USC students tackle waste disposal solutions in Skid Row
Maestre and Rojas' project addresses the lack of bathrooms available to Skid Row residents by developing an individualized toilet that can dispose of human waste in a way that is sanitary and sustainable.
"We found that public bathrooms were very limited to a very large number of people and a growing number of individuals that are living on the streets," Rojas said. "We wanted to develop a product or a solution, and research about how this situation can be ameliorated in a way that is both sustainable and practical, without needing too many resources."
These people basically spend around nine hours a night where they don't have access to a bathroom.

Sandra Maestre
The official population of Skid Row varies. In 2020, the Los Angeles Homeless Services Authority said there were just over 4,600 Skid Row residents and around 2,000 of those were classified as "unsheltered." During the pandemic, however, those numbers are thought to have increased dramatically.
According to Maestre, there are around 16 public bathrooms available during the day. At night, that number drops to around six during a time when the number of residents nearly doubles.
"These people basically spend around nine hours a night where they don't have access to a bathroom," Maestre said. "I thought that was insane."
In researching the subject Rojas said she was also shocked at the resident-to-bathroom ratio.
"In that situation, people sometimes prefer to go in their tents rather than go out and find a place. Honestly, at night they probably don't feel safe going out of their tent," Rojas said.
The duo wants to develop a prototype of a portable toilet first, and then test that out with control group of Skid Row residents before deciding whether or not they can distribute an actual product to the masses.
Sustainability fellowship recipients know that small steps can make a big impact
Maestre and Rojas have reached out to several organizations that work with Skid Row residents. The next step is to further investigate what's being done on a weekly basis for cleanup because most available information is also pre-pandemic.
"My objective with this whole project is basically getting to know the specific needs of the people who are going to use the products that we are going to design and trying to help them live in more sanitary conditions," Rojas said. "Because that's directly related to the environment that we live in and how we interact with the city."
The topic of homelessness is nothing new to L.A. residents and Californians, and the duo is aware that they alone cannot solve the issues — but they're not trying to. If there's one thing Rojas and Maestre are confident in, it's that even a small step can make a huge difference.
"We've obviously seen these large-scale examples of when the governor or the mayor gives this much money in the efforts to alleviate homelessness and build these small houses or temporary housing … so maybe a different approach is to do something small scale," Maestre said.