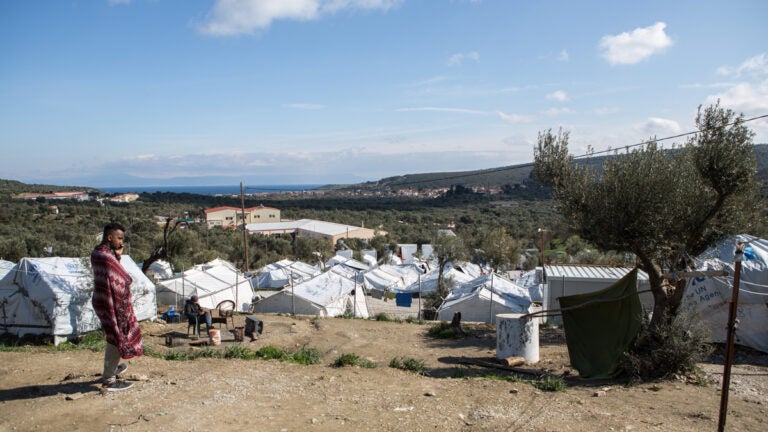 Your Homework Assignment: Improve Refugees' Lives
Students get creative with solutions as migrants flee regions in turmoil around the world.
Their research project raised some eyebrows: Create solutions for people caught up in the global refugee crisis, which has forced nearly 71 million people from their homes.
It would've been much easier for the 26 USC students to work out a problem set or write an essay. But they chose a university course that asked for much more.
"I was just coming out of jet lag from visiting family in India and a couple of nights playing Fortnite, and you're asking me to do what?" Arya Bhatia, a USC Marshall School of Business junior remembers thinking. "I understood right then and there that this course was unlike anything I had ever taken before."
"Innovation in Engineering Design for Global Challenges" asks graduate and undergraduate students to design ways to improve life for refugees. Students come from a variety of disciplines. Teams working on refugee research projects have two semesters and $6,000 to tackle big issues. They're trying to improve sanitation, shelters, electricity, mental health, education, access to information and security.
During the course's first year, students worked with refugees in Greece. They built prototypes such as a portable shower that uses recycled water. Another team created an information aggregator that stores life-saving data for disjointed government agencies and NGOs.
The instructors hope the course becomes a training model for a new generation of engineers facing global crises.
Even now, mass migration continues to take its toll as a rising humanitarian crisis. The United Nations High Commissioner for Refugees reported in 2018 that an unprecedented 68.5 million people across the world fled their homes. Among them are 25.4 million refugees, more than half under the age of 18. Persecution and war, climate change and economic instability spurred the migration.
The USC course "is about tangible, real-world impact," says David Gerber, one of the three instructors and an associate professor of architecture and civil and environmental engineering practice. "It's a paradigm shift to get students to forget about the grade and think about the innovation and the impact. Don't just tell me what you're going to build — show me."
Read more about the USC Viterbi School of Engineering course "Innovation in Engineering Design for Global Challenges" and student projects created for refugees in USC Viterbi magazine.