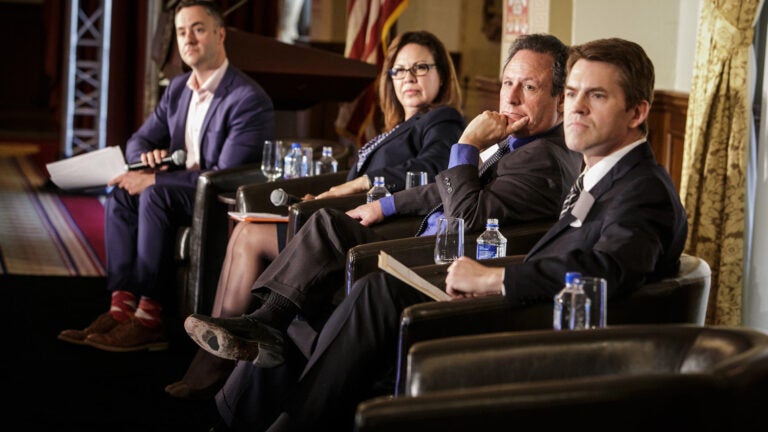 USC summit launches multi-pronged partnership to end homelessness in LA
From housing and supportive services to business and technology solutions, panelists outline framework for tackling one of society's most intractable problems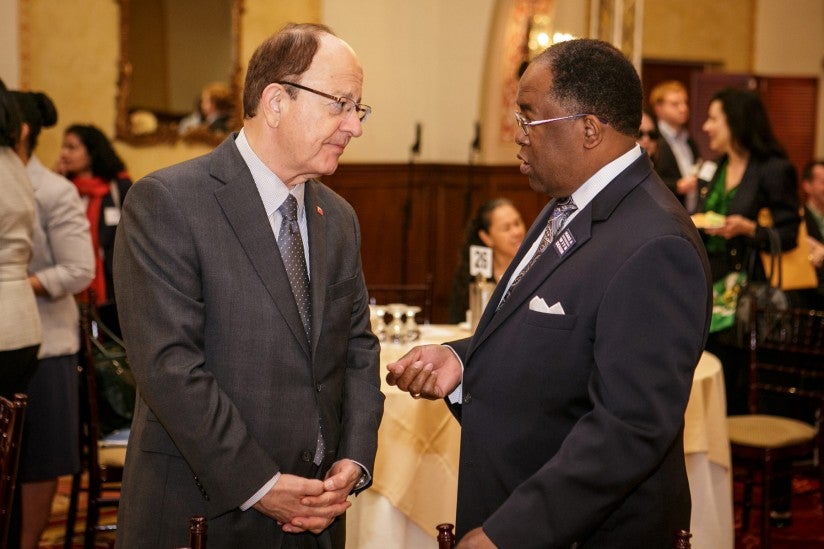 Leaders from the public, private and nonprofit sectors gathered at USC on April 27 for a summit to launch a sustained, collaborative effort to end homelessness in Los Angeles and serve as a model for other communities.
"We want our city and our county to lead by example," USC President C. L. Max Nikias said. "Almost all great megacities around the world face problems of homelessness today. The challenges are so deep that they can only be addressed by common, concerted leadership of the great institutions of learning, local governments, private philanthropy and business. We have a moral imperative to help those in our community who are struggling just to survive."
The endeavor builds upon long-standing work by faculty, students and staff across the university, and in particular the USC School of Social Work, which Provost Michael Quick singled out in his opening remarks at Town and Gown on the USC University Park Campus.
Both Nikias and Quick emphasized the unique role USC can play in helping combat homelessness and other complex, challenging issues.
"This uniqueness lies in our ability to convene groups from a wide spectrum of interests for the public good, to bring advanced solutions to contemporary problems, to lend workforce expertise and to harness new resources in an effort to reduce or eliminate the problems that affect all of us," Nikias said.
"Homelessness is the defining issue in the County of Los Angeles," said Mark Ridley-Thomas, supervisor for the county's second district, during the opening panel discussion. "It is urgent. We have got to work together like never before. If we don't act now, the problem will worsen."
A complex challenge
In Los Angeles County, some 44,000 individuals are homeless on any given night — up from 39,000 in 2013. Although New York City has a larger number and a higher per-capita rate, Los Angeles has one of the nation's densest homeless populations. In just one year, the county spends $965 million on healthcare, law enforcement and social services for homeless single adults. The county also has a high rate of people experiencing chronic homelessness.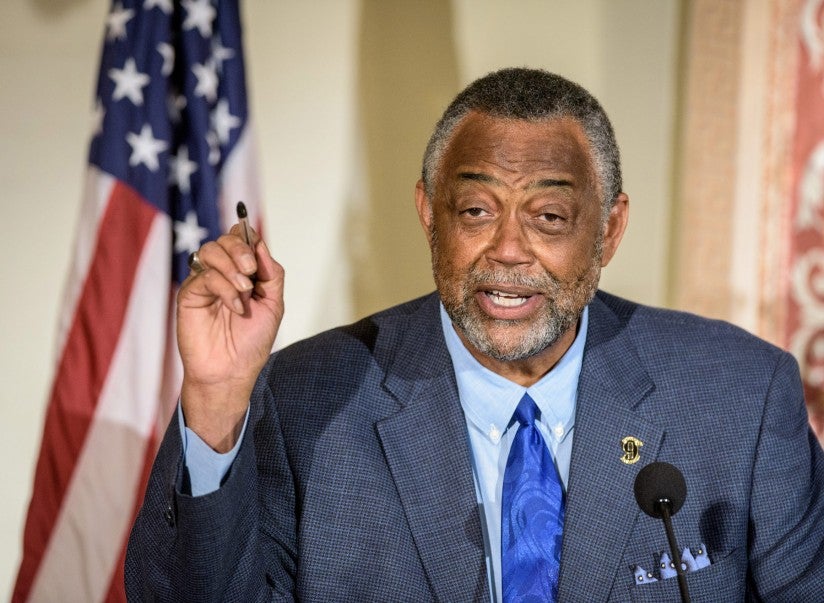 Despite higher concentrations in the urban core, the homeless population is spread out across the region, from the Antelope Valley to the South Bay to the southeastern edges of the county. And while in most U.S. communities the homeless are sheltered, in Los Angeles, some 70 percent are on the street, according to the Los Angeles Homeless Services Authority (LAHSA). The estimated cost of building enough housing units to support the current homeless population in Los Angeles is $1.8 billion over 10 years, and that does not include necessary social services.
The causes of homelessness are numerous and often interrelated, requiring multiple perspectives and tactics, several speakers noted. Homeless populations include veterans, the mentally ill, elderly, foster youth, former prisoners, young families, victims of domestic abuse, the chronically ill, and the unemployed or underemployed.
"We have a duty not only to address homelessness, but also to address why folks become homeless," said Curren D. Price Jr., Los Angeles City Council member for the 9th District and chair of the council's economic development committee. "Here in the 9th District — home of LA Live, the Convention Center and USC — we also have the highest rates of poverty, dropouts and unemployment. I'm so proud to represent a university that is not afraid to tackle those hard issues for which it is uniquely capable of helping to solve."
Elise Buik, president and CEO of the United Way of Greater Los Angeles, cited research conducted in 2007 by USC faculty on behalf of her organization demonstrating that investment in permanent housing and supportive services for the homeless had a transformative impact on individuals while being cost-effective.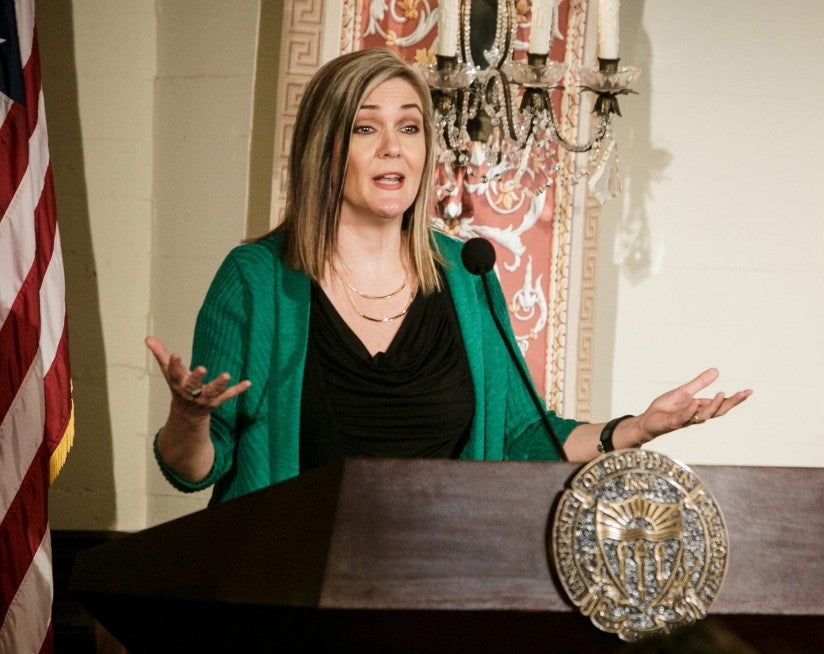 "It is 40 percent cheaper to house our most vulnerable individuals than having them go through the devastating systems of our jails and our emergency rooms," Buik said.
Investing in solutions
The city of Los Angeles unveiled a draft Homelessness Strategy Report in January calling for substantially expanded staffing, services, rental subsidies and permanent housing for the homeless. In April, Mayor Eric Garcetti announced a proposed 2016-17 budget that would increase current spending on homelessness to $138 million from $18 million, including a one-time appropriation of $120 million.
In February, the county Board of Supervisors unanimously approved a comprehensive, landmark plan — the Los Angeles County Homelessness Initiative — that includes 47 strategies to combat the crisis, along with $100 million in one-time funding. The effort brought together 25 county departments, 30 cities and more than 100 community organizations, according to Phil Ansell, executive director of the initiative.
"We're going to need more than one-time funding to fully implement the vision," Ridley-Thomas said.
Toward that end, the county conducted a poll to gauge potential voter support for a November ballet measure to reduce homelessness. Some 76 percent said they would support an income tax on those earning $1 million or more, while 68 percent would support a sales tax increase. A marijuana tax also tested well.
"The polling numbers we are seeing right now are unprecedented," Buik said. "People are willing to tax themselves to solve this issue. But, more importantly, what our poll showed is that 90 percent of people believe we can reduce the homeless population, and a full 60 percent believe we can end it."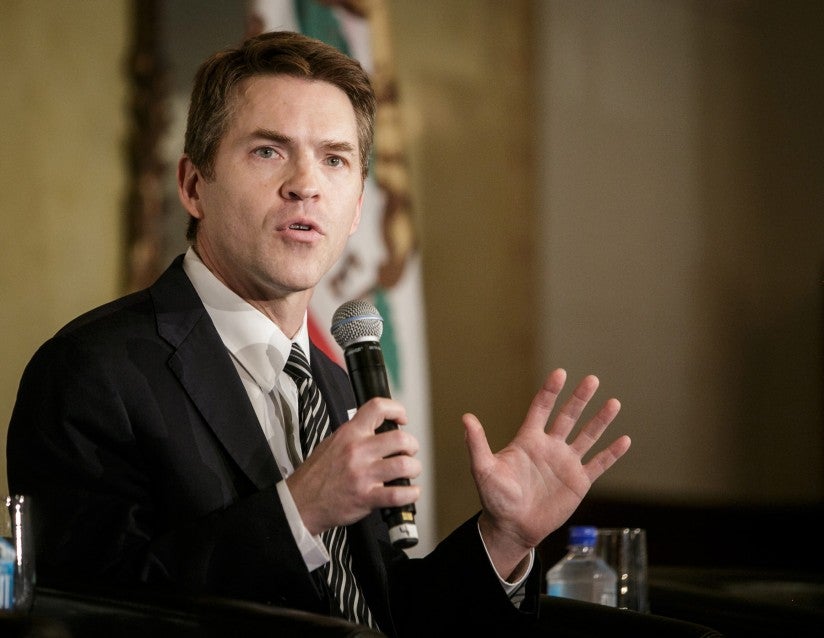 Peter Lynn, executive director of the Homeless Services Authority, noted the correlation between a major federal investment over the past year in housing homeless veterans and the resulting two-thirds reduction in the number of homeless veterans.
"It's a very clear, compelling story about how well the homelessness problem responds to investment in housing resources and supportive services," Lynn said.
"Funding is fundamental to solving this problem," Ansell added. "It's not the whole solution but, without it, there will be no solution."
Innovative approaches
Ridley-Thomas noted that Los Angeles is already doing many things right, but needs to radically scale up three specific approaches to end homelessness in the county.
"We must build strong and coordinated crisis-response systems that are comprehensive, inclusive and evidence-informed," he said. "Creating affordable housing has to happen with the necessary supportive services in partnership with community-based organizations. And [we must] increase access to income by raising wages, spurring economic development and creating jobs easily accessible by public transportation."
Throughout the day, attendees heard from experts in the public and private sectors, nonprofits that work directly with homeless residents, and faculty from the USC School of Social Work, Price School of Public Policy and Viterbi School of Engineering. Topics included the importance of linking housing and supportive services, early intervention to prevent chronic homelessness, targeted services for the mentally ill, how to identify and aid homeless schoolchildren, re-entry services for the formerly incarcerated, workforce development, street engagement and ways to adequately address the challenge of housing supply and affordability.
An innovative solution shared by two USC Viterbi faculty members involves a breakthrough in 3-D printing technology that would allow housing to be constructed at a large, rapid and automated scale, with low energy and environmental impact.
The day concluded with a call to action for more intensive, ongoing discussion and partnership to move forward on the ideas shared by participants.
"Our summit here today serves as a kickoff for what will be a sustained effort of engaging our faculty, our students and our staff to support the work across the city and the county, public and private sectors, to make a real difference," Quick said.