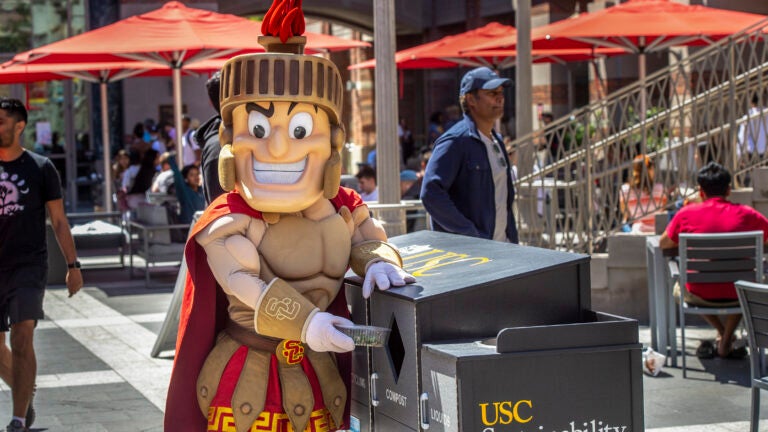 USC's unofficial school color: Green
EARTH WEEK: Progress in Earth-friendly practices under USC President Carol L. Folt is evident on university's campuses.
https://youtu.be/zN26I1_uyes
USC President Carol L. Folt set a vision for the 21st-century university during her inaugural address in 2019 — environmentally friendly practices paired with applied research insights that would make a tangible global impact.
Since that time, the world has turned upside down, but USC continues to push the sustainability envelope in the face of increasingly dire predictions for the future of our planet.
Amid several campus events and programs celebrating Earth Week 2022, Folt has made her most impactful move yet — transitioning USC from non-biodegradable plastic beverage bottles to more sustainable packaging. According to Folt, the phase-out of single-use plastics is long overdue.
"We know that plastics are harmful to the environment, to wildlife and to marine life. And by switching to eco-friendly beverage containers, we're making a huge difference in protecting the planet, alongside our corporate partners," Folt said. "Working together, we'll prevent at least 15,000 bottles a week from going to landfills, impress mindfulness for our Earth upon our campus communities and move USC toward a much greener future."
New contracts will drastically reduce plastics on USC campuses
From islands of bottles, toys and other plastics lost at sea to mountains of plastics in landfills, the Earth is facing a crisis with non-biodegradable plastics. Plastic made up more than 27 million tons of waste in U.S. landfills in 2018, 18% of total landfill and second behind only food waste in terms of total tonnage. The global crisis is so severe that in February, a delegation of 175 nations at the United Nations pledged to address the production, design and disposal of plastics. That was quickly followed by California becoming the first state to adopt a comprehensive plan to reduce microplastics.
It was in light of this crisis that Folt made a promise in her inaugural address to eliminate single-use plastics from USC campuses. Several complicated and time-intensive steps need to be taken to achieve a complete elimination of plastics from USC campuses. Vendor agreements for the university and its constituent colleges, schools and initiatives need to be renegotiated to ensure new materials comply with the university's sustainability protocols. The transition from plastic to glass, aluminum and cardboard will positively impact the recycling, composting and landfilling of materials.
Whatever the difficulty, when enacted, these new agreements will remove a considerable portion of USC's plastic waste, according to USC Chief Sustainability Officer Mick Dalrymple.
"We are only starting to get a handle on how many plastic bottles end up in the garbage across our campuses — USC is highly decentralized, making it difficult to establish universitywide systems and measurements," he said. "But the moves we're working on right now to eliminate single-use plastic bottles cover a substantial portion of the volume. When combined with the schools and other administrative departments eliminating their purchases, I expect we'll soon see about 90% of the plastic bottles disappear from USC."
USC sustainability: building a greener university
USC's effort to shift the focus of students, faculty and staff toward greater care for the planet now falls under the name "Assignment: Earth." The pan-university framework links the broad array of campus sustainability initiatives under one common identity and is designed to guide USC's sustainability efforts through 2028.
Early in her administration, Folt had reached out to partners across campus to develop and implement a new overarching framework to ensure USC can respond dynamically to the ever-changing challenges presented by climate change. Despite the disruption caused by COVID-19, progress continued behind the scenes to establish USC as a sustainability leader in time for the 2028 Olympic Games being held in Los Angeles.
"In 2028, the eyes of the world will be on Los Angeles and USC, and with this new framework we'll be prepared to show what sustainability in higher education can look like," Dalrymple said. "Under the leadership of President Folt, we have made numerous substantive steps in the past several years and the pace of those improvements will only increase in the lead-up to the Olympics. This framework allows the university to react nimbly and decisively to innovations in green practices — essential steps in ensuring USC is a leader in this vital area."
In addition to "urgently aligning human economic and social systems with nature's life support systems," the framework emphasizes problem-solving mindsets across research disciplines. Convergent research in materials science, environmental studies and numerous other disciplines will generate innovative solutions to positively impact the health and well-being of people. While this knowledge will scale out to national and international applications, the insights will first be developed locally alongside community partners who are aligned with the university's best practices in sustainability.
Communicating those insights to the community is essential to the framework's success. Making eco-friendly information and resources easily accessible is one crucial step — but changing consumer behaviors might be even more important, Dalrymple said.
Changing habits is hard, as anyone who has succeeded or failed in changing their diet will tell you.

Mick Dalrymple, USC chief sustainability officer
"Changing habits is one key to success in sustainability initiatives," Dalrymple said. "Others include having the right infrastructure in place, as well as tools, procedures, policies, default options and support to make change easier. Changing habits is hard, as anyone who has succeeded or failed in changing their diet will tell you. But USC has major research expertise in behavior change, particularly in messaging. We intend to tap into that to amplify sustainability impact on campus and in broader society."
Carbon neutrality goal ambitious, but in sight
A major plank of Assignment: Earth is the recently announced commitment to achieve carbon neutrality by 2025. Initially shared with the USC community in December, the plan relies on the development of new energy-efficient buildings, improvements to older campus structures and the installation of more solar panels across the university.
Substantial progress toward this goal is already evident. Solar panels atop the Galen Center and the USC Wrigley Institute for Environmental Studies on Catalina Island have produced over 1 million kilowatt-hours of carbon-free energy since their installation in 2020. Other energy efficiencies account for 13% of the overall decrease in greenhouse gases since 2014.
Alternative transportation methods also have grown in popularity over the past decade at USC. From 2014-2019, single-occupancy vehicle use by students, faculty and staff dropped 18% while bicycling, walking and electric vehicles exploded in popularity. To serve the new EVs, more than 200 charging ports have been installed on both USC campuses, including 99 ports in the new Valley Parking Lot on the Health Sciences Campus, one of the largest installations at a single location in Los Angeles.
Students leading the way in USC sustainability efforts
The phasing out of plastics aside, USC has numerous sustainability-oriented projects underway or nearing completion. The under-construction Dr. Allen and Charlotte Ginsburg Human-Centered Computation Hall is set to achieve the highest standard in environmentally friendly buildings. The structure — which will house the USC Viterbi School of Engineering's Department of Computer Science — will be the sixth LEED-certified building on USC's campuses when it opens next year. An additional 200 clean-stream recycling stations will be installed by this summer, bolstering the 70 already in use.
It's a big assignment, but we're all in.

Carol L. Folt, USC president
While these initiatives and others will leave their mark on the university, Folt isn't doing this for the plaudits. She said she has felt since her first day in office this work is required of any major research university in the era of climate change.
"Our Presidential Working Group on Sustainability — along with everyone across the university — has been working hard on Assignment: Earth," she said. "This will be an all-hands-on-deck, collaborative effort to expand sustainable operations on our campuses and incorporate sustainability into the academy. It's a big assignment, but we're all in."