President Folt's first year brings renewed energy to USC sustainability
Since her zero-waste inauguration, the president — herself an environmental scientist — has positioned USC to become a leader in sustainable strategies like solar energy.
Perched high atop the Galen Center, USC President Carol L. Folt surveys a scene of sweet success as rows of solar energy panels unfurl before her. The Los Angeles cityscape spreads to the horizon beneath azure skies as the ecologist-turned-executive basks in the moment.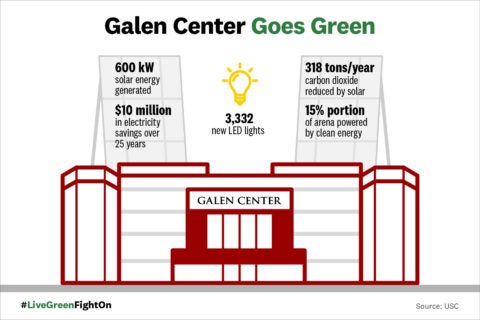 "This is so impressive," Folt said, gazing at the newly installed solar panels. "It's such an accomplishment for this university and provides an uplifting view to the future. We are looking at the future of the planet, because if we can get it right here, in a megacity, then we can get it right for the planet."
The renewable energy project is USC's signature environmental achievement, a capstone for a year of transformative change for the university and USC sustainability. Yet the project is just a beginning, a first step on the path to the carbon-neutral future — and more — that Folt envisions for the university.
During a year in which USC and the world have been beset by the global pandemic, its environmental progress is the fulfillment of a vision that once seemed a long reach. Since Folt arrived at USC last summer, the university has mobilized for green, stringing together a list of wins accomplished by teams of students, staff and faculty.
This past year has been transformational for sustainability at USC.

Ellen Dux
"This past year has been transformational for sustainability at USC," said Ellen Dux, who's led the USC Office of Sustainability for more than two years. "The things happening on campus now, I couldn't have imagined even one year ago."
USC's sustainability strategies include a focus on zero waste
Nearing the anniversary of Folt's first year at USC, the university has purchased almost 40% of its food from sustainable sources, nearly double the original goal. University employees received discounts for bus and rail passes. About 150,000 energy-saving LED lights were installed across the university.
A war on waste ensued, beginning with Folt's zero-waste inauguration — the first of its kind at USC. The near-term goal is to eliminate single-use plastics and to become a zero-waste campus in a few years. The first zero-waste basketball game occurred at Galen Center this year. Those gains build upon progress at United Airlines Field at the Los Angeles Memorial Coliseum, where zero waste has been achieved for Trojan and L.A. Rams football games.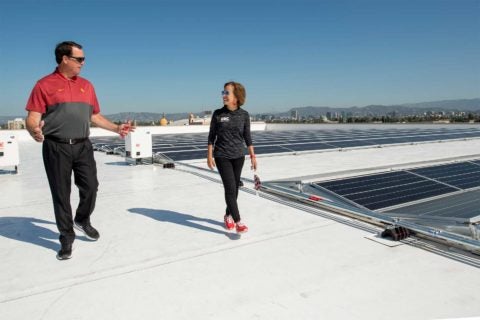 The Galen Center installation is emblematic of change. About 15% of the arena and interior spaces will be powered by electricity from the sun. Some 3,332 LED lights have been installed, and the arena lights use 80% less power. The energy savings represents about $10 million over 25 years. In total, an estimated 320 tons of greenhouse gases will be eliminated annually, according to USC officials.
"When the athletic program partners with the campus priorities, it inspires us because we are all USC," said USC athletic director Mike Bohn, who joined Folt last week to inspect the solar energy system.
Envisioning the next year and beyond
After one year, what does the future promise for USC sustainability under Folt?
USC's environmental effort will expand to reach across the entire university. The Presidential Sustainability Working Group, which Folt created, is focused on transforming USC research and its curriculum to make the university a major player on environmental issues for years to come.
Folt is also aligning USC's environmental priorities with L.A. Mayor Eric Garcetti's Green New Deal program and with California leadership for strategic advantage and to maximize cost-effective solutions.
(Story continues below)
"This is the most exciting year I've experienced at USC in my 20 years here," said Dan Mazmanian, professor at the USC Price School of Public Policy and chairman of the working group. "We are seeing excitement about new directions among students, faculty and in the community. Sustainability is a theme for change, and it has become a catalyst for the transformation of the culture of USC."
A separate solar energy makeover is underway at the USC Wrigley Marine Science Center on Catalina Island, part of a broader effort to showcase sustainability solutions for coastal and marine environments.
There's a generation of students demanding change, and the university has to be responsive to students and the community.

President Carol L. Folt
High-performance environmental standards will be part of the design for a new, state-of-the-art headquarters for the USC Viterbi School of Engineering's Department of Computer Science. The 98,000-square-foot building will house research and teaching focused on advancing computer science's critical role in improving and benefiting society through areas that include artificial intelligence, machine learning and robotics.
And the university's environmental roadmap for the next decade, the 2028 Sustainability Plan, will be completed by the end of the year. The plan will likely include measures to eliminate single-use plastics whenever possible, reduce greenhouse gases, expand composting and recycling programs and add more charging stations for electric vehicles at USC parking garages.
Folt said that her leadership on environmental issues at USC is propelled by eager student activists, engaged community leaders and elected officials, and faculty and staff who have long waited for this moment.
"This is exactly what everyone wanted to do, so it's wonderful when you come into a new organization and see that this is an issue people care about," Folt said. "For the environment, there's a generation of students demanding change, and the university has to be responsive to students and the community."