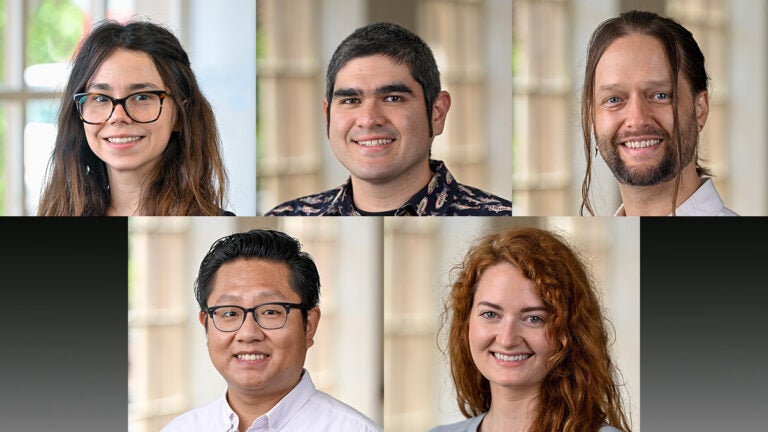 USC's first Sustainability Solutions postdocs help shape a greener future
GREEN WEEK: Early-career researchers are ready to tackle challenging environmental problems through interdisciplinary work.
USC's first cohort of Presidential Sustainability Solutions Fellows has arrived on campus, ready to take on the planet's multiple environmental crises through interdisciplinary research.
"This new program exemplifies the best of what USC can offer: convergent research with meaningful impact," said Ishwar K. Puri, senior vice president of research and innovation. "These early-career scholars are pairing different disciplines to explore and devise solutions for some of the most urgent climate change-related challenges faced by humankind. We're excited that USC can offer them the research expertise and resources to fully investigate these questions."
The five inaugural recipients of the new, two-year Presidential Sustainability Solutions Fellowship will pursue an inspiring array of research projects — from protecting salt marshes to promoting climate justice through video gaming. The appointments include two USC faculty mentors from different schools, dedicated programming, an annual salary, help with relocation expenses, funding for research and a budget to hire student researchers.
"We had an incredible array of applicants spanning diverse themes and disciplines who were reviewed by over 50 USC faculty, and we couldn't be more excited to welcome this inaugural cohort," said Colin Maclay, research professor at the USC Annenberg School for Communication and Journalism and the program's founding director. "Beyond their individual projects, fellows will benefit from a USC-wide research colloquium, sessions to advance their professional practice and other opportunities to collaborate and engage with the USC community."
The program marks progress on the research goals of the Assignment: Earth framework, introduced by President Carol L. Folt during Earth Month 2022 to ensure that USC remains at the forefront of sustainability operations, research and education.
Here's a quick look at the scholars:
Katherine Baker: Seeking cultural buy-in for a reduction in meat consumption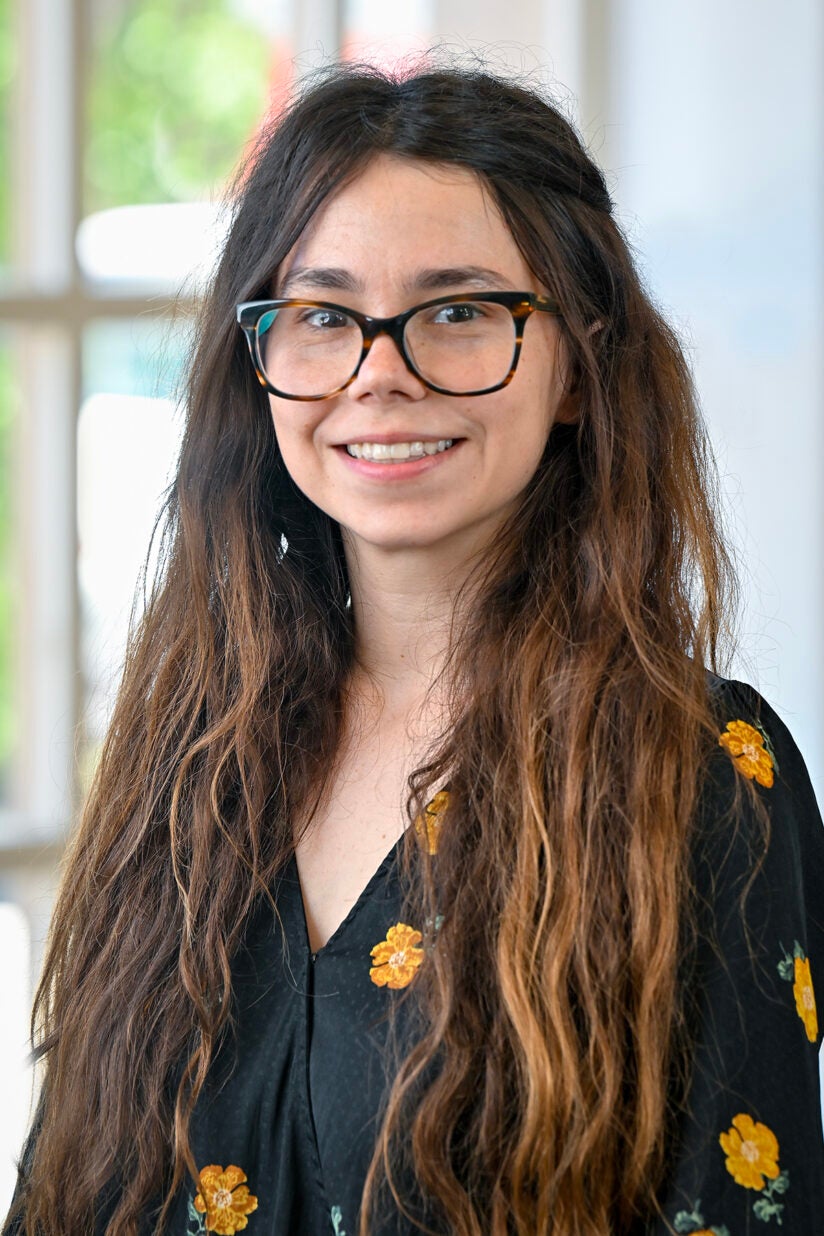 Katherine Baker, who earned her doctorate at Cornell University, wants to help people reduce their meat consumption while staying true to their culture. Meat has one of the highest environmental footprints of any food source. But meat also holds a central role culturally.
"I want to find out how people would feel supported in reducing their meat intake," Baker said. "People like meat for the taste and out of habit — but there's a huge social component with social norms and what goes with that. Hopefully we can find a way to incentivize individuals that lets them make choices that work for them."
During her fellowship, Baker will be working with Kayla de la Haye, an associate professor of population and public health science at the Keck School of Medicine of USC, who researches the role of community and social networks in promoting health eating and food security.
She'll also be working with Wändi Bruine de Bruin, provost professor of public policy, psychology and behavioral science at the USC Price School of Public Policy. As director of the USC Behavioral Science and Well-Being Policy Initiative, Bruine de Bruin seeks to understand how people make decisions about their personal health — a topic of great interest to Baker.
"It's imperative to start thinking about sustainability and how we can help people eat a healthy diet that supports their lifestyle while also making sure we're maintaining the health of the planet," Baker said.
David Bañuelas: Preserving salt marshes — powerhouses of carbon capture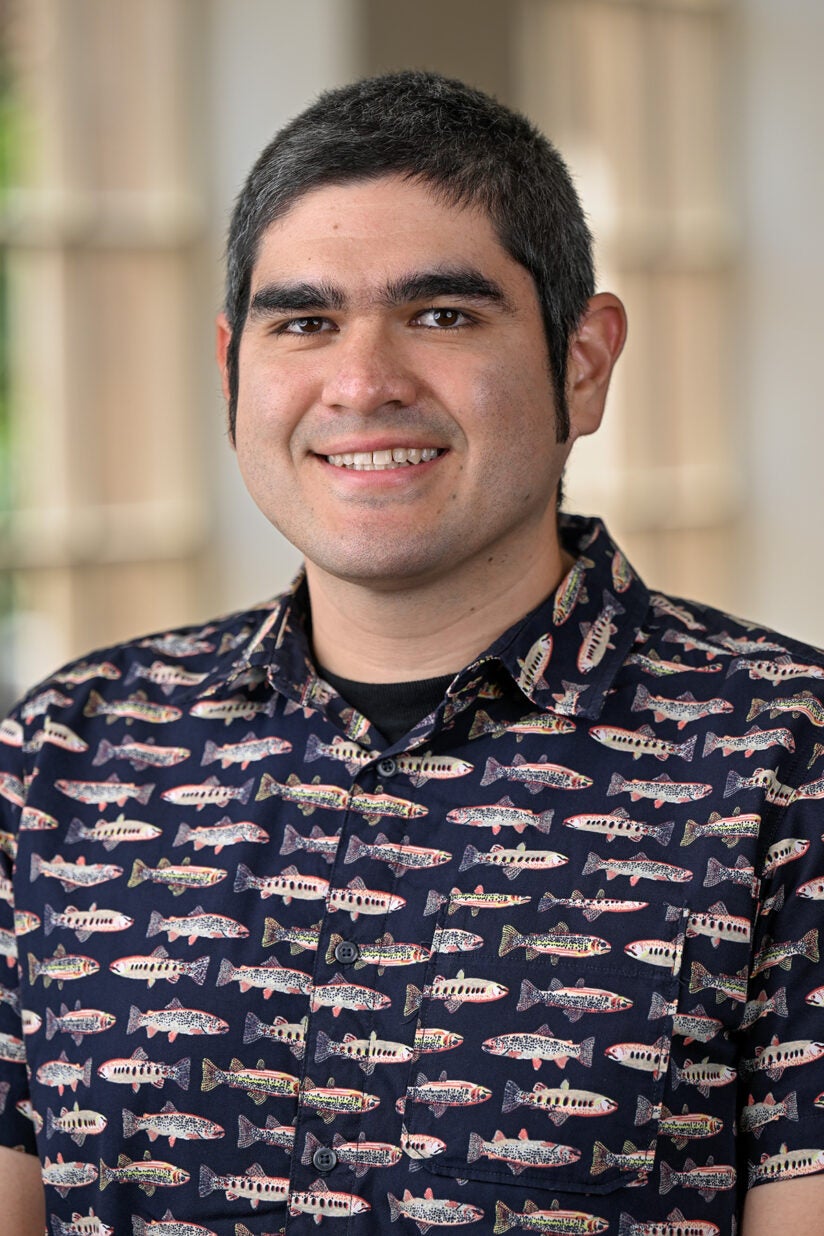 David Bañuelas, a sustainability fellow who recently earned his doctorate from the University of California, Irvine, will be researching the role of salt marshes in carbon capture. He has a special interest in a bacterium called Pelagibacterales, or SAR11, which feeds on dead organic matter to keep the ocean clean and clear.
Tidal salt marshes — such as the one in the Upper Newport Bay Ecological Reserve near Irvine — account for 50% of carbon stored in ocean sediment. But with sea levels predicted to rise a meter by 2100, the vegetation that collects carbon from decomposed sea life will die off and convert to mudflats, releasing that stored carbon into the atmosphere.
Bañuelas will be working with Cameron Thrash, associate professor of biological sciences at the USC Dornsife College of Letters, Arts and Sciences, who studies the relationships between aquatic microorganisms and their environment. He'll also be working with Felipe de Barros, an associate professor of civil and environmental engineering at the USC Viterbi School of Engineering who develops models that can simulate large hydrogeological ecosystems. The opportunity to pair biology and engineering attracted Bañuelas to the postdoc program.
"If you have a model predicting how much carbon is in the ocean, we can predict how much vegetation we'll need to offset that carbon in the salt marsh," he said. "That's where the engineering component comes in.
"We're going to look at how we can manipulate the salt marsh of the future to keep up with carbon respiration rates in the bacteria. We want to make sure that restoration efforts are going to not only capture enough carbon to break even, but store more carbon so that there's a positive effect."
Matthew Coopilton: A window to a liberated future through video gaming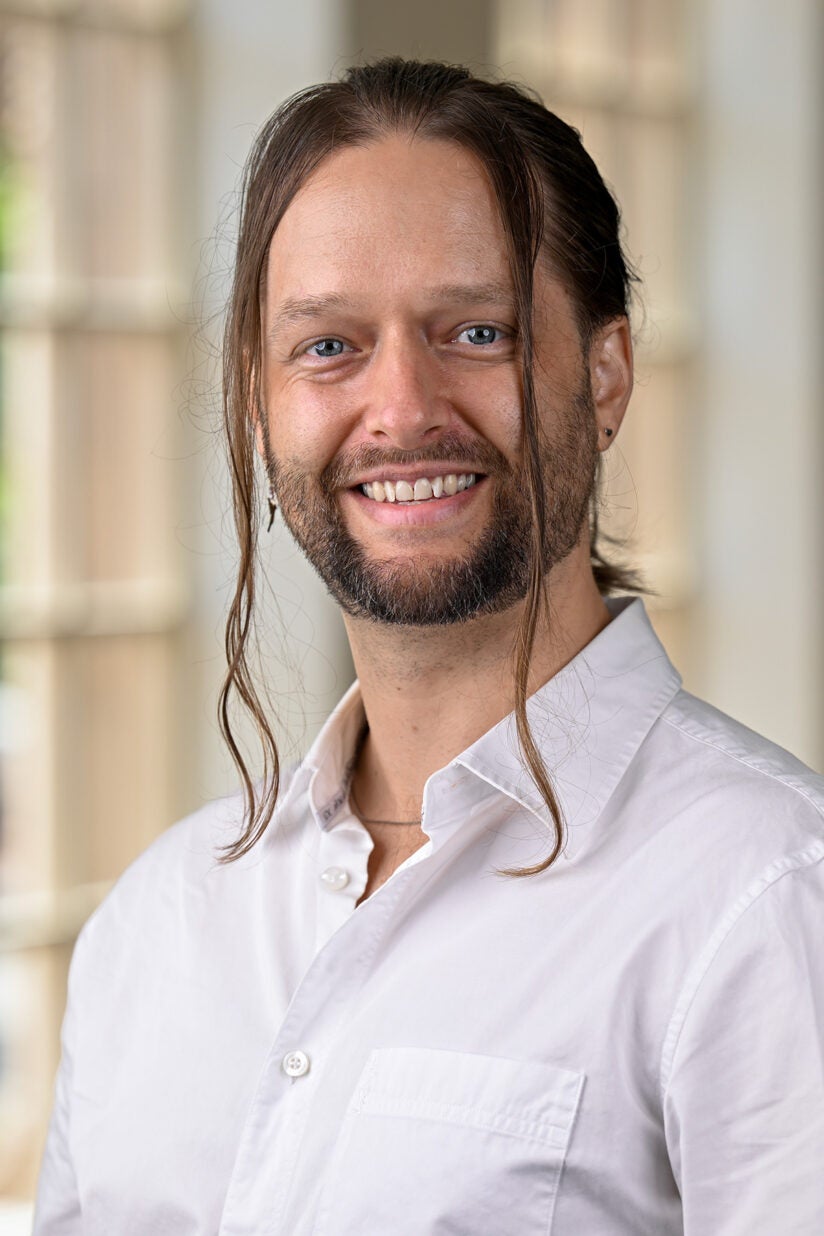 Sustainability fellow Matthew Coopilton is researching how video games, which can serve as miniature models of complex systems, might allow young people to imagine a sustainable future that promotes climate justice.
"Kai UnEarthed is a game about young people in a future where fossil fuels have been abolished and they have a sustainable society," Coopilton said. "There's no longer institutional racism or heterosexism, but people are still healing from the damages of climate change in the water and air. It's ecology education focused on Black liberation and Afrofuturist themes."
Coopilton plans to finalize the game — begun while Coopilton was earning a USC doctorate — and will organize workshops where participants design their own games, prototyping futures rooted in climate justice. Coopilton will study how people learn in these environments.
Coopilton will continue to work with the USC School of Cinematic Arts professor TreaAndrea Russworm, whose expertise crisscrosses between video games, African American popular culture and postmodern theory. Coopilton also will be working with Gale Sinatra, professor of education and psychology at the USC Rossier School of Education, who studies how people learn about climate change.
"Games are a powerful medium because they've been shown to generally involve future-oriented thinking — when most of us play a game we tend to see what we can do and explore," Coopilton said. "As an education psychologist, I'm interested in imagination and 'What if?' thinking. But I'm especially interested in what happens when the questions become 'What if we phase out fossil fuels?' or 'What if we reduce the impact of pollution in Black neighborhoods?' These are very powerful questions games can allow us to explore."
Jason Niu: Extreme heat and air pollution are changing your cells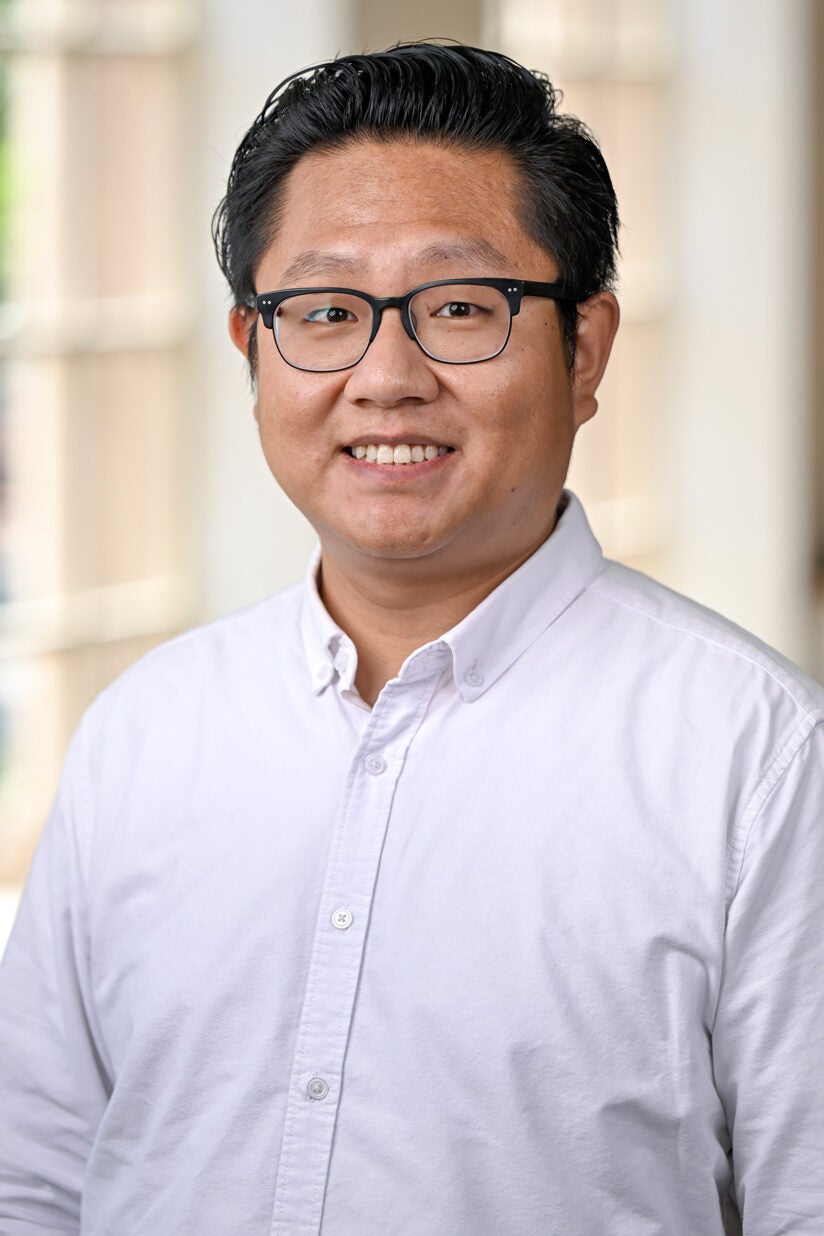 Zhongzheng "Jason" Niu wants to understand how exposure to heat and air pollution from an early age — even in the womb — may set off a chain reaction that could lead to aging-related diseases later in life.
"The weather in Southern California is getting increasingly hot — more and more heat waves with temperatures over 95 degrees — and I want to know how that would affect people's health," said Niu, who has been working as a researcher at Keck School of Medicine following earning his doctorate from the University at Buffalo. He recently co-authored a study detailing how air pollution can lead to gestational diabetes in pregnant women.
"We're not looking at how many people might die in a heat wave. We're looking under the skin to ask what are the cellular mechanisms that could explain heat's detrimental effect on health, especially during vulnerable life stages, such as fetal life and during pregnancy."
Research shows that heat and air pollution mark humans at a cellular level: The impact can be seen in the length of telomeres — code on either side of a genetic sequence which protects the functional genome — and the mitochondrial DNA copy number — or the amount of mitochondria DNA in each human cell. These two biomarkers are associated with aging-related diseases.
As a sustainability fellow, he'll be collaborating with Carrie Breton, professor of environmental health at Keck School of Medicine to analyze health effects of heat waves and air pollution in the MADRES cohort, a predominantly low-income, Hispanic pregnancy and birth cohort in Los Angeles. He'll also be working with Pinchas Cohen, dean and professor at the USC Leonard Davis School of Gerontology, whose discovery of the peptide humanin may pave the way to treatments against aging-related diseases.
"We want to assess whether humanin is actually in the middle of these genetic sequences to act as a buffer to protect the aging biomarkers from heat waves or air pollution," Niu said. "We're investigating what happens when people are exposed to heat and air pollution — if their biomarkers are poor, maybe they have a humanin level strong enough to protect. If that's the case, humanin could be used as a supplement to protect people against future climate change."
Anna Vinton: Machine learning meets Darwin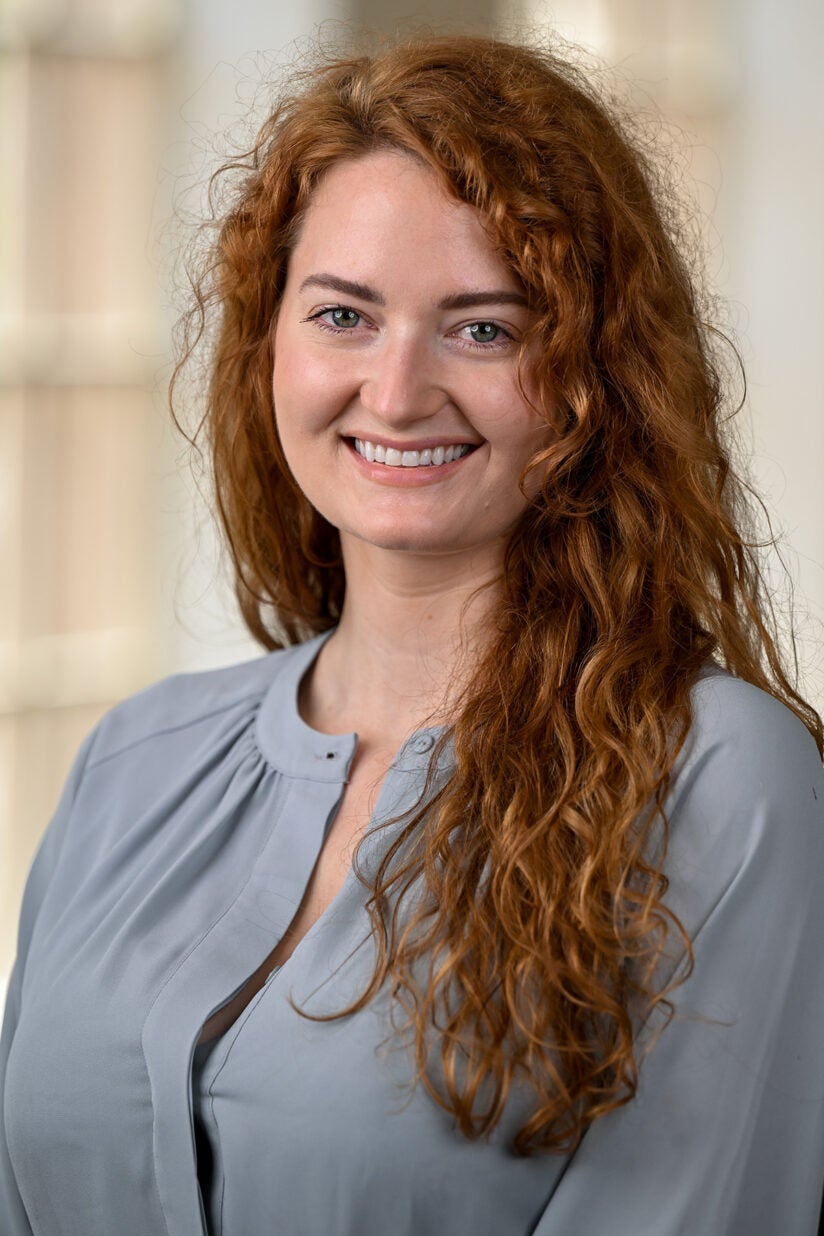 Climate change is forcing countless species to adapt to their environment or perish. Some, such as humans, may move to more suitable conditions. Others might change on a physical level to avoid extinction. After generations of adaptation, evolution may allow a species to better survive its surroundings.
Understanding what causes a species to successfully evolve is the focus of sustainability fellow Anna Vinton. She's researched insects, squirrels, fish and birds, and, by applying mathematical models and machine learning, she can forecast how a species might react to rising temperatures, for instance. Now, she'll apply her expertise to coral reefs.
"I'm interested in the interplay between these different types of adaptation because it's an optimistic way of looking at ecology and evolution in the Anthropocene," Vinton said. "It's focusing on the scenarios in which these populations survive. When we're thinking about coral reefs, we're talking about some of the most threatened ecosystems in the world. This is a useful system to look at questions surrounding adaptation and generate information that we can use immediately."
She'll be working with Carly Kenkel, assistant professor of biological sciences at USC Dornsife, who is an expert on coral reefs and their long-term survival. Vinton will also be working with Joe Árvai, director of the USC Dornsife Wrigley Institute for Environment and Sustainability, to create frameworks to help guide stakeholders (such as fisheries, land managers, tourism and local communities) when facing complex ecological questions.
"The idea is to create a framework that allows us to handle all the uncertainty associated with human biases," Vinton said. "When we make management decisions, we have all these biases that depend on who is making the decision. These frameworks help us to handle this uncertainty in consistent ways so that we can make recommendations for management action which takes into account different stakeholders."