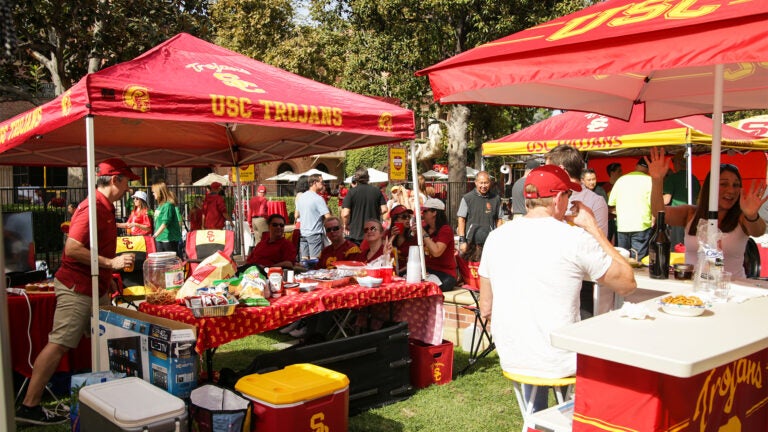 What you need to know for the USC football 2023 tailgate season
Game day at USC starts well before kickoff. Be sure you know what to expect before the Aug. 26 season opener, and start planning right away.
The excitement Trojan fans felt heading into the 2022 USC football season is hard to beat. Lincoln Riley was set to reignite the program with the help of key transfers like quarterback Caleb Williams.
One year, 11 wins, a Pac-12 championship berth and a Heisman Trophy later, the Trojans have set a high bar. Anticipation may have turned to expectation, but the excitement among fans remains as they get ready for the Trojans' Aug. 26 date with the San José State Spartans.
As any Trojan fan knows, game day at USC starts well before kickoff. From tailgating rules to parking tips for getting to, into and around the stadium, here's everything you need to know for the 2023 season.
Traffic
Though traffic is nothing new to Angelenos, it's still an important reason to leave early and allow more time than usual to find parking.
Drivers are urged to purchase their parking permit in advance online, as a limited number of parking permits are available for the USC Downey Way, Shrine and Grand Avenue parking structures. Additionally, passes at the USC Downey Way, Royal Avenue and Flower Street parking structures will not be available for sale on game days. More parking information is available online.
Follow USC Transportation on X (formerly known as Twitter) for live updates during football season.
If possible, fans are encouraged to take the Metro E (Expo) Line directly to one of the three stations serving USC: Expo/Vermont, Expo Park/USC or Jefferson/USC.
Tailgating
Reservations:
A tailgate permit is required for all groups tailgating on campus. No walk-up tailgating is permitted.
Tailgate reservations must be made three weeks prior to the game to avoid late fees.
Tailgating starts six hours prior to kickoff.
Reservations are for the campus grounds only and do not include parking or a space for a vehicle.
Additional tailgating rules are online.
Trojan Family Game Day Experience:
Offered on-campus for every Saturday home game and a great place to be if you want to have the tailgate atmosphere, but don't want to bring all the equipment.
Includes games for kids and fans, big-screen TVs tuned to college games, plenty of tables and chairs, and a wide variety of food and beverages including soft drinks, beer and wine available for purchase.
Open to the public.
Located in Alumni Memorial Park, across from Tommy Trojan in front of Doheny Memorial Library.
Other information to consider:
Glass containers are prohibited on campus. Use multiuse containers or cans.
There will be a "Waste End Zone" tent for all trash and a mobile recycling station cart in McCarthy Quad (there will be large signs with the university's Assignment: Earth logo).
Tailgating and game day parking at USC Village is prohibited. Restaurants and shops are open for dining on all game days, but parking is reserved for shoppers and dining patrons only.
USC is a smoke-free environment. The policy applies to lighted cigarettes, cigars, pipes, electronic cigarettes, hookah or other lit products, and includes the use of any substance including tobacco, cloves or marijuana.
Tailgate policies apply to on-campus gatherings. Similar procedures will apply within the Los Angeles Memorial Coliseum fences but not at Exposition Park, which is not overseen by the university.
At the Coliseum
Parking:
Most traffic into Exposition Park is right turn only. Left turn pockets will be closed.
Exposition Park lots are permit only. There are no cash lots at Exposition Park during USC football games.
Inside:
Be prepared for a metal detector screening and have items clearly displayed in a clear bag.
Arrive at the gates no later than 30 minutes before kickoff.
The Coliseum is cashless — only credit/debit cards and mobile pay are accepted.
The Coliseum is a no smoking venue — smoking, smokeless tobacco and smoking implements are prohibited in all areas of the Coliseum.
Download mobile tickets to your wallet on your mobile device before arriving — screenshots are not accepted.
Additional Coliseum information is available online.
As Trojans begin their quest for the program's first College Football Playoff berth, this season will be the last in the Pac-12 Conference after over 100 years. Though one chapter is closing, the same Trojan traditions hold strong. A little planning can go a long way to ensure that fans can make the most out of game day activities.