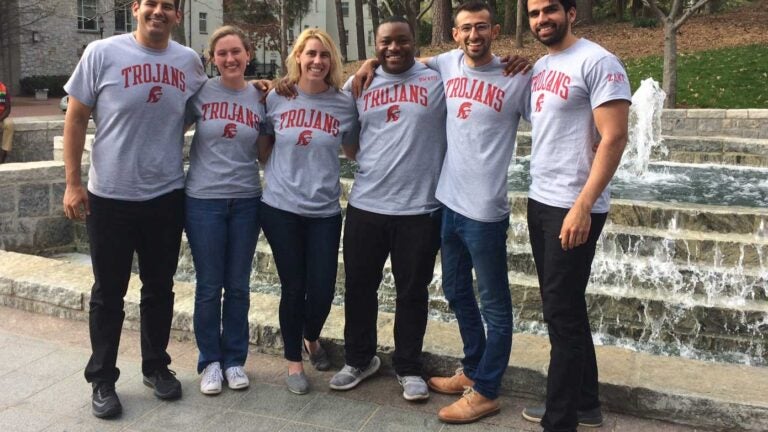 USC team wins global health case competition
Setting aside jobs and schedules, Trojans from four USC schools claim victory in an international event focusing on mental health in Liberia
Students from four USC schools won the international Emory University Global Health Case Competition, joining the elite few to have clinched first place in the event's seven years.
With a $6,000 check in tow, the students returned to Los Angeles after a surreal whirlwind week in Atlanta synthesizing ideas into their research-backed proposal — and presenting it to global experts.
The team included Master of Public Health students Ashley Millhouse and Hrant Gevorgian '14 (Keck School of Medicine of USC); human biology and MPH progressive degree undergraduate Cristina Gago (USC Dornsife College of Letters, Arts and Sciences and the Keck School of Medicine); Master of Public Administration students Brantynn Washington and Julian Cernuda (USC Price School of Public Policy); and Zaki Hasnain MS '14, a doctoral candidate in mechanical engineering (USC Viterbi School of Engineering).
A week before competition day, 24 student teams from Australia, Canada, Denmark and the United States were tasked to propose programs addressing children's mental health needs in Liberia. The West Africa nation is expanding its mental health services in the wake of civil war and Ebola.
Setting aside classes, assignments, jobs and other commitments, the USC students had already put their lives on hold for February's intramural USC competition and did so again in Atlanta.
"A lot of times in classes and lectures, we're really focused on learning material, but we don't necessarily have the ability to apply it in a very real-world sense and this allows us to do that," Gago said.
Deriving inspiration
To develop their proposal, they drew inspiration from USC researchers' storytelling and narrative public health projects. These included Es Tiempo, a cervical cancer prevention campaign spearheaded by Lourdes Baezconde-Garbanati, professor of preventive medicine at the Keck School of Medicine; Tamale Lesson, a narrative communication intervention to promote cervical cancer screenings led by Baezconde-Garbanati and Sheila Murphy, professor of communication at the USC Annenberg School for Communication and Journalism; and Global Health Response, an immersive digital game developed by Heather Wipfli, associate professor of preventive medicine at the Keck School, to train global health students. They also used examples from other successful "edutainment" and storytelling projects like Burka Avenger, a Pakistani TV series promoting women's empowerment, and Coaniquem's Healing Cloud Project, a Chilean burn prevention campaign.
With guidance from professors and faculty mentors, the team developed its proposal for a "data-driven, gamified mental health platform" called Reaching Resilience. Through transmedia messaging, role-playing, advocacy and mentorship, the program would aim to build resilience among children struggling with depression, anxiety and autism.
"This transmedia storytelling approach, including the digital game aspect, reflects the unique multidisciplinary approach USC researchers bring to global health," said Wipfli, associate director of the Institute for Global Health and one of the team's mentors. "Their concept is representative of the research and education they have been directly exposed to by faculty engaged in global health across the university."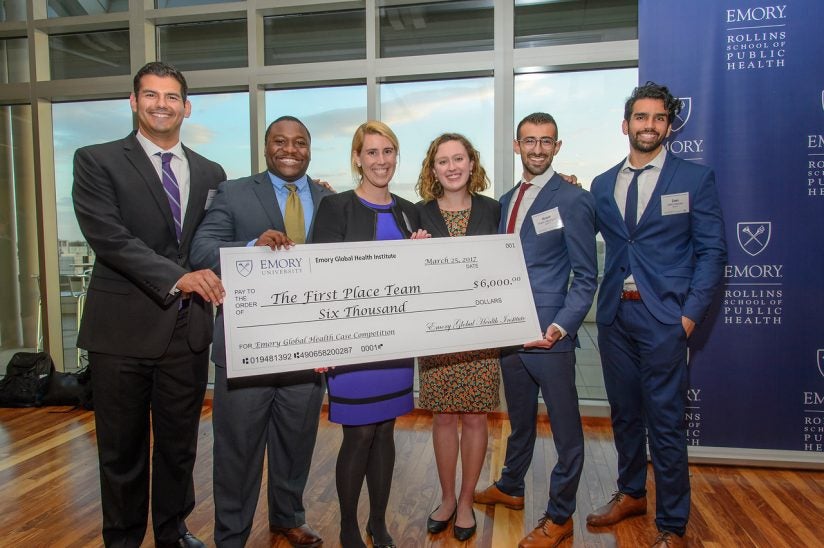 The competition in Atlanta was intense, the students said.
"All of our group members are either working full-time, part-time or heavily engaged in various academic organizations," said Millhouse, who is working on her MPH degree while employed as a hospital systems account manager at the American Cancer Society. "This meant that we didn't have an entire week to put our phones on silent and devote to creating a team design."
But their varied skill sets, perspectives and team-player attitudes carried them through, even when they had to rework their slides the night before the presentation, Millhouse said. When they made it to the final round, they were given 45 minutes to adjust their presentation to incorporate a "twist" in the case: accommodating an American philanthropist's interests into their proposal.
Judges included mental health and public health experts from the Emory University School of Medicine, The Center for Victims of Torture in Atlanta, The Carter Center, Duke University, Centers for Disease Control and Doctors Without Borders.
International competition
The annual USC intramural competition in February grew out of Wipfli's classroom, where it is still encouraged as an extra-credit assignment. When the Emory University Global Health Institute began hosting the national — now international — competition, she started the cross-campus USC Global Health Case Competition through the Institute for Global Health to allow all students to vie for their chance to represent USC in Atlanta, with expenses paid.
This program has given me more knowledge and passion for global health than I ever thought possible.

Ashley Millhouse
Each year, the institute collaborates with global health organizations, including the American Cancer Society and the World Health Organization, to develop the case challenge. Operation Smile and Children's Hospital Los Angeles partnered on the Feb. 14 event, challenging students to pitch global surgery proposals aimed at developing sustainable operating room systems in Nicaragua.
"This program has given me more knowledge and passion for global health than I ever thought possible," Millhouse said, reflecting on the experience. "It was a true fairy tale."