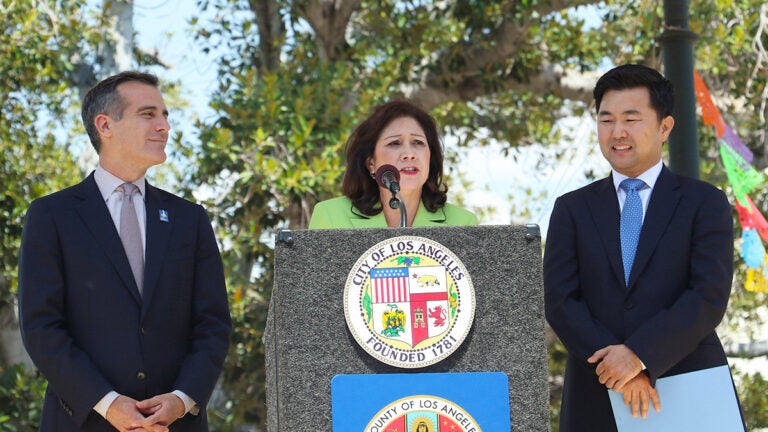 USC teams with local leaders to make Los Angeles more age-friendly
A new initiative takes steps to understand the impact an aging population has on individuals, families and communities
The USC Leonard Davis School of Gerontology has taken part in the launch of Purposeful Aging Los Angeles, an initiative designed to make Los Angeles more age-friendly.
"We are excited about the potential of this collaborative effort to address one of the most important opportunities and challenges of our time — the aging of our population," said USC Provost Michael Quick. "USC is an internationally recognized pioneer in the study of aging. The university has prioritized the study of aging across disciplines and has recently made a significant investment in Alzheimer's disease research, making it arguably the leading institution in the country on this important issue."
Between 2010 and 2030, the older adult population in the Los Angeles region is expected to almost double, from approximately 1.1 million to more than 2.1 million individuals.
"The Leonard Davis School of Gerontology, in partnership with the broader USC community, is leading research efforts to understand the underlying mechanisms of aging and longevity, the rapidly shifting demographics and the impact an aging population will have on individuals, families and communities, as well as such key areas as health care, behavioral health, public policy, business and finance," said USC Davis Dean Pinchas Cohen. "We are enthusiastic about using our expertise in collaboration with Purposeful Aging Los Angeles partner organizations to contribute to the development innovative, evidence-based changes in the community."
Looking ahead
USC's partners in the new initiative include the Los Angeles County's Community and Senior Services, the Department of Aging in Los Angeles, AARP, the Milken Institute Center for the Future of Aging and the UCLA Los Angeles Community Academic Partnership for Research in Aging.
In the coming months, Purposeful Aging Los Angeles will host or participate in a series of events throughout Los Angeles. The planning process will culminate in the development of a three-year action plan aimed at bolstering the region's age-friendliness.
"I am very pleased that the County of Los Angeles is joining with the City of Los Angeles and leading institutions to launch Purposeful Aging Los Angeles," said Supervisor Hilda Solis, chair of the County of Los Angeles Board of Supervisors. "This landmark initiative will unite public and private leadership from across the county to ensure a better future for older adults and Angelenos of all ages.
"With an older adult population that is rapidly growing, we must prepare our communities for the future of aging in Los Angeles County. As we make our county more age-friendly, we are expanding our shared commitment to the older adults who contribute so much to our communities," she said.
"Everyone in our city contributes to making Los Angeles an incredible place to live, work and raise a family," Mayor Eric Garcetti said. "That's why we commit ourselves to meeting the needs of older Angelenos, a growing population that deserves our attention and respect."